The South West region covers Cornwall, Devon, Dorset, Somerset and Bristol.
The SW Region is very active with a good mixture of interests between Branches. We have a very experienced Technical group along with some busy large branches who dive multiple times a week.


View upcoming South West region events
Your Regional Coach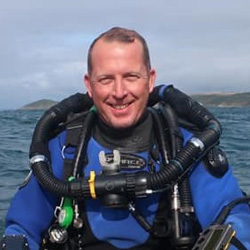 About Kevin Ford, South West Region Coach
I am an Advanced Diver and Instructor with a keen interest in CCR diving and instructing at varying levels of the recreational spectrum. I am very keen to assist branches were possible and to provide assistance to divers who wish to progress in various areas from instructing to technical diving.


I have been diving since 2006 and have been lucky enough to amass a broad range of diving experience from diving with the military, abroad, and with my UK BSAC branch. I have joined the Regional team with an aspiration to give some of this experience back to assist others on their journey.
Training and events in the South West Region
We offer the full range of Skill Development Courses, Diver Training Days, Instructor Courses and Exams, and bespoke workshops as appropriate to the needs of the regional branches.
View all South West Regional events
Want to join the regional coaching team?
We welcome anyone from Assistant Diving Instructors (ADIs) to National Instructors (Nis) who would like to develop or help develop others. If you would like to assist on courses then please email me.
Find us on social media and keep up to date with our activities: