The South West region covers Cornwall, Devon, Dorset, Somerset and Bristol.
Your regional coach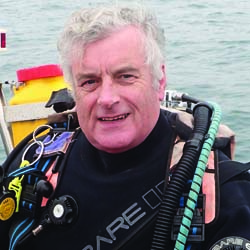 About Allen Murray, South West Region Coach
I am a BSAC First Class Diver and Advanced Instructor and have been diving for about 25 years. Before becoming regional coach I was SDCO for the SW region and am also involved in the organisation of the annual Kernow Dive Festival in Cornwall and the International Shipwreck conference in Plymouth. I enjoy all types of diving, from deep wreck diving to bimbling around on a shallow reef and I am a NAS tutor and also a Seasearch diver.




I am keen that the region's clubs should work together, whether it be by opening-up spare places on club courses or coming together on a larger multi-club event such as the Kernow Dive Festival. Clubs should not see each other as rivals for diving members but rather colleagues with a shared passion for this great sport of ours.
How we help and support divers and clubs in the South West Region
Our prime aim is to provide support to both members and clubs as well as offer regionally organised courses and events.

The coaching team can also provide support for members wishing to become instructors, and to existing instructors wanting to gain specific SDC approved instructor status, thus allowing more clubs to run training in-house. We also want to support more inter-club co-operation, both in terms of sharing training opportunities, and also joint events, such as the successful Kernow Dive Festival run in Penzance every year. Coaches are also available to visit clubs to offer advice and training.
Training and events in the South West Region
We organise skill development courses (SDCs) such as Boat Handling and Practical Rescue Management (PRM) and also Technical courses such as Sport Mixed Gas and Rebreather training, and can also help fill gaps in the Diver Training Programme (DTP) where some clubs are not always able to provide the progression their members are looking for. View all South West Regional events
Want to join the regional coaching team?
The Southwest regional team are always looking for enthusiastic individuals to join them, whatever your level of instructional ability.

To get in touch or to join the team email Allen or call on 07867 528480
Find us on social media and keep up to date with our activities: