The Ireland Regional Area can boast some of the most magnificent coastline in the Europe. We have some of the cleanest waters with some spectacular reefs and many fantastic wrecks.
Our regional team of instructors have experience in all levels of all aspects of diver training. We are committed to increasing the level and skills of all divers in the region.
Gerard Hughes is the current regional coach and is a member of Belfast SAC. The coaching team is here to provide clubs and members support with their training and development and also run a selection of Skill Development Courses throughout the year.
View upcoming Ireland region events
Your regional coach
About Gerard Hughes, Ireland Region Coach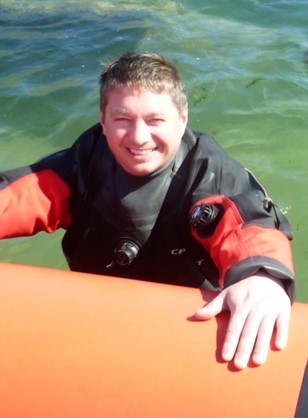 I have been diving for over 11 years with the Belfast Sub Aqua Club and dive regularly on both Open Circuit and Closed-Circuit Rebreather. I am an Advanced Diver and Advanced Instructor and part of the Instructor Trainer Scheme. While I enjoy helping and training others, I also enjoy learning new skills. Currently I am working towards First Class Diver.
I have been part of the regional coaching team for over 2 years. I am proud to have been given the opportunity to be the Ireland regional coach for the next 3 years.
Skill Development Courses are a great way to learn and master your diving skills, but there are also other courses which are packed with transferable skills which can help you in your personal life and career. The Instructor Foundation Course was one of my favourite courses. Now I am an instructor on these courses and enjoy being able to give some of that back to help new instructors on their journey.
How we help and support divers and clubs in the Ireland Region
The Ireland regional coaching team run a selection of Skill Development Courses throughout the year, with the aim of providing training for our members which they may not be able to complete in their own branches. And by helping clubs develop their own members we will enable clubs to become stronger and grow.
We aim to provide help and support to instructors and those who are aiming for their Instructor qualification.
Training and events in the Ireland Region
Throughout the year we offer a number of Skill Development Courses, prep sessions for budding instructors and support clubs and members with additional training. Everything is advertised on the BSAC website as well as our own Facebook page and of course in SCUBA magazine as well.
View all Ireland Regional events


Want to join the regional coaching team?
We're always on the lookout for new team members so if you're an experienced diver and instructor, are motivated to help develop others and have some time to spare please contact the regional coach on 07886960321 or by email.
Find us on social media and keep up to date with our activities: