The Ireland Regional Area can boast some of the most magnificent coastline in the Europe. We have some of the cleanest waters with spectacular reefs and many fantastic wrecks.
Our regional team of instructors have a passion for everything diving with experience in all levels and aspects of diver training. We are committed to increasing the level and skills of all divers in the region while promoting the benefits of community that BSAC membership offers.
Aoife Lynch-Hughes is the current regional coach and is a member of Belfast Sub-Aqua Club (the oldest BSAC branch in the Ireland Region!). Proud to be the first female Ireland regional coach and to work with a friendly and knowledgeable group of instructors from various branches who make up the regional coaching team; the team provides clubs and members support with their training and development and runs a selection of Skill Development Courses throughout the year.
View upcoming Ireland region events
Your regional coach
About Aoife Lynch-Hughes, Ireland Region Coach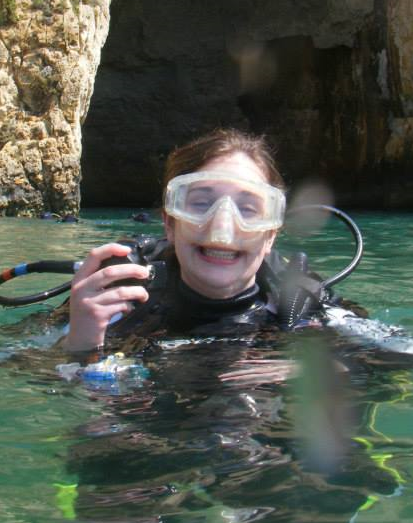 I have been diving for over 12 years, having been introduced to scuba at a try-dive event with the BSAC Queen's University Sub-Aqua Club in my student days. It is safe to say I thoroughly enjoyed it and flourished as a member of the diving community.
A year after I starting diving, I was the fortunate to tag along on a diving trip to Malta with the Belfast Sub-Aqua Club branch, where I found a new meaning to how enjoyable diving could be. This was the start of: many life-long friendships; a club membership that would introduce me to the world of technical diving on both Open Circuit and Closed-Circuit Rebreather; and a greater passion for teaching and coaching, hobbies I enjoy as an advanced instructor and instructor trainer.
Over the years, I have been lucky to learn from many instructors from my own branch, our regional coaching team, local dive centres and national instructors at instructor training events.
These days, you may find me; at the usual weekend dive of the Belfast SAC; on instructor training events with the regional coaching team; teaching at the local BSAC Dive Centre – DV Diving; the occasional commercial scuba diving job; watching a documentary about saving our underwater world; or planning my next adventure with the community I admire. I am an enthusiastic diver looking forward to being more involved with all BSAC members and branches in our great region.
What does a diver love most about diving? Some love the adventure. Some love marine life. Some love wrecks and their history. I can safely say what I love most about diving, is the community it creates. My passion for diving and the underwater world has been encouraged by the people I have dived with and the students I have been fortunate to train.
How we help and support divers and clubs in the Ireland Region
The Ireland regional coaching team runs a selection of Skill Development Courses (SDC's) throughout the year, with the aim of providing training for our members that may not be possible to complete in their own branches.
We have a passion to provide help and support to instructors. With several instructor trainers on the regional coaching team we are more than happy to assist in preparations for Instructor qualifications.
We also endeavour to help clubs develop their own membership allowing our diving community to grow and flourish by offering what support we can.
Training and events in the Ireland Region
Throughout the year we offer a number of Skill Development Courses, prep sessions for budding instructors and support clubs and members with additional training. We try our best to run courses that are requested, so please feel free to contact us by email. Everything is advertised on the BSAC website as well as our own social media pages.
View all Ireland Regional events


Want to join the regional coaching team?
We're always on the lookout for new team members so if you're an experienced diver and instructor, are motivated to help develop others and have some time to spare please contact the regional coach by email.
Find us on social media and keep up to date with our activities: