We have some of the best UK diving on our doorstep in South Scotland.
Whether you are after wrecks, reefs, walls or just the adventure, the regional team can help you get the skills and qualifications to do that type of diving.
View upcoming South Scotland region events
Your Regional Coach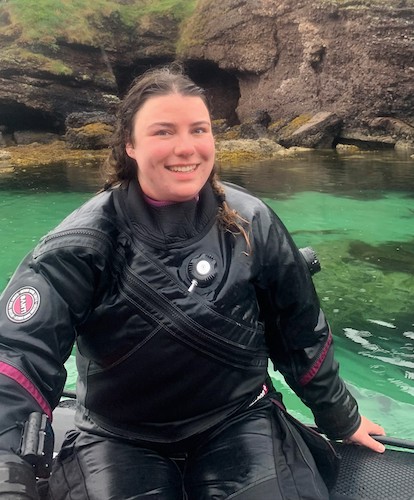 About Cara Nicholson, South Scotland Region Coach
I was desperate to learn to dive from a young age and luckily I got the chance to learn when I was 17. I was absolutely hooked so I approached my university branch and got involved.
The Edinburgh Uni club was thriving, and I was able to complete my Sports Diver and Dive Leader qualifications as an undergraduate, while experiencing some of the best diving Scotland has to offer. I also completed my Open Water Instructor qualification, giving back to the branch for the all the opportunities it had given me. I became more involved in the committee, ultimately serving as President for two years. I loved the diving friends I have made in Edinburgh so much I decided to stay on for my Master's degree.
After this I moved up to Dundee to start my PhD and pursued more advanced diving, including UK-based expeditions and technical training. I have stayed on with Edinburgh Uni as Diving Officer, working to mentor the new committee and instructors. I've also got involved with the South Scotland Regional Team as Universities Officer and ITS Local Organiser under outgoing coach Paul Miller. This experience gave me the encouragement I needed to complete my remaining Advanced Diver lessons and gain my Advanced Instructor qualification in the Clyde last summer.
I love the adventure of expedition style diving, taking our RIB's and compressors to wild corners of Scotland. I was thrilled to organise an expedition to Cape Wrath last summer, ticking one of Scotland's best diving destinations off my bucket list. We have some of the best sites in the UK on our doorstep in the South Scotland region, and I look forward to helping our members explore them as Regional Coach!
How we help and support divers and clubs in the South Scotland Region
The South Scotland region has a large and experienced network to support diver and instructor training to the highest level. To help achieve this, we can offer Skill Development Courses (SDCs) or we can help run them in clubs. Also, if clubs or direct members require help with the diver training program, we can help run training days for every level up to Advanced Diver as well as preparation sessions for First Class.
Training and events in the South Scotland Region
We are able to offer a range of SDCs, particularly we regularly run O2 admin, PRM and ADP, and we are also able to put on specialist SDC's on request. View all South Scotland Regional events
Want to join the regional coaching team?
We are always after more people joining the team. If you are interested, please get in touch. It's such a good opportunity to develop your personal diving career as well as giving back to the region.
To join the team please email me

Find us on social media and keep up to date with our activities: