With the longest region in the UK we have both the most landlocked clubs on the western side of our region and the east coast on the eastern side. This allows us the challenge of having one of the most diverse regions.
Being predominantly landlocked this poses a big challenge in getting to the sea for many of the clubs. With such a diversity and range of divers about the Regional team aim to support wherever and whenever they can through delivery of SDC and instructor events to expand each branches pool of experience. If there is something you want we can probably deliver it!
Your Regional Coach
Neil Barker, Eastern Region Coach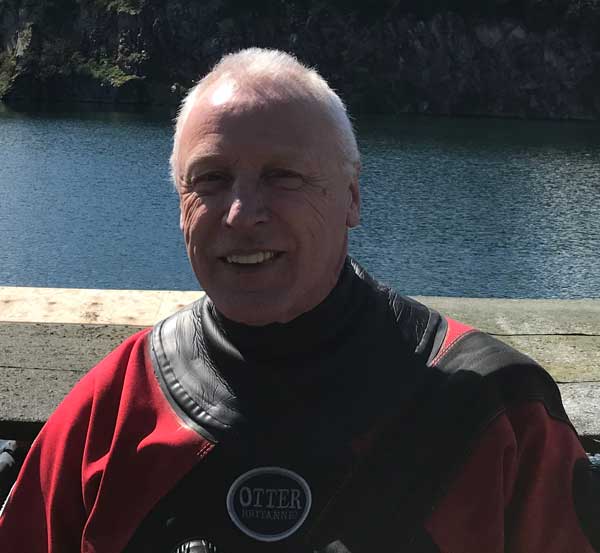 I began diving in 2004 with a CMAS entry level course in Tunisia, then joined my local branch when I returned. Since then, I have completed around 600 dives, approximately half in UK, many in Malta, also dives in Cyprus, Portugal and the Red Sea. I progressed fairly quickly through the diver grades, achieving Advanced Diver in 2008. I am qualified to Sports Mixed Gas on OC and equivalent on CCR with IANTD. I have been a member of my local branch committee for most of this time and have held the positions of Chairman, Vice Chairman, Training Officer and Diving Officer on the committee. I am currently Diving Officer of Chelmsford Scuba Diving Club (Branch 0306).
I attended the IFC as soon as I was able as a Sports Diver and have followed the Instructor development track in line with my diver grade, achieving Advanced Instructor in 2009 and Instructor Trainer in 2014. I have attended many of the SDCs and am an instructor for Accelerated Decompression Procedures, AED, First Aid for Divers, Boat Handling, Diver Coxswain Assessor, and Mixed Gas Blender. While I am an Instructor Trainer, I have not been able to participate in the ITS for a number of years, and would need some refreshment to return to this.
I have been a member of the Eastern Region team for a number of years and have worked on a number of regional courses as well as providing support to some local clubs in delivering courses for which they do not have qualified instructors, e.g. Oxygen Administration, First Aid for Divers, Advanced Diver theory, Boat Handling, Diver Coxswain Assessment. I most recently worked alongside Mike Thomas and Dave Lock in delivering an Advanced Diver theory day to Havering and Ilford Branch.
How we help and support divers and clubs in the Eastern Region
What I hope to build as we move forward is an engaged and strong multi-disciplined region where our clubs can help support each other with helping out when another is lacking an instructor in a particular area and potentially sharing some resources.
Training and events in the Eastern Region
View all Eastern regional events

Want to join the regional coaching team?
The Regional team offers a variety of SDCs and events each year which are driven by the demand from our clubs. Specific courses can be requested and the team will do its best to deliver it in order for divers who want to develop their skills. Email Neil or call on 07816 457525.
Find us on social media and keep up to date with our activities: