Eastern region covers one of the largest geographic areas in the UK covering six counties with over 70 clubs and more than 1000 divers.
Being predominantly landlocked this poses a big challenge in getting to the sea for many of the clubs. With such a diversity and range of divers about the Regional team aim to support wherever and whenever they can through delivery of SDC and instructor events to expand each branches pool of experience. If there is something you want we can probably deliver it!
Your regional coach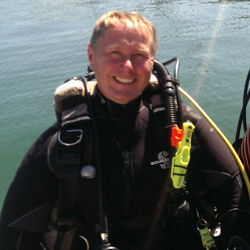 About Mark Lovesey, Eastern Region Coach
I am currently a member of RAF Honington SAC and have been diving for over 20 years and an instructor for 10 years and have been fortunate enough to dive around the world with the military.
Diving is a passion and you only get out what you put in to it. I strongly encourage interaction with the Regional team and with other local branches to make the most of diving opportunities wherever they may appear.
How we help and support divers and clubs in the Eastern Region
The Regional coaching staff are volunteers and are here to help all our divers develop their personal diving skills. This includes the delivery of SDC and Instructor events and imparting the latest safe practices and diving techniques from BSAC HQ. The team readily support clubs with limited instructors/resources and deliver bespoke training for the benefit and development of all.
Training and events in the Eastern Region
The Regional team offers a variety of SDCs and events each year which are driven by the demand from our clubs. Specific courses can be requested and the team will do its best to deliver it in order for divers who want to develop their skills. View all Eastern regional events

Want to join the regional coaching team?
The Regional staff is always looking out for enthusiastic individuals to join the team whatever your level of instructional ability. If you have some spare time and would like to expand your capability then please get in touch. Guest instructors are always welcome to help out on any of our Regional events. Email Mark or call on 07599 214640.
Find us on social media and keep up to date with our activities: