With the longest region in the UK we have both the most landlocked clubs on the western side of our region and the east coast on the eastern side. This allows us the challenge of having one of the most diverse regions.
Being predominantly landlocked this poses a big challenge in getting to the sea for many of the clubs. With such a diversity and range of divers about the Regional team aim to support wherever and whenever they can through delivery of SDC and instructor events to expand each branches pool of experience. If there is something you want we can probably deliver it!
Your Regional Coach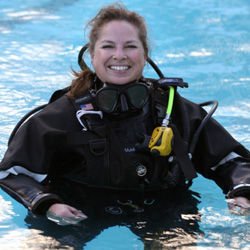 About Lisa Shafe, Eastern Region Coach
I took over the role as Eastern region coach ad interim in November 2018, and I am now officially taking it on in Jan 19. I bring with me over 20 years of diving experiences, open and closed circuit, diving mostly on wrecks, and reefs but also some cave diving experience as well. I am a firm believe in sharing experiences and learning from others.
We are all divers and doing something we enjoy, we need to keep that enjoyment embedded in each of us as well as sharing our experiences and knowledge with others, I found this great saying – sadly I do not know who first said it "when you finally see what goes on underwater you realise you have been missing the whole point of the ocean, staying on the surface all the time is like going to the circus and staring at the outside of the tent"
How we help and support divers and clubs in the Eastern Region
What I hope to build as we move forward is an engaged and strong multi-disciplined region where our clubs can help support each other with helping out when another is lacking an instructor in a particular area and potentially sharing some resources.
Training and events in the Eastern Region
View all Eastern regional events

Want to join the regional coaching team?
The Regional team offers a variety of SDCs and events each year which are driven by the demand from our clubs. Specific courses can be requested and the team will do its best to deliver it in order for divers who want to develop their skills. We have a wide range of courses already set up for 2019 from first aid for divers and practical rescue management to accelerated decompression procedures and twin set diver. Email Lisa or call on 07789 902323.
Find us on social media and keep up to date with our activities: