The South East region is blessed with an excellent infrastructure servicing mile after mile of uninterrupted coastline.
It offers everybody the opportunity to explore one of the most spectacular underwater adventure playgrounds in the world. With an abundance of wrecks and reefs, there really is something for everyone to enjoy.
View upcoming South East Region events
Your Regional Coach
About Julian Gill, South East Regional Coach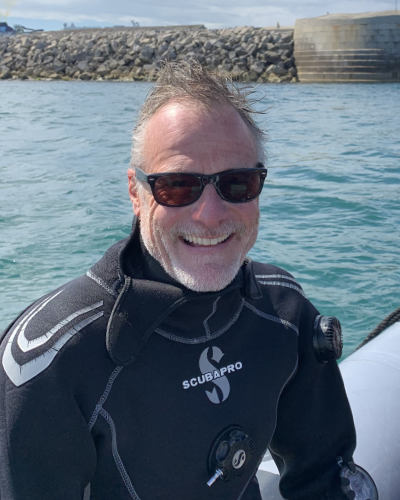 I started diving in the early 80s in Malta and loved it so much that I joined Brighton BSAC on my return. Due to work commitments and moving around frequently, I spent the next couple of decades in BSAC Direct, diving mainly while on holiday. I joined Aldershot BSAC in 2011 thinking it was about time I upskilled myself and got back into UK diving in a big way. I became Training Officer and I have been Chairman for the last two years.
I have seen a lot of changes in BSAC over the years and it has developed a world class training system, delivered by dedicated and enthusiastic instructors. Today, people have many options with what to do with their leisure time and they want things quickly. We need to engage more people within BSAC to upskill and recruit new divers, so I have been working with Mark Paisey to set up the Branch + Centre partnership scheme, starting with Divecrew, my local centre. We now have lots of commercial centres delivering BSAC training, with more being added all the time.
I've gotten loads out of diving over the years and I see the Regional Coach role as an opportunity in helping others get the most out of our fantastic sport.
Training and events in the South East Region
To help you continue to develop and improve your diving skills, the South East region runs a comprehensive selection of SDCs and diving lectures, ranging from Ocean Diver practical sessions to Advanced Diver theory sessions, with Oxygen Administration, Boat Handling and the ever-popular Accelerated Decompression Procedures being a selection of the wide range of SDCs that the region run to help you maximise your enjoyment of this wonderful sport.
We have recently started running a First-Class Diver support group, so if you are interested in obtaining this qualification but don't know where to start, please get in touch and take the first step towards becoming a BSAC First-Class Diver.
View all South East Regional events
Want to join the regional coaching team?
New instructors always welcome to expand the team. If you enjoy teaching, the team can help expand your teaching skills.
To join the team, email the South East Regional Coach
Find us on social media and keep up to date with our activities: