The Yorkshire Region covers clubs and members based in North, South and West Yorkshire, and Humberside.
View upcoming Yorkshire region events
Your Regional Coach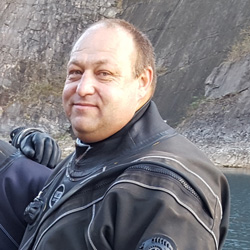 About John Barton, Yorkshire Region Coach
I only caught the diving bug about 12 years ago, but I caught the bug hard and I've spent a considerable amount of my free time exploring the underwater environment since then. Initially learning in the warm waters of the Red Sea, but most of my diving has been slightly less exotic and mainly in a dry suit around the waters of the UK. My passion for diving is only limited by my bank balance that does not meet my bucket list of dive locations, within UK and more exotic waters.
We live on a planet that is covered by 70% water so let's explore the wonders of this incredible world. I become a regional coach to share my passion for diving, encouraging others to go diving and progress diving throughout the whole of Yorkshire.
How we help and support divers and clubs in the Yorkshire Region
In the four counties that make up the vast Yorkshire region we have over 20 experienced instructors currently assisting as part of the regional team that are able to deliver; boat handling skills, chartwork skills, technical skills, instructor development skills along with general diving skills. The regional team members are also club members of local branches and know the issues faced by clubs. As your region we want to assist, support and deliver additional courses alongside those of branches to support the growth of local clubs. Please do reach out to the Yorkshire regional team member and use their experience.


Training and events in the Yorkshire Region
We have an extensive diver training programme and as the regional coach I'm committed to delivery every course we advertise.
If you book a course in our region the event will run – We are committed to delivering a diver training programme that you as our regional members have requested.

View all Yorkshire Regional events


Want to join the regional coaching team?
If you wish to provide a few days or even a weekend or two a year and want to be part of the regional coaching team we need you, in return your team members will look at ways we can progress your personal diving career. Click to see the current regional team members here.

To get in touch or to join the team email John or call on 07765 022124.
Find us on social media and keep up to date with our activities: