The East Midlands region covers, Derbyshire, Nottinghamshire, Leicestershire, Lincolnshire, Rutland and Northamptonshire.
The East Midlands has a thriving diving community with a strong and experienced team that wants to offer support to divers and clubs alike. From this solid foundation we hope to drive forward the new Diver Training Program (DTP), and continue to offer a programme of courses and workshops that will enable our local branches to .thrive and attract new members. We are always happy to provide information, advice and guidance to branches and individual divers alike.
View upcoming East Midlands Region events
Your Regional Coach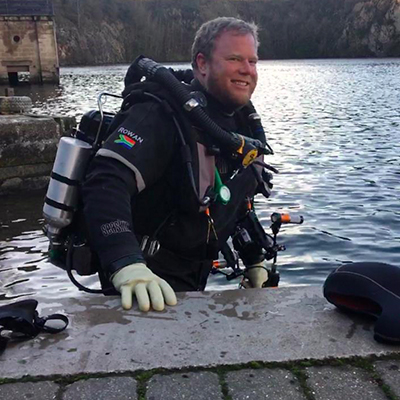 About Rowan McCall, East Midlands Region Coach
My first experiences with diving started as a boy when my father used to teach diving at a local school in Cape Town, South Africa. I took up diving in the UK about 10 years ago and have gone on to dive all over the world. I've since progressed to become a BSAC Advanced Diver and Advanced Instructor as well as gaining my rebreather (CCR) – Mod 1 qualification. For an instructor, it's a good experience to go back to being a novice and remembering what it feels like to know nothing!
I think all divers should keep their skills up-to-date and take opportunities to learn new ones. I enjoy all types of diving, be it wreck, reef or other, although my favourite types are drift diving and cave-diving. I have a strong, dedicated and well-qualified regional team behind me, all ready to support the programme of events, which makes my job easier and a lot more enjoyable.
We dive not to escape life, but for life not to escape us.
How we help and support divers and clubs in the East Midlands Region
The Regional Team can help divers & clubs within the East Midlands in any number of ways.
We can run events as Regional Events where you can attend as an individual or we can assist you to run an in-branch Skill Development Courses (SDC).
If there are events you would like to see run then please let me know.
If there is a course your club you would like help organising, please get in touch.
Training and events in the East Midlands Region
The East Midlands Regional team is a highly qualified one, able to offer support and assistance in setting up, running and or providing guidance for a multitude of diver-grade courses or SDC's from Ocean Diver to First Class or, if you prefer more technical courses, Accelerated Decompression Procedures and Twin-Set Diver to Rebreather and trimix (Helium) courses.
Please drop me an email if you have any questions or queries or, alternatively, have a look at the courses available.
View all East Midlands Regional events.
Want to join the regional coaching team?
We always welcome enthusiastic and committed instructors who wish to join the East Midlands Regional team. Any qualified instructor can join the regional instructor team and it's the perfect place for newly qualified OWI's to hone their skills and highly experienced instructors to keep their hand-in and support others alike.
Being a regional team instructor gives you the opportunity to teach a variety of SDC's as well as aspects of the diver training programme as well as develop and hone your skills and become an 'Approved' instructor to a number of specialist SDC's.
If you wish to help instruct on an event or want to learn something new to take back to your club, get in touch.
Contact me by email
Find us on social media and keep up to date with our activities: