The East Midlands region covers, Derbyshire, Nottinghamshire, Leicestershire, Lincolnshire, Rutland and Northamptonshire.
The East Midlands has a thriving diving community with a strong and experienced team that wants to offer support to divers and clubs alike. From this solid foundation we hope to drive forward the new Diver Training Program (DTP), and continue to offer a programme of courses and workshops that will enable our local branches to .thrive and attract new members. We are always happy to provide information, advice and guidance to branches and individual divers alike.
View upcoming East Midlands Region events
Your Regional Coach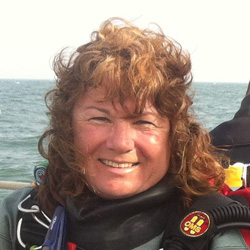 About Lina Ritson, East Midlands Region Coach
I started diving about 20 years ago after taking part in the annual October national try dive event that BSAC ran in those days. Since then, I've progressed to become a First Class Diver and Advanced Instructor. I am also one of the instructor trainers on the Instructor Training Scheme. I've always been with the same branch – East Midlands Sub-Aqua Club – and have held every role on the committee other than Chair!

I dive wrecks and reefs, whether in the UK and abroad, and I enjoy underwater photography.

I've recently started the journey of technical diving, beginning to learn how to dive on a rebreather. For an instructor, it's a good experience after all this time to go back to being a novice and remembering what it feels like to know nothing! I think all divers should keep up their skills and take opportunities to learn new ones.

I have a strong, dedicated and well-qualified regional team behind me, all ready to support the programme of events, which makes my job easier and a lot more enjoyable.
How we help and support divers and clubs in the East Midlands Region
We have an interesting, varied and exciting range of opportunities planned for the year and I encourage all the divers in the East Midlands to have and look to see what they might want to do to develop or progress during the year. Have a go at a new skill (like boat handling) or develop your existing skills further (like the chartwork and position fixing course).

The team is also open to requests for bespoke training events, skill development courses and workshops for branches.

As well as supporting individual divers, we are keen to support any branches that feel they need some extra help. We are looking to build on the successful "Know and Grow" workshops, as well as developing some new workshops aimed at helping branches.

If there's anything you need or want, get in touch for a chat!
Training and events in the East Midlands Region
View all East Midlands Regional events.
Want to join the regional coaching team?
Contact me by email , message me on Facebook or call me 07946 540319.
Find us on social media and keep up to date with our activities: