BSAC Wales is fortunate to have such a diverse range of dive sites along its coastline, including many popular wreck-sites, plenty of scenic sites as well as a plethora of exhilarating adventurous sites to suit divers of all levels and interests from novice to advanced recreational.
Many sites have the support and involvement of other collaborating organisations such as Natural Resources Wales, National Trust, Nautical Archaeological Society and SeaSearch. With this group involvement there are plenty of resources to draw upon to further diving activities around the region.

Mae BSAC Cymru yn ffodus bod ganddynt gymaint o safleodd deifio amrywiol ar hyd ei morlinau, gan gynnwys safleoedd drylliadau poblogaidd, digonedd o safleoedd prydferth, a sawl safle anturus i bleseru deifwyr ar bob lefel a diddordeb, o ddechreuwyr i ddiddanwyr mwyaf profiadol. Mae sawl safle yn cael cefnogaeth ac ymglymiad mudiadau cydweithredol eraill, fel Cyfoeth Naturiol Cymru, Yr Ymddiredolaeth Genedlaethol a "SeaSearch", i enwi rhai yn unig. Gydag ymglymiad grwp fel hyn, mae digonedd o adnoddau i dynnu lawr er mwyn ehangu gweithgareddau deifio ar draws y rhanbarth.
Your regional coach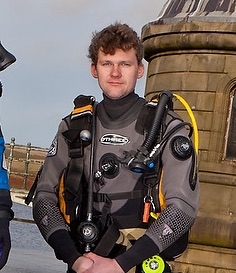 About Dai Atkins – Wales Regional Coach / Hyfforddwr Rhanbarthol Cymru
National Instructor, CCR Mixed Gas Instructor and all round excitable diver!
Gas Quality Engineer day job, Regional Coach err…also mainly during the day! but often answering your queries at all hours of the day! Two children who I hope have inherited their Dad's passion for nautical and marine related adventures!
Helping people succeed in their endeavours, developing excellence and promoting good experiences is what I enjoy most about the role!


There is no "I" in Wales. But there is a "W"and and "E" if you look close enough!

Nid oes "I" yng "Wales". Ond mae "W" a "E" os ydych chi'n edrych yn ddigon agos!
How we help and support divers and clubs in the Wales Region
We are lucky to be in close proximity to several well-resourced training venues from which the regional team can organise supplementary events to support branches and centres and help mentor up and coming instructors in order to satisfy our primary objective of self-sustainability within our branches, schools and centres and promote their interaction to enable a strong network of diverse training and diving resources to be open and available to all.

Yr ydym yn ffodus i fod yn agos iawn at sawl canolfan hyfforddi gydag adnoddau da, o ble gall timau rhanbarhol drefnu digwyddiadau ychwanegol i genogi adrannau a chanolfeydd, ac hefyd i fentora hyfforddwyr datblygol, er mwyn bodloni ein hamcan sylfaenol o hunan-gynhaliaeth yn ein adrannau, ysgolion a chanolfannau, ac i hybu eu rhyngweithiad er mwyn galluogi rhwydwaith gref o hyfforddiant amrywiol ac adnoddau deifio yn agored ac ar gael i bawb.
Training and events in the Wales Region
Core courses include stalwarts like Oxygen Administration, Buoyancy Workshops, Boat Handling and Diver Coxswain Assessments as well as entry level tech – Twinset and Accelerated Decompression Procedures (ADP). View all Wales Regional events
Want to join the regional coaching team?
We always welcome enthusiastic and committed instructors who wish to join the Wales Regional Training Team, to help put their newfound knowledge and skilful experiences back into the diving community. If you wish to help work on event, or want to learn something new to take back to your club, get in touch.

To join the team email or call me 07818 083269.
Find us on social media and keep up to date with our activities: