The Welsh region offers a plethora of amazing diving all around its spectacular coastline - backed by amazing places to stay and visit.
Steve Barnard took over as the Wales Regional Coach in May 23. Based in North Wales, he is a committee member of both Blue Planet Explorers and North Wales Technical Divers Sub-Aqua Clubs. Steve is enthusiastic, with multi agency experience and a background in professional diving and sport and volunteering development.

He is also active within scientific diving, emergency response and the commercial marine industry. These days, his primary work is within professional services in the higher education sector and he is an active RNLI Lifeboat Helmsman and Lifeboat Training Co-ordinator.
Steve's first dive was in 1994. Fast forward to 2023 and he is now a rebreather and open circuit technical diving instructor with more than 5000 logged dives. Steve is passionate about development and has trained divers at all levels, supported dive clubs and has provided professional services to dive centres in the UK, Cyprus and Egypt.

Steve has led regional events previously and is excited to be the Wales regional coach. He is keen to develop a network of instructors to facilitate training, provide support and maximise opportunities within the region, including Skill Development Courses throughout the year.
View upcoming Wales region events
Your regional coach
About Steve Barnard, Wales Region Coach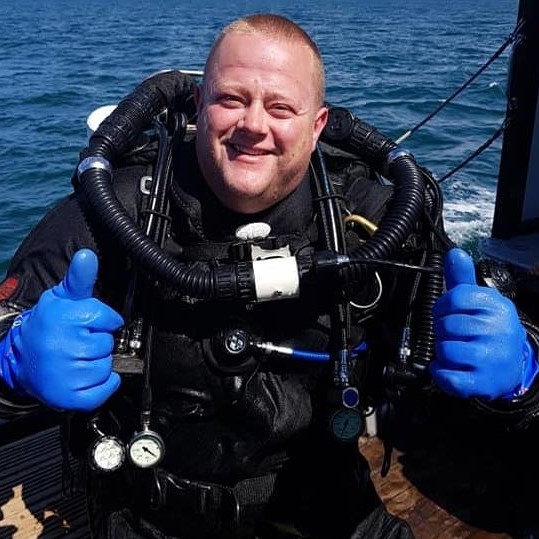 "I took my first underwater breath 29 years ago... From that moment I knew that diving was for me. It took a few more years before I could do my training and get certified, but from that point I've never looked back and I've not been dry for long since.

I've dived in a range of environments, and I am always keen for something a bit challenging and different. I started instructing in 2007 and technical instructing soon after that. I've certified divers from Ocean Divers to Advanced Mixed Gas Divers, some of which have gone on to become instructors.

I am here to support what you need, not to tell you what you need. I enjoy helping with development planning, supporting divers with disabilities and helping divers that are struggling or have low confidence to get to where they want to be."
I'm a firm believer in safe practices, positivity and the empowerment and encouragement of others to get what they want out of diving. I take a member led approach, am not pushy and look for ways to make things happen. I am looking forward to hearing from divers, instructors and clubs within the region.
How we help and support divers and clubs in the Wales Region
Our purpose is to support the ongoing development and nurturing of a safe and fun community of divers. We recognise that all clubs are different and unique and we are here to assist Welsh clubs in benefiting from everything that BSAC has to offer.
Training and events in the Wales Region
Some of the types of training and development that your regional team offers include:
Skill Development Courses (SDCs)

Dive Leader and Advanced Diver training & exams

First Class Diver prep activities

Preparing for practical and theory instructor exams

Diving Officer workshops
Need support with something that is not on this list? No worries, just reach out to us.
View upcoming Wales region events
Want to join the regional coaching team?
If you are a national qualified instructor and looking for personal development opportunities, or if you just want to help develop the skills and knowledge of other divers, then please contact the regional coach by email.
Find us on social media and keep up to date with our activities: