BSAC scuba diver centres are professionally-run diving schools offering a range of BSAC courses and diving to beginners and those who are already trained. There are also BSAC resort centres where divers can enjoy varied diving opportunities.
With many in the UK and around the world, BSAC centres are a great way to learn to scuba dive over a short period of time. The BSAC diver training programme is identical whether you train through a club or a centre. All our Diver Training Centres are approved by BSAC and you pay for your training as a commercial client.
For existing BSAC members, many centres have exclusive discounts for you so if you're looking to travel and train, or simply go diving, BSAC training centres or resort centres can be a great place to start.


How does training work at a BSAC Dive Centre?
Courses can be offered as a full-time programme or planned out over a period of time. It may also be possible to take or complete a course while on holiday although centres in different locations may offer different specialities and facilities.
After completing the Ocean Diver course at a BSAC centre, students receive three months' of free BSAC membership. This gives new divers time to find and join a local BSAC club (if they wish to) as a qualified diver or continue to progress their diving.
If you're an already trained scuba diver you can also complete a wide range of BSAC skill development, technical and seamanship courses, depending on the type of centre. Find a BSAC Training Centre.


Run a dive centre and would like to become affiliated to BSAC?

Centres with existing BSAC Instructor in place can start-up straight away and there is an easy Instructor Crossover process for centres with non-BSAC instructors.
Lanzarote Dive Centre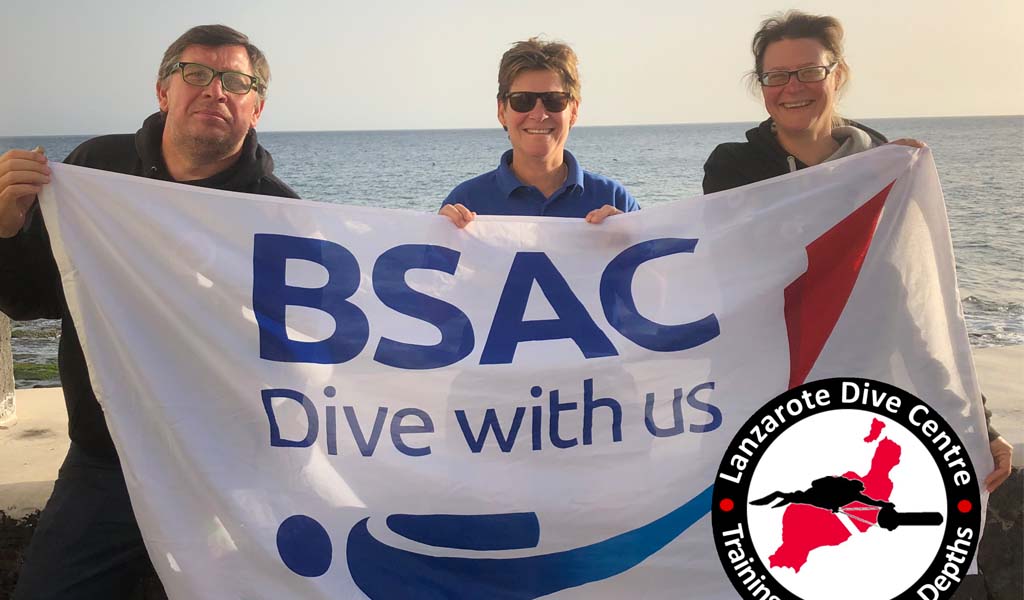 Lanzarote Dive Centre joins the BSAC family in 2019
The new BSAC Dive Centre in Lanzarote is run by Paul and Valerie (Owners and Scuba Instructors). Pictured with BSAC Instructor Sophie Rennie who completed their crossover training in just one day to become BSAC Dive Centre.