BSAC continues to build on the past successes of Try Tech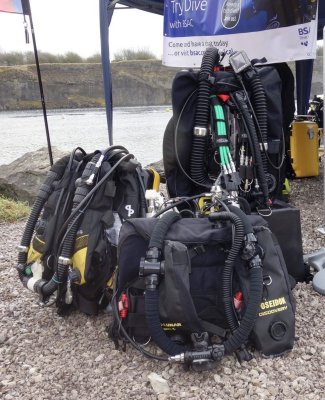 Building on the success of previous Try Tech events at Chepstow, Stoney Cove and Vobster, in 2019 Try Tec will offer even more opportunities for BSAC members to have a go at CCR diving or build their existing technical diving skills.
Who is Try Tech for?
Divers who want to have a go on CCR for the first time in open water and try different CCR units before committing to buying a unit or booking a training course.
Qualified CCR divers who would like to try different units to the one they qualified on/own.
Divers who are interested in understanding more about technical diving or improving their skills before moving on to ADP or mixed gas diving. So this could be twinset divers wanting to hone skills/look at stage options of single cylinder divers moving towards twinset and ADP. The workshops will give them hints and tips to improve their skill levels ready for tec and help them make future kit choices.
Experienced divers who want to experience using a scooter (DPV) in addition to the CCR options.


Current experience options for 2019 are: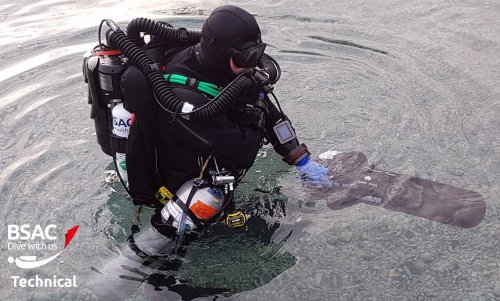 CCR and Scooter Experience – Entry level is Sports Diver
2 CCR try dives (each an hour, CCR unit provided)
30 minute SUEX Scooter dive (Scooter provided but diver must bring own OC/CCR kit for dive to 10/12m)
Dry practical session on the 4 rebreathers available on day
Entry level Sports Diver - minimum age 18


CCR Experience – Entry Level is Sports Diver
2 CCR try dives (each an hour, CCR unit provided)
Dry practical session on the 4 rebreathers available on day
Entry level Sports Diver - minimum age 18


Try Tec Skills Experience Day – Entry level is Ocean Diver (available for divers with single cylinder or twinset kit)
2 in water workshops (each 35-45 mins in water) from

Buoyancy, trim and finning – in water coaching to really improve underwater positioning and propulsion as well as confidence in performing decompression stops. Fundamental for anyone wanting to move on to mixed gas diving.
Stage trim and handling (stages and stage regs provided) – the chance to try diving with different size aluminium and steel stages in underwater with some stage skills and drills.
Sidemount Try Dive (sidemount kit provided) – the chance to have a go at diving sidemount
Dry practical session on dive expedition planning
Entry level Ocean Diver


Evening Social
There will be an evening social event for anyone to join at The Huntsman Pub, Usk Rd, Shirenewton, Chepstow NP16 6BU with talks from the Tec Team. (For numbers we just need to know who will be joining us)


For dates, prices and online booking
Find scheduled Try Tech events