BSAC photo-ID qualification cards are universally accepted and more convenient as proof of qualification than the Qualification Record Book (QRB).
How to request your Qcard
Complete this editable form (it's best to download the form to your desktop before filling it in. Some of the functions don't always work in web browsers) - Pre-Paid Qualification Card Application Form

You need to upload a photograph which will be printed onto the card as part of the process.

Please ensure the photograph is head/shoulders with a light background and the file of the photo should be named: last name_ first name _membership number.jpg.
Give the completed form to your course Instructor who will approve it
Ask your course Instructor to submit it back to BSAC via email qcards@bsac.com

or by post to: Qcards,

British Sub-Aqua Club,

Telford's Quay, South Pier Road, Ellesmere Port, Cheshire, CH65 4FL
Important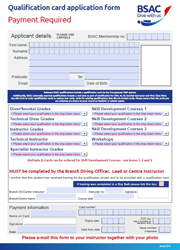 Each training pack has a Unique Reference Number (URN) and this must be quoted on the application form. Only cards for the course that the unique reference number is allocated for can be requested.
If you do not have a Unique Reference Number (URN) and you require a new or replacement card, please download and complete this form - Qualification card application form. If you need any support or advice please call +44 (0)151 350 6271 or email us.
If you have not received your qualification card after 3 weeks of applying please contact us qcards@bsac.com.
Proof of qualification without a QCard
If you have applied for a qualification card then your qualification has been updated on BSAC's records. Your qualifications are visible in your MyBSAC account. You can show proof of your qualification by showing your MyBSAC account page to whoever you need to. This can either be on your phone, tablet or by printing your MyBSAC account page (hardcopy), just make sure your profile photo is uploaded and visible.
CMAS QCard
CMAS qualification cards can now only be issued to UK residents.

Download the CMAS/SAA Qualification card application form