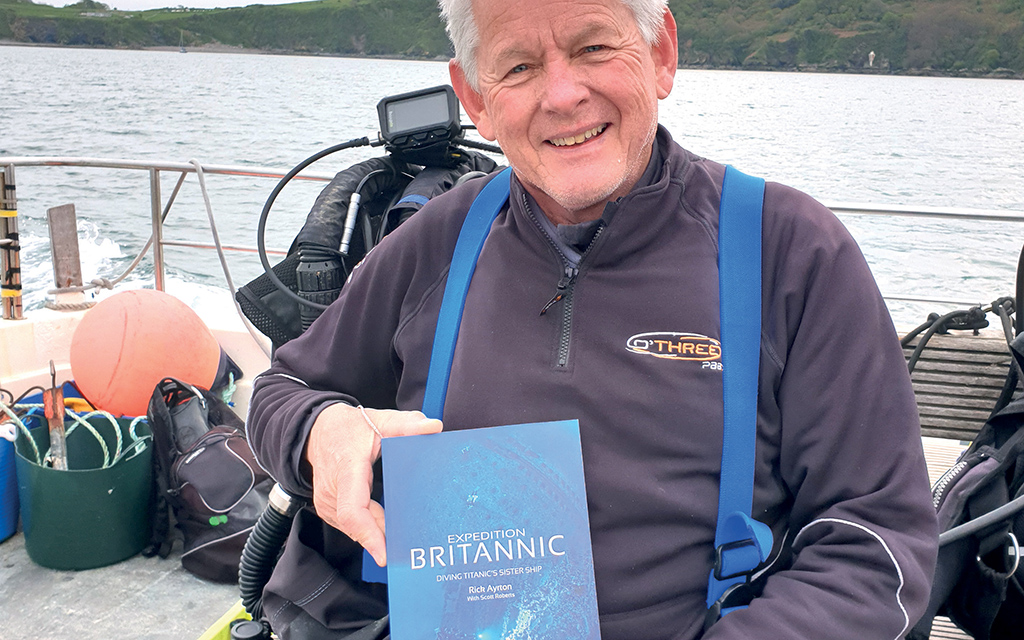 Yo-Han Cha interviews another fellow BSAC member Rick Ayrton, who is one of our foremost wreck divers.
Where do I start when introducing Rick Ayrton? An early adopter of the rebreather, he's been diving deep and exploring wrecks for many years. While he's been doing that, he's also been taking fantastic photos of them, shots that I appreciate more and more as I keep failing to replicate them! He's known in some circles as a 'legend' and I'm honoured to call him a friend. He's now a published author, having written a book about his participation in an expedition to dive the 'Everest' of wreck diving, HMHS Britannic, which lies in the Kea Channel, in the Aegean Sea. Rick was kind enough to grant me an interview.
Yo-Han: What got you into diving?
Rick: I'd always gone snorkelling and sailing on family holidays. One of the places I went sailing from was Queen Anne's Battery in Plymouth and I was intrigued by what was underwater. That, coupled with the legendary Jacques Cousteau's documentaries, led me to learn how to dive. My first ever sea dive was under Swanage Pier.
Y: Why the fascination with wrecks?
R: Wrecks capture my interest as I like the historical side of it. It's very easy to dive without knowing the history, but when you know the names of the crewmen and where they came from, it brings it home that there were real people doing a job at the time a ship sank. Nowadays, it's very exciting to dive a wreck that's never been dived before. There aren't so many of them around anymore! Last year we dived one U-boat and confirmed its identity and another U-boat that was possibly dived for the first time. Before we dived it, common knowledge held that it was a World War Two wreck, but when we dived it, it was clearly from the First World War.
Y: Do you like going deep or is it just because it enables you to see wrecks?
R: It enables me to see wrecks! If I could find an undived wreck at 20 metres, I'd be there like a shot!
Y: How much of a gamble was it booking onto the Britannic Expedition?
R: It was a big gamble. The weather meant it could have just meant one day of diving! As it turned out, the weather for a Greek island in May was unseasonably cold, but very calm.
Y: What was the local diving support like?
R: We used Kea Divers, who had supported previous Britannic expeditions, so they knew what to do. We also had a Greek technical instructor called George Vandros, who was very organised. He made the expedition as safe as it possibly could be.
Y: What preparations did you make to get yourself dive ready for the expedition?
R: Too many quarry dives during the winter, but needs must!
Y: How do you move around with 120kg of equipment?
R: Once you're in the water, a lot of the weight is nullified by the buoyancy. The main issue was the drag, but because we were using scooters, it wasn't a problem.
Y: Did you just dive the Britannic?
R: We also dived the Burdigala and the Patrice. The Burdigala is an absolutely stunning wreck and deserves recognition as an impressive, upright and intact shipwreck. It's arguably a more interesting wreck than the Britannic.
Y: What makes the Britannic the 'Everest' of wreck diving?
R: The combination of its depth (nearly 120m), its history and its links as the sister ship to the Titanic.
Y: What was it like when you first saw the Britannic?
R: That was an amazing moment. I was at 60m on the shot line when I first saw the wreck. I was blown away by the size of her. I could make out the rows of port holes and the cutaways where the bridge is located, which immediately enabled me to orient myself on the wreck.