Want to grow your club but not sure how or where to start? 'Know and Grow' workshops provide you with the skills and knowledge you need to grow your club.
The original Know and Grow workshop toured the UK back in 2018 and 2019, visiting BSAC regions to speak to as many clubs as possible about how to recruit and retain members in the most efficient and valuable ways. Over that time, these sessions and other recruitment efforts resulted in good membership growth for clubs through 2018 and early 2019.
Now, post-pandemic, while our goals of recruitment and retention are the same, the content of the Know and Grow sessions has been expanded and updated to be relevant today.
With the most cost-effective way of running the sessions online, the new Know and Grow webinar series will feature seven sessions that together become the ultimate club masterclass!
Catch up on sessions you missed
Topic

Know and Grow: Big wins for club growth

BSAC Marketing Manager Debbie Powell shares some useful tips, information and support on offer to help your club with its recruitment and retention. There is a focus what will deliver the largest gain for the least effort.

Know and Grow: Club culture

BSAC Council member, James Mudge, and Training Officer at Exeter University SAC, Laura Bramwell, talk about why clubs need to think about their culture, what a healthy culture means and why it matters. Full of advice and tips for clubs to take away.

Know and Grow: Recruitment and retention

Diving Officer at Berkshire Alumni Divers SAC, Dave Ashmore shares some fresh thinking and thought-provoking ideas with this in-depth session to help clubs recruit and retain more members.

Know and Grow: Utilising social media for your club

Digital marketing expert and club member Dave Ashmore takes clubs through pretty much everything clubs need to know to succeed on social media. The session includes your platform options, content and strategy advice.

Know and Grow: Collaboration with other clubs

BSAC Coaching Advisor Mark Paisey shares his thoughts and advice on how clubs can make the most of being part of the BSAC community. Mark shares practical tips on how clubs can collaborate with other parts of the network to achieve significant mutual gain.

Know and Grow: Diving Officer Q&A

BSAC Diving Support Advisor Geoff Bacon fields questions from Diving Officers most days at Headquarters. This session will cover the key elements and information related to the role, some FAQs and then an open session to take questions.

Know and Grow: Membership Secretary Q&A

This session covers the key elements and information related to the Membership Secretary role, some FAQs and then an open session to take questions.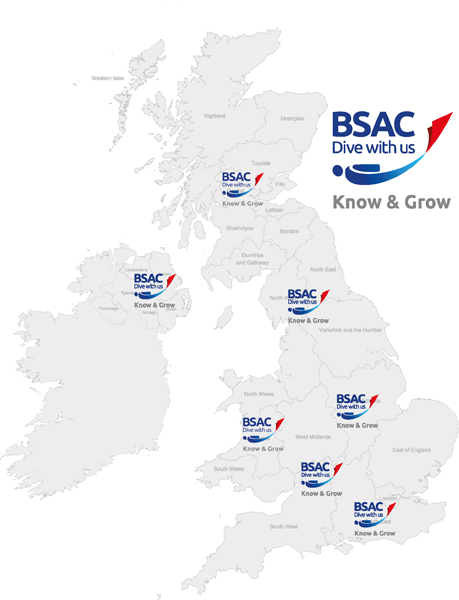 The original Know and Grow workshops were run throughout the UK in 2018 and 2019
Past events (2019):
Wednesday 16 January - North West Region (Wigton, Cumbria)

Wednesday 20 February - Eastern Region (St Albans, Herts)
Sunday 7 April - South West Region (Exeter, Devon)
Saturday 5 October - Southern Region (Swindon, Wilts)
Saturday 19 October - Wales Region (Cardiff, Glamorgan)

Saturday 16 November - Southern Region (

Portsmouth

, Hants)

Saturday 23 November - Eastern Region (

Romford

, Essex)

Saturday 7 December - South Scotland Region (Edinburgh, Midlothian)


BSAC's North West Region pilot event, Chorley SAC's Jan Glenn said:
there were some brilliant ideas on digital marketing that we need to take on board

The workshop was intended to take you on a journey from where you are now to where you want to be; sharing tips, tricks and teaching real practical skills and techniques so you can get the results you want for your club.
Where are you now?
How will we get there?
Make digital your best friend
Converting leads
Keeping members
Getting help