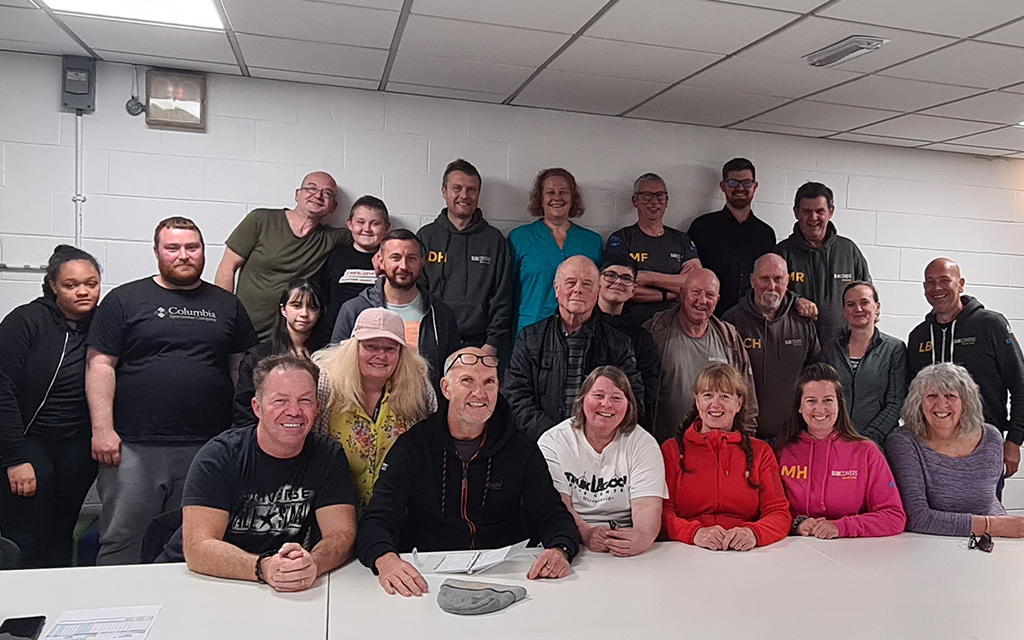 Sub C Divers' Lee Bevan talks about the initial scepticism and then success with crowdfunding £30,000 for the scuba diving and snorkelling club. Find out how he did it…
I joined Sub C Divers in 2017 after participating in one of the club's monthly public Try Dives. The experience of diving was awesome, but more so, I was encouraged by the membership, camaraderie, and warm welcome that was extended to me.
About a year after joining the branch, it became clear to me that the branch was functioning hand to mouth. As with all branches, we collect annual subscriptions, pay for the facilities and other overheads and hope and pray that nothing breaks. Our club RHIB was circa 19 years old at that time and beginning to cost the branch money.
In addition to that, while the club was thriving with Try Dive leads following a new online Try Dive booking system, we realised that we had an issue with the lack of kit and varied size options.
Approaching fundraising for the club
I requested a meeting with the committee offering to put myself forward to help raise some much-needed funds, suggesting I could help raise some money for new Try Dive kit and potentially a new RHIB.
Once I was given the go-ahead, I presented the opportunity to the rest of the branch and recall one legacy member saying, "we have tried and failed this before, you are wasting your time." I can only say this comment inspired me even more!
I started by writing a funding plan – basically, a business plan – and rather than send this plan to every fundraising opportunity, I decided to send it to just a couple of funders hoping they would save me a great deal of work and say 'yes'. However, as anticipated, they said 'no'. Rather than walking away with negativity, I asked why they said no and how they could educate us to improve the plan.
The feedback we received concerned me; despite our leisure centre being our home for 35 years, we apparently didn't have a lease and I was astounded by the lack of formal agreement. Because of that lack of lease, they wouldn't fund a new boat.
The impact of Covid-19 on our club
We were working to rectify the leisure centre lease, calling numerous meetings with local council estates people and local councillors and making progress but then sadly, in early 2020, the pandemic put a stop to everything.
Sub C Divers suspended memberships and temporarily closed down along with everyone else. There was a glimmer of hope in May 2021 when we opened back up with some restrictions for a couple of weeks, only to be closed down again as another lockdown began.
We were allowed to open and bring Try Divers and students back in the pool in September 2021, but due to the leisure centre being used as a Covid testing site, our training and meeting rooms were occupied.
Gradually, this begun to relax and some form of normality returned. In October 2021, Sub C Divers celebrated its 40th anniversary – 42nd, but delayed due to the pandemic – so we combined this with the Chair's Ball. It was a fantastic event; a sit-down dinner, celebrations, thank yous and awards, followed by a disco into the early hours.
With things back to somewhat normalcy, it was time to revisit our funding plan. I was in conversation with the local council's funding manager and she suggested, "have you tried crowdfunding?".
Why crowdfunding?
If done correctly, it really works. But I wasn't convinced before I tried the route myself.
We set up our page and immediately applied for Sport England's 'return to play after Covid-19' grant, only to be rejected 24 hours later. We asked for feedback (always ask for feedback!) and Neil from Sport England gave us a list of things to help us improve our application.
After resubmitting the application, we were successful, and Sport England granted us £10,000… if we reached our funding target from our own supporters (crowdfunded) and had 100 independent supporters.
From here, things started falling into place. When we had raised £3,000, I received a message from the Crowdfunding Management Site about another funding opportunity – National Emergency Trust (NET) offering match-funding up to £10,000 (with £250 per pledge). This instantly doubled any future pledges to the page.
Our local council also had a crowdfunding pot and after applying for this, we were granted £1,000, which adding the NET match-funding became £1,250.
When we were around the 25% mark, we realised we were short of individual supporters, and it was incredible to see the young students in our branch pledging pocket money to get us to the magic 100 supporters. Everyone was super excited and really driven. With each pledge match-funded, the £1 someone can give turns into £2 and £5 to £10. It all makes a difference.
Suddenly, I had the idea of using our branch levy as a reward. I spoke to Crowdfunding and explained that we take an annual membership of £110, however, if we offered the membership as £100 (saving £10) as a reward, could we do this. As a Branch, we had suspended memberships through the pandemic, and we had no idea who would return so this felt like a good way to start up again.
Every member of our Branch paid their annual membership via the crowdfunding page, generating over £9,000 with match-funding. With the money we had already raised, we had smashed our £25,000 target.
We also had a pending quiz night with live entertainment at £10 per adult, but we offered a team of 6 for £50, but with match-funding, this generated £100 per team.
The total on our crowdfunding page finished at £26,999.99 but we also raised offline a further £3,000 from other funders who were not able to pledge on our page. That's one penny short of £30,000 at a very difficult time of year.
When creating a funding page, you have to have no shame, leave no stone unturned.
You need to post in all your social media groups and encourage your members to do the same. Exhaust every networking opportunity available to you.
Our branch was in a difficult place after the pandemic, all our Try Dive kit was out of test, the boat had broken down and cost around £1,000 to fix, and we still had overheads, pool and facilities, insurance, etc. so any funds we had collected before lockdown were depleted.
When someone tells you no, that does not mean no, it means find the Next Opportunity. Ask questions; if no, why not?
How to set up a successful crowdfunding page:
View Sub C Divers' crowdfunding page
I asked the Chair, Ian Gardner, to create a video explaining our situation and why we need help. It took over 100 takes and was then deemed too long – try and keep this below three minutes.
Then we added all the text written for the funding plan – this should be broken up with headings to make it easier to digest and easier on the eye. I created graphic image headers, but you don't have to go that far if you don't want to.
Keep this information simple – while history is important, it's not that important so remove anything that offers very little.
Rewards – this is super important for crowdfunding as this gives people an incentive to donate (more on this later).
Make sure you check the 'keep what you get' box. If you don't select this and your campaign ends without reaching the target, then all the pledges will be refunded.
Choose your campaign timings wisely – we ran ours for eight weeks through December and January (probably one of the hardest times to raise money due to Christmas) and while we were successful, it was difficult.
Once you're happy with the content and publish the page, other funding opportunities show up and give you the chance to apply for those using your crowdfunding page information.
How to get rewards for your crowdfunding page
Reach out to every networking opportunity, business, friend's business, or anyone at all and ask them for a voucher or discounted service. Anything that offers a reward for a pledge can be used.
For example, Mike's MOT Station does MOTs at £40, but if I pledge £10 to the crowdfunding page, I get a discounted MOT for £25. Mike gets new customers, and the pledger gets a discount.
Be really creative. We offered 'sponsor a Try Dive cylinder for 12 months for the £50 pledge and one of our members would bring in the vinyl stickers to apply to the cylinders.
We had discount vouchers from tattoo studios, valet services, shoe repairs, beauty products, Try Dives, snorkelling sessions and RHIB rides.
Where are we now?
So, what will we spend the money on? We have taken our RHIB to Scotland to be completely refurbished, retubed and to get a brand new engine and trailer. The rest of the money will be spent on new Try Dive kit and the testing of our current kit.
Since raising the money, I have been asked to do webinars for the local council as they claim it's the fastest-growing fund page they have ever had locally.
Crowdfunding and Sport England have already had me take part in webinars in hope of helping others achieve.
Want to find out more?
Lee from Sub C Divers BSAC will be hosting a webinar on 'Crowdfunding for your BSAC club' on Tuesday 24 May at 19:30. Find out directly from Lee how they did it and there will be a Q&A section. Book on for free online before 17:00 on Monday 23 May.
Things to remember
Failure isn't necessarily a bad thing. If we fail often, we can better ourselves. Learn from your mistakes, ask for feedback and make changes where necessary.
Don't apply for lots in one go. Try a couple first and learn from this, like we did with Sport England. We learned and corrected therefore when the NET fund came available, we applied and were successful immediately.
The most important part of any of this is your members, their families, their networks... It's called crowdfunding for a reason!