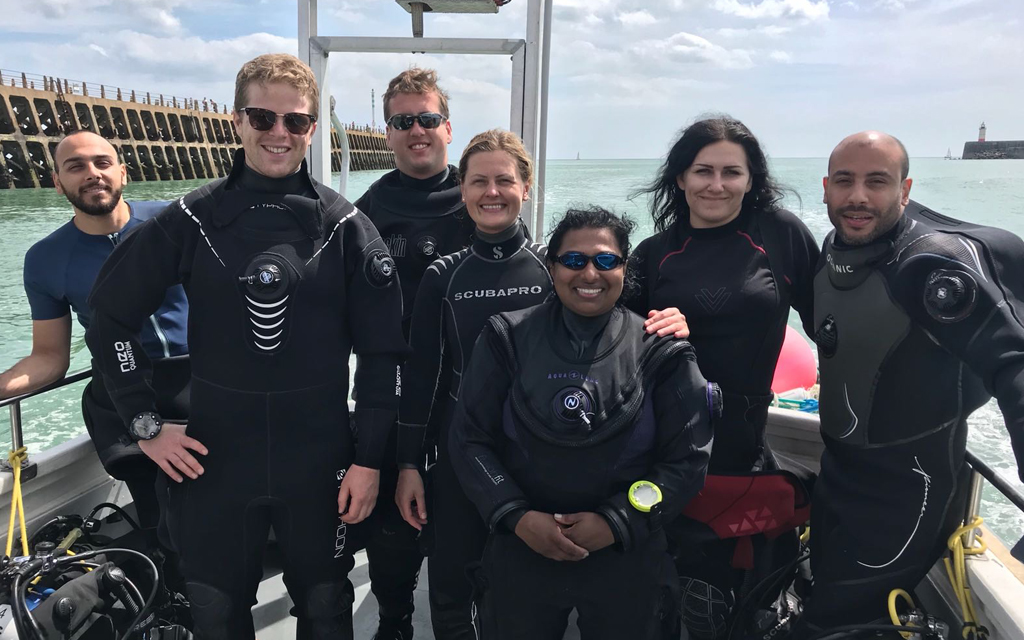 As lockdown restrictions finally start to ease, our minds are firmly on the coming summer months and a welcome return to diving. So let's give our dive clubs the care and attention they need to bounce back!
After a long and challenging year for BSAC clubs where diving and training have been seriously curtailed, the chance to get underwater and indulge in our shared passion for scuba is a huge step forward. And, with 2021 shaping up to be the year of the 'staycation', now's the time for clubs to get back out and do what they do best.
Here are seven ways you can support your club this summer...
1. Renew your membership
This may seem obvious, but if your current circumstances allow, please do remain a member of your club as it is a huge vote of confidence in its future.
2. Sign up to those club dives
Whether it's a club day trip to an inland quarry for a few shakedown dives or adding your name to the list for a longer trip, your club needs you! Fully subscribed trips not only bring in much-needed funds for your club but will enable it to get its diving 'mojo' back after numerous lockdowns. And club trips also help to support the UK's diving industry, helping to get us back to the diving life we all know and love.
3. Get your friends and family involved
If you haven't already, invite your friends, work colleagues or family members to make the most of the chance to get sociable again by having a go at scuba with your club. If your club has access to their training pool, a Try Dive is the perfect introduction… and could well bring in some new faces to its membership.
4. Bring in other agency divers
Summer 2021 is set to put the focus back on great British diving and give BSAC clubs the chance to welcome other agency divers looking for a scuba adventure a little closer to home.
So, if you know any other agency trained divers, why not invite them to go diving with your club! A great taster of what BSAC can offer, other agency divers are covered by BSAC's third party insurance for up to seven dives in one year. You can read more about welcoming other agency divers online.
5. Give your club the five-star treatment
You can help your club reach potential members by rating it on its Facebook page and its Google Maps entry. So, if you have had a five-star experience being a member of your club, let others know! Adding your rating and even a few words as a review can help boost your club's digital presence and reputation and hopefully bring in some new member leads.
6. Get membership recruitment savvy
New members are essential for a vibrant club as it moves forward, post-pandemic. And as an active member of your club, you are one of its best marketing assets. From helping on Try Dive pool nights to supporting planned recruitment campaigns, there's lots you can do to promote your club.
For inspiration, why not check out BSAC's Grow your club support section on the website.
6. Share the #divewithus hashtag
From sharing pictures of dive trips and training successes to club videos, social media is ideal for getting the word out about BSAC diving. Whenever you share anything about your club, as well as tagging your club and BSAC (@BSACdivers), please also use the hashtag #divewithus and get that call to action to join your club out!
7. Get more involved
And finally, if you have the energy, time and desire to make a difference, then speak to your club committee to see how else you can get involved. Your fresh ideas could help your branch move beyond the recent challenges and grow as a thriving diving club that can introduce even more divers to our amazing scuba adventure.
BSAC members save £££s every year using BSAC benefits.
Join BSAC today and start saving on everything from scuba gear, diving holidays and diver insurance, to everyday purchases on food, online shopping and retail with BSAC Plus. Click to join BSAC today.