To get the most out of your aquatic adventures you need to possess your own dive gear.
You'll go diving more regularly than if you don't own anything. It also means that when you start learning to dive, you have your basic equipment for pool and blue water diving.
When you first visit your local club for a Try Dive your Instructor will explain dive gear to you and what you'll need to get started.
Book a Try Dive with a BSAC club
As a new diver, your core kit is a mask, wetsuit boots, boat fins and a snorkel. You can also opt to buy a goodie bag, thermal protection, and a timing device. Provided you look after it, this equipment will last you for years. And, as part of your training with BSAC, we will teach you how to do this and what to consider when purchasing your core kit.

When you are ready to buy your basic diving equipment go and talk to your local dive centre. The beauty of buying from a dive shop is that they should have a large range of equipment for you to feel, touch, look at and try on.
The staff in the shop should ask you about the kind of diving you are doing now, and what you intend to do in the future, and they will advise you accordingly. There is no substitute for having an experienced professional personally checking that your equipment fits properly. Correctly fitting gear makes for a better dive.
Mask
Your mask is probably the first and one of the most important pieces of scuba equipment you will buy. It is imperative that it is comfortable, it is good quality and it fits your face shape properly, so expect to spend something in the region of £50. (If you buy a cheap mask, that is exactly what you will get).

You will need to equalize your mask during your dive, hence your mask should have an enclosed prominent nose pocket to allow you do this. Generally, it does not matter whether it has a single lens mask or two lenses. What is important is that the glass is tempered.
Mask (slap) strap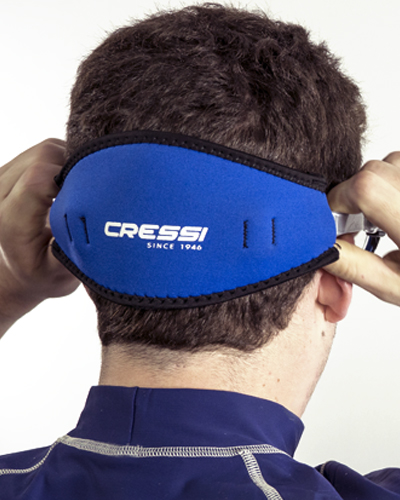 If you have long hair or prescription lenses fitted to your mask, you will probably want to get a neoprene cover for your mask strap. This is called a slap strap and it comes in two versions – a sleeve that fits over the latex / rubber mask strap, or one that replaces the existing latex / rubber mask strap.

A slap strap is kinder on long hair – this can sometimes get a bit tangled or caught in a latex strap. It is suggested that you sew or write your telephone number or email address on the inside of the neoprene strap so that in the unlikely event that you lose your mask, someone just might find it and contact you to return it. This is definitely worth doing if you have prescription lenses fitted to your mask.
Fins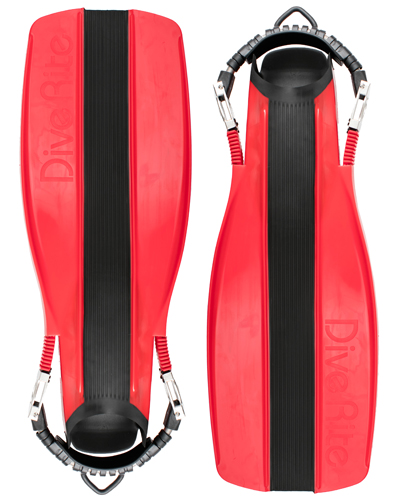 When it comes to scuba diving, there are two types of fin. A full-foot fin also known as a pool fin, and an open-heeled or boat fin. Some divers like wearing full-foot fins for pool training, or when diving warm water.

Pool fins are generally cheaper to buy. The fin has a non-adjustable foot pocket, therefore this pocket must fit your foot in a snug and proper manner. It should not pinch, nor should your foot slop about it in.
It is impossible to walk to a dive site in fins, therefore divers sometimes need to wear shoes when shore diving because rocks and pebbles can hurt bare feet, and in some instances, sand can be too hot to walk over. The downside of this is that you have to leave your shoes on the shore during your dive. The solution? Most British divers tend to favour wetsuit boots and dive boat fins.
A boat fin has an open heeled rigid foot pocket, and the fin is secured to the foot by pulling an adjustable rubber or spring strap over the boot heel. Generally, boat fins have a textured sole inside the foot pocket that helps stop the boot from moving inside the pocket. Boat fins also have anti-slip pads on the underside of the fin to provide some traction and grip when moving around on boat decks, or when climbing dive ladders.
On balance, pool fins are a nice piece of equipment to have, however they are not essential.
Boots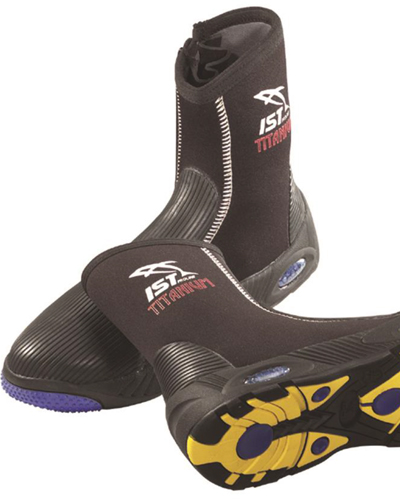 We wear booties or wetsuit boots for warmth and comfort. Boots physically protect our toes and feet from rough surfaces, or from being rubbed by boat fins. Boots also provide thermal protection from hot and cold surfaces.

You will find that you are not always jumping into the water straight from a boat. Sometimes you walk into the water from the shore, so look after your feet and get yourself a decent pair of diving boots.

These are comfy, hard-soled, neoprene boots. You will find them useful for wearing around a resort and invaluable when shore diving because some of the areas you will want to snorkel or dive are not that kind to bare feet. Wetsuit boots are the way to go when walking over rocky shores, stone, gravel, pebbles or hot sand.

Other features you might want to consider include a fin-strap retainer lug, and a zip. You will find a boot that has a zip on the inside of the ankle is easier to don and doff than a pull-on boot. It is now also possible to get dive boots that include an ergonomic footbed. This insole helps provide heel support, additional cushioning and impact protection when carrying dive gear.
Rashguard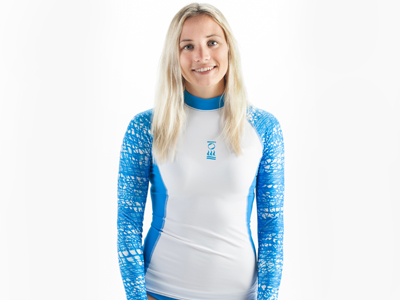 We get to dive in some pretty amazing fabrics that help keep us warm and protect our skin. One garment you may want to consider buying for your pool dives is a rashguard. This short or long-sleeved shirt can be worn on its own or beneath a wetsuit, and it helps to stop your scuba equipment from chafing. And unlike a cotton t-shirt, it also gives you some thermal protection in the pool. Today certain rash guards are manufactured using recycled nylon from recovered 'ghost' fishing nets.
Snorkel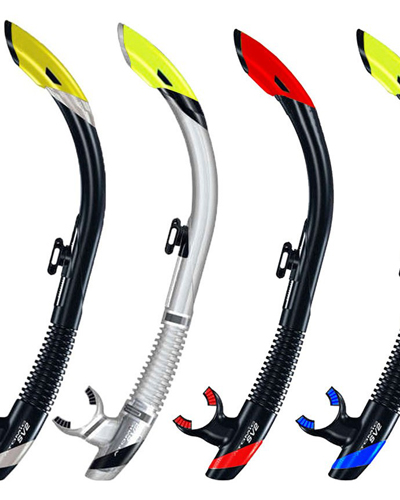 Snorkelling is a great way to get into watching marine life, whilst breathing with your face in the water. Snorkels have come a long way since the simple J tube.

One feature your snorkel ought to have is a replaceable mouthpiece (cheaper snorkels have built-in mouthpieces). The problem with this is that should you bite through the mouthpiece, the snorkel has to be thrown away. Therefore when you are shopping for a snorkel, check that you can easily replace the mouthpiece in the future.

You should buy your snorkel from a dive centre, rather than a supermarket, because the dive centre will have a much larger range for you to choose from, and their experienced staff will be able to advise you better. In addition, the quality of the silicone used will be superior. Good quality silicone is softer and gentler on your face and mouth.

You'll soon discover that today's snorkels are pretty identical. That said it's a good idea to buy a snorkel with a self-draining purge valve because this allows the water to drain from the bottom of the tube.
Goody bag
You will need an easy solution for carrying your core kit to the pool, the beach or to a dive boat. We call this a "goody bag". Typically a goody bag is a strong durable net or mesh bag that allows excess water to drain off your gear. And because it is a net bag, you can easily see and locate the equipment that you have stashed in it. And when you have finished diving for the day the mesh weave allows the air to circulate when storing your gear between dive trips, thus helping to control mildew and eliminate odours.
Timing device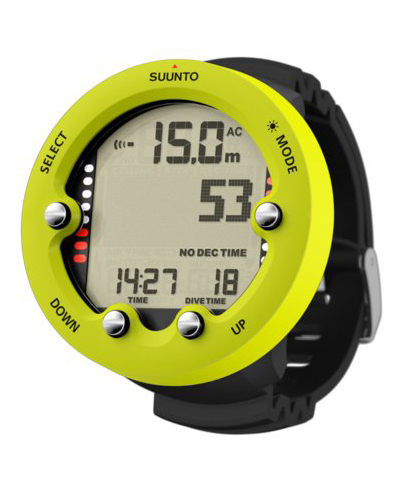 When we dive we absorb dissolved nitrogen in our body. It is important that this is tracked. We can do this in two ways. By using a special table, a depth gauge and a dive watch, or by diving a computer. Both methods will tell us how long we can safely dive for.

Divers today tend to use a dive computer because of the amount of data it gives us at a glance. However, a dive watch is still handy because it can act as a backup timing device.

Should you decide to buy a dive watch you must ensure that it is "water-resistant" and rated to a depth of 100 metres. A "waterproof" sports watch has a very shallow depth rating, and it is possible that it can be flooded. You should also check that if the watch is analogue, that it has a unidirectional bezel so that you can see how long you have been diving.

As a BSAC member, we will teach you to safely plan and conduct your scuba dives using tables and a computer.
I'm interested in learning to dive, how do I get started?
Sign up to learn to dive with a BSAC Training Centre (to learn in around five days) or find a local club (to learn over a period of weeks/months). If you train with a centre, you can always join a club later.
Need help? Call us on 0151 350 6201 (Mon-Fri, 09:00-17:00) or email for a chat!