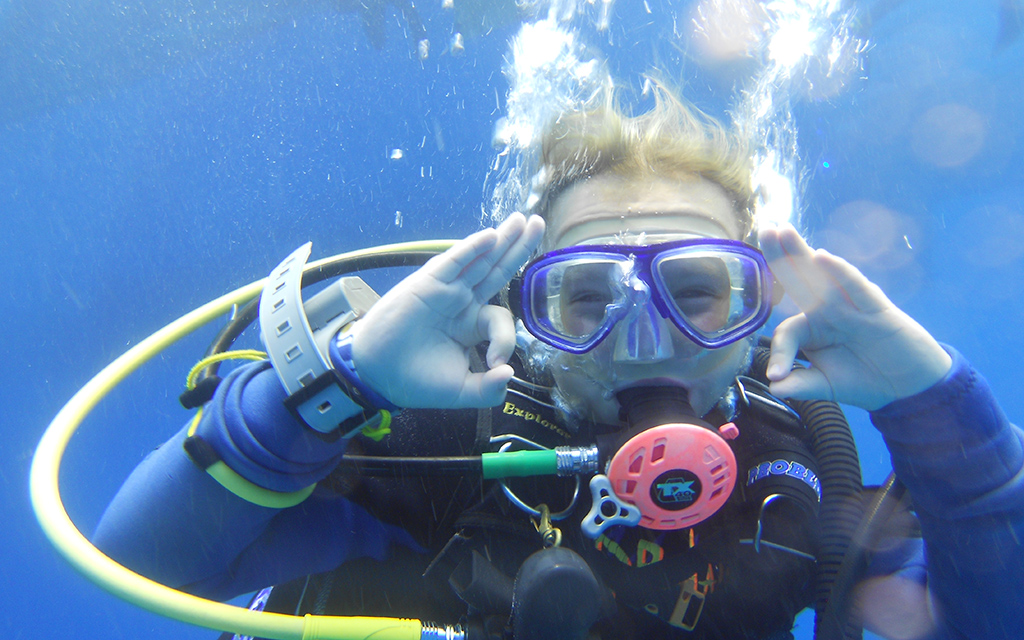 Young member Tillie Rose Marle began scuba diving training as early as she could and at just age ten, she qualified as a BSAC Discovery Diver. Keen for other young people to take the plunge, she has shared her story.
The BSAC Discovery Diver course could be the right choice for anyone short on time, or who expects to go scuba diving primarily with a dive guide. As a subset of the longer entry-level course BSAC Ocean Diver and open to those aged ten upwards, it's also an ideal way for children to begin their scuba journey.
Discovery Diver is available to learn in a club or at a BSAC training centre. Young member Tillie took the Discovery Diver course in her native Australia last year and is now progressing to Ocean Diver. This is her story: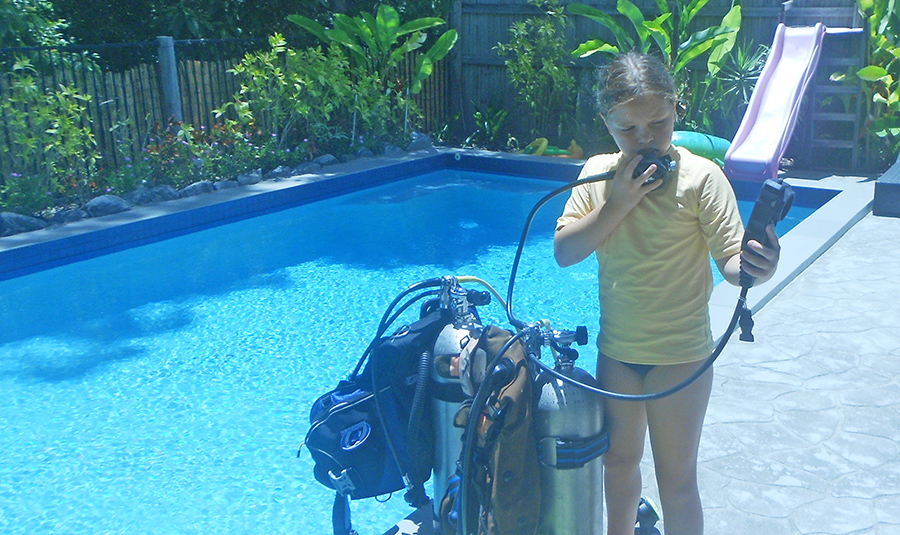 G'day, I am Tillie Rose Marle, aged 11, and I live in paradise - Cairns, Queensland, which is in North Australia. I have been a member of BSAC for just over a year now and first became interested in scuba diving while watching my older brother doing his training in my pool at home. I would snorkel above him and my Dad (who is an old, bold, instructor) carefully watching while he did his drills.
When I heard that Discovery Diver was brought in by the BSAC I bugged my dad to get me qualified at the age of 10. The day came, I was 10, and my course started - hooray!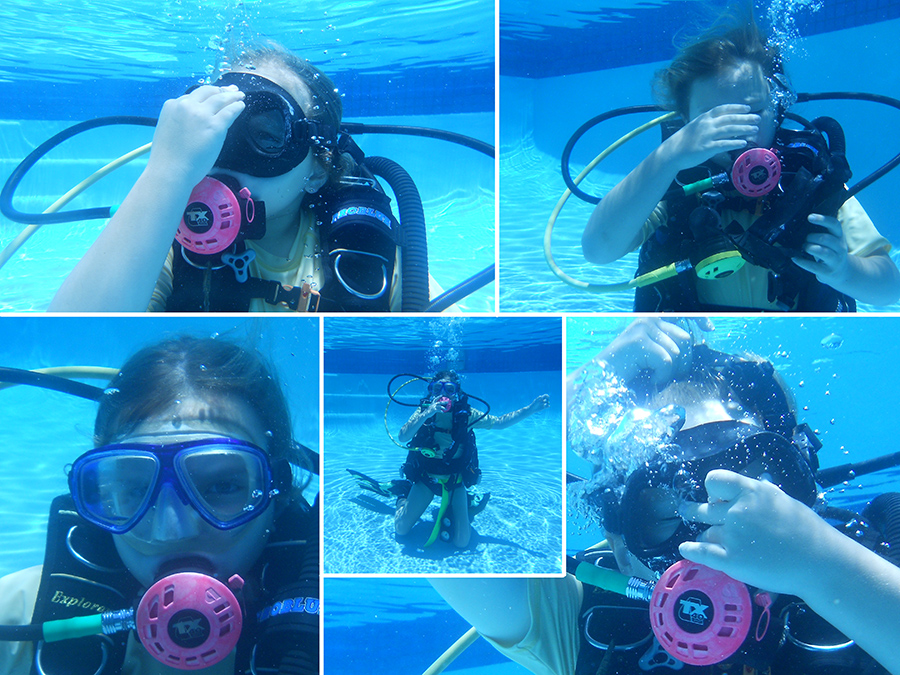 Skills, skills, skills!
[Clockwise, from top left] Mask clearing; mask recovery; donning a mask; regulator recovery; What's next?!
Once started it was lessons, questions and testing, which together with my pool training all felt cool to me. I had been doing snorkel rescues and all the snorkel training and more since the age of five with my dad, so I was so used to the water - I loved it.
Towards Ocean Diver
Once my pool training was complete, I advanced to open water training at Fitzroy Island. Lugging all the kit from home, onto the ferry to the Island then to the beach was a pain but it saved dad money and kept me fit, so he said! This is where I completed all my open water training. My brother, who I had watched train years ago, now had to watch me… as safety cover. Ha ha! I felt I was so lucky to be training in clear shallow water and be accompanied by turtles, rays and lots of fish watching me, it was a brilliant experience.

Building up dive experience
I then went on the big boats, out to the reef, which was and still is an awesome experience. The boat crews always remember and welcome me (my dad, not so much) when we get on board. We take things slowly, so all equipment is sorted, put on and checked properly and then we jump in. Because my dad is known on the boats, we are allowed to dive as a pair rather than a group, so I get to see a lot more and dad can concentrate on showing me the sights, fish and coral.
On my last dive I saw a shark just below us as we entered the water. My dad says the ones around the reef are pretty tame, but it still made my heart jump. Diving the reef is fantastic and I am so lucky to be so close to it. I have now completed 13 dives, which will hopefully be 20 by the end of this year.
I was hoping to become an Ocean Diver this year, with my depth limit of 12 metres, but because of my age I cannot qualify till I am 12. However, it's not too long to wait until I can match my brother as a Sports Diver.
I would recommend the BSAC Discovery Diver course to anyone, however old they are. It was fun and will open up the amazing underwater world to you – whether you live by the Great Barrier Reef or not!
- Tillie

About Discovery Diver
The Discovery Diver course is a fun way to learn the principles of diving, including how to use basic dive gear such as a mask and snorkel. Once qualified, Discovery Divers understand basic scuba diving safety skills, how to control their buoyancy and underwater movements. The course includes three theory modules, three pool or sheltered water modules, and at least two open-water dives.
You can enrol on the Discovery Diver course from the age of ten at your club or Centre.