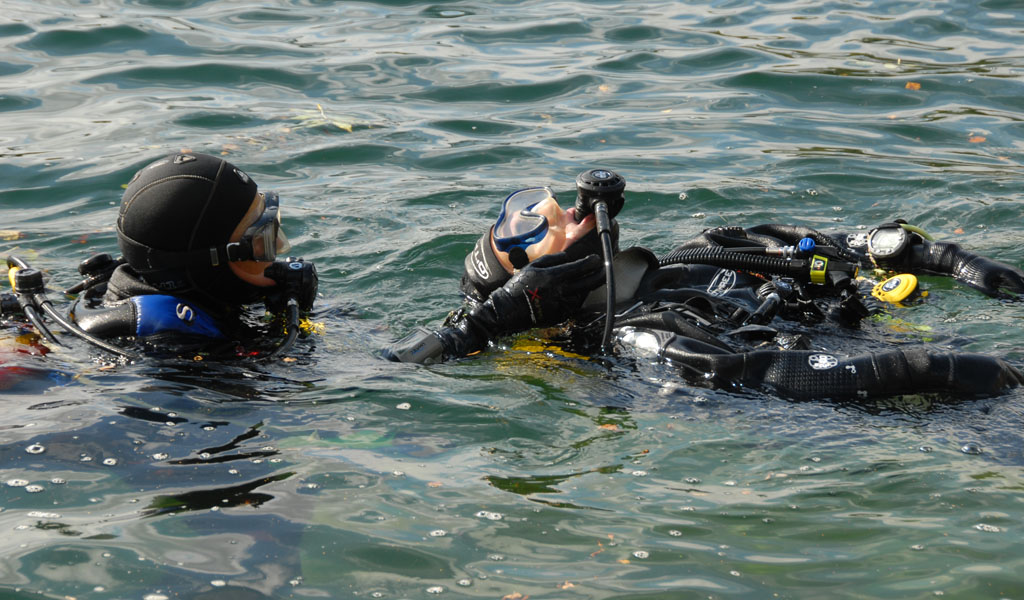 Guidance has been released by BSAC for instructors, divers and snorkellers on Immersion Pulmonary Oedema (IPO) and how to avoid, recognise and provide first aid treatment. (Known as Immersion Pulmonary Edema or IPE in the USA.)
As the national governing body for scuba diving and snorkelling in the UK, BSAC is continually trying to increase the awareness of the effects of Immersion Pulmonary Oedema. We are encouraging all divers and snorkellers to be aware of the condition and what to do if you recognise any of the signs of IPO.
Evidencing Immersion Pulmonary Oedema in diving
Until now the focus has been on trying to establish an evidence base to try and quantify the extent and frequency with which the condition is being encountered in diving.
One of the challenges with this is confirming with any certainty that IPO is involved. One issue is that oedema is difficult to distinguish between other fluids in the lungs at post mortem, such as in drowning. Another is that oedema is a known post mortem effect in the body.
Using evidence from in the Annual Diving Incident Report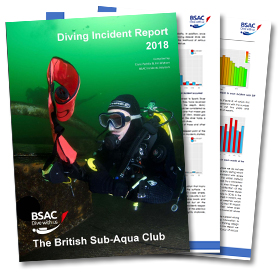 Within the Annual Diving Incident Report we believe there is sufficient evidence to lead us to move to a further stage in raising awareness of this condition.


To date 24 incidents have been identified in the entire database (1997-2018) where IPO has been confirmed;
and for the 2016-2018 reporting years 29 incidents have been identified where IPO is suspected of being a factor from the synopsis using the factors described within the Annual Reports in recent years.

Whilst we continue to collect supporting evidence we have now published two formal documents to help instructors and divers understand the condition and consider how to avoid, recognise and treat IPO should they encounter it whilst diving.


New Guidance by BSAC on IPO for Instructors, Divers and Snorkellers
Immersion Pulmonary Oedema: Instructor Guidance
A simple guidance for instructors has been produced covering the key points in considering raising awareness for students and any divers.
The intention is that in the short term instructors can incorporate coverage of this content within any relevant courses they may be teaching (e.g. diver grades and first aid courses such as Oxygen Administration and Practical Rescue Management (PRM)).
As the knowledge and evidence consolidates the content will be incorporated into the relevant teaching and training materials. To support the guidance for instructors the diver guidance is also located within the Instructor Resources section to be used as a handout where appropriate.
Immersion Pulmonary Oedema: Diver Guidance
The simple guidance document for all divers including snorkel divers provides key information about the condition and the important considerations of how to avoid Immersion Pulmonary Oedema, in particular:
being normally hydrated before a dive and not over hydrating
how to recognise the common indicators of the start of the condition in yourself and others
the appropriate first aid treatment to follow, in particular, to sit upright if conscious rather than lying down

The guidance summarises and condenses the information previously presented at the BSAC Diving Conference and in a number of articles in SCUBA magazine.
The information is relevant to anyone who immerses themselves in water including snorkellers, especially in cold water.
Read Diver Guidance online Download Diver Guidance pdf
Immersion pulmonary oedema (IPO) can be experienced by snorkellers as well as divers
It could be easy to dismiss IPO as something that is only relevant to scuba diving however as snorkellers we are immersed in water and it is not unknown for a snorkeller to suffer from IPO. Therefore, we should all be aware of the effects of immersion pulmonary oedema and encouraging snorkellers to be aware of the condition and what to do if you recognise any of the indicators for it.
- Marg Baldwin, Snorkel Instructor Trainer
Watch Dr Peter Wilmshurst present IPO explained
Further reading on IPO...
The hidden killer: Immersion pulmonary oedema (IPO) (Article by Dr Peter Wilmshurst)



Join BSAC and you'll be helping us to develop and promote the best practice in diving safety. Plus, you can 'opt in' to get the latest safety updates straight to your inbox.
Join BSAC Direct online today or Find your local BSAC club
If you fancy a chat to discuss your membership options please call us 0151 350 6226 (Mon - Fri, 9 - 5:30).