The Annual Diving Incident Report contains details of UK diving incidents occurring to divers from all agencies and backgrounds, plus incidents occurring worldwide involving BSAC members.
The report analyses the background to the incidents and over many years BSAC and other UK based training agencies have constantly revised and updated their training programmes and safety guidance based on the report.
Agencies and organisations take into account developing technology and address training issues highlighted by incident analysis. BSAC monitor and report on diving incidents in the interest of promoting diving safety. The collection of incident information is central to understanding trends in diving safety.
Groups, including the Maritime and Coastguard Agency (MCA), Royal National Lifeboat Institution (RNLI), Health and Safety Executive (HSE), DDRC Healthcare and other diving organisations and agencies feed into our system, but the vast majority of reports come from individuals.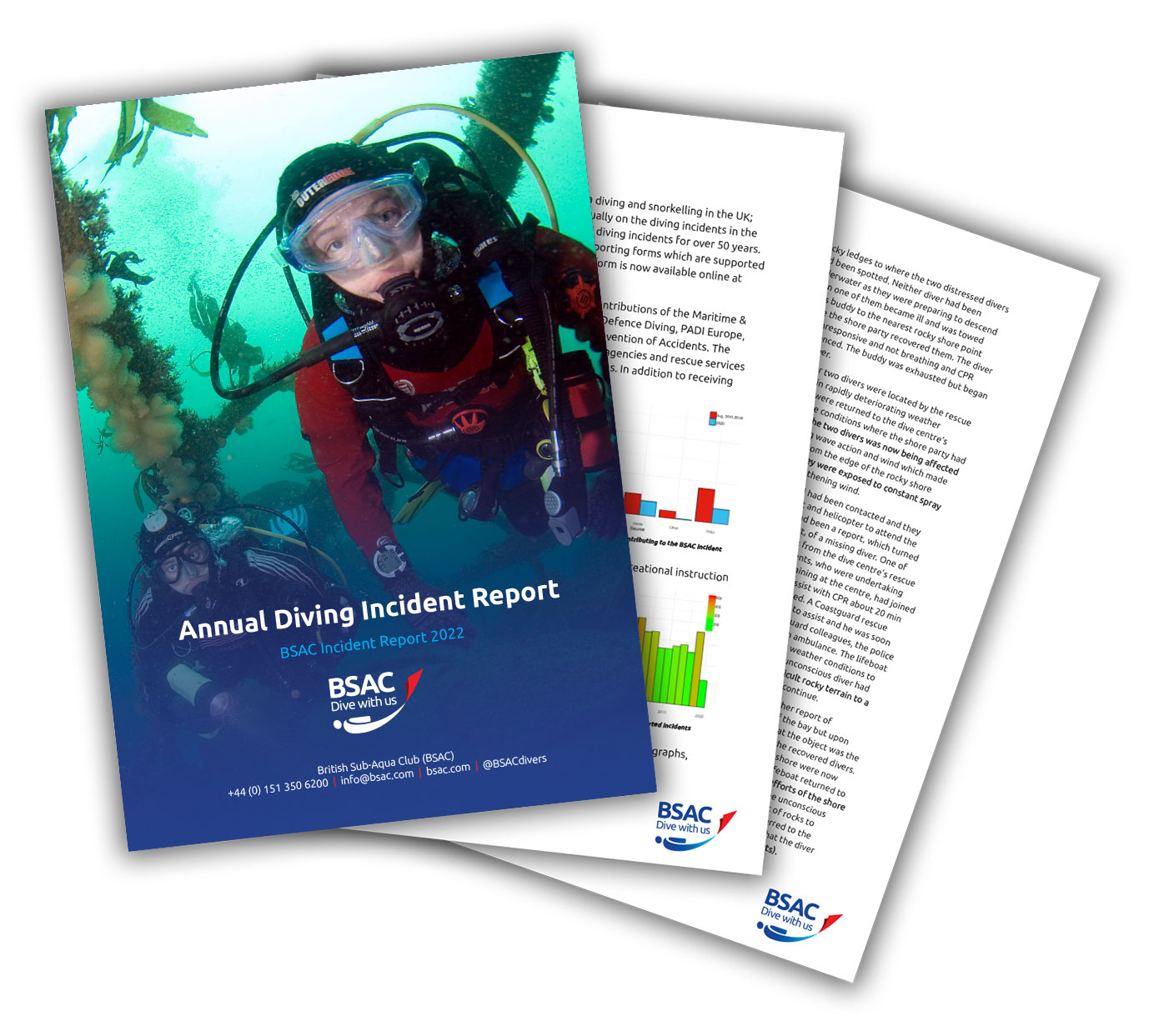 New report content for 2022 – Jan to Dec 2022
This year BSAC continues to analyse the data held in the incident database by calendar year; the data are therefore presented in this report from 1 January 2022 to 31 December 2022.
All the comparison analysis of historical data has been reconfigured to present calendar year data.
Download and read the BSAC Incident Report 2022
Incident Report Presentation 2022
As in previous years the Incidents and Safety Advisor presented the data by online webinar, recorded below.
Incident Report presentation - Dive Industry
A variant of the 2022 Incident Report presentation for the dive industry will made by the Incidents and Safety Advisor. Book a place now:
The 2021 Incident Report presentation to the dive industry can be viewed at Incident Report presentation - Dive Industry.
How you can use the report
Please use the current and previous reports to learn from others' mistakes. They have had the courage and generosity to record their experiences for publication, please use this valuable source of information to avoid similar problems.
Previous Diving Incident Reports
Earlier reports can be provided by contacting our Diving Resource Team by email.