Underworld Tulum

Welcome To Underworld Tulum…
We can arrange all aspects of your Mexican diving adventure including accommodation, transport, logistics and some truly incredible diving.
Underworld is Mexico's only BSAC Centre, and is a Premier and Technical Centre offering most BSAC courses. It is a purpose-built facility offering Recreational, Cave and Technical Training with onsite divers' accommodation, pool and bar area. It is owned and run by Lanny and Claire Vogel, both BSAC Instructors and cave/technical instructors with various agencies.
Recreational divers can explore the caverns of the Riviera Maya and experience the marine life of the world's second biggest coral reef. For technical and cave divers, we have everything you need, including scooters, rebreathers and an amazing variety of beautiful caves. Whether you want to learn to dive or complete advanced training in cave or trimix diving, we can offer the right course for you through BSAC.
Tulum has a friendly, laid back atmosphere and is much more compact and welcoming than the larger, more commercial resorts of Cancun and Playa del Carmen. Tulum has one of the most beautiful beaches in the world and is becoming increasingly fashionable as a plethora of celebrities have chosen to holiday here. There are three distinct parts of Tulum – the beach, the Mayan ruins and the town/pueblo, where Underworld is located.
This video from our DiveFest event gives an idea of the facilities and diving on offer: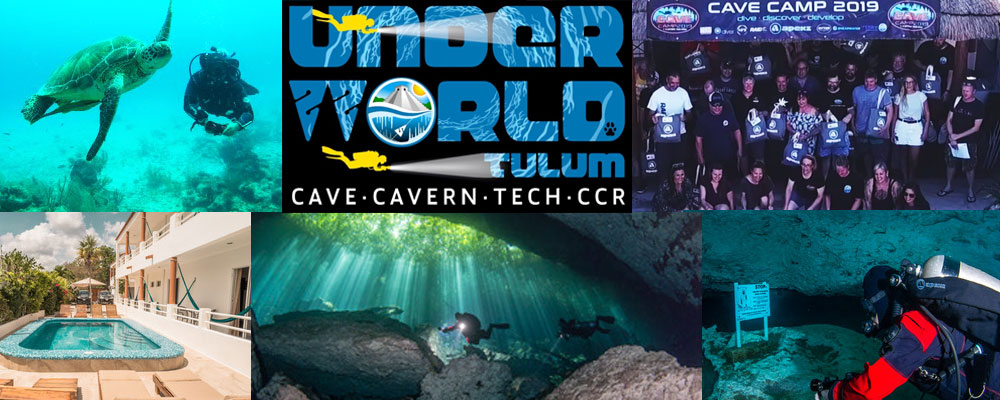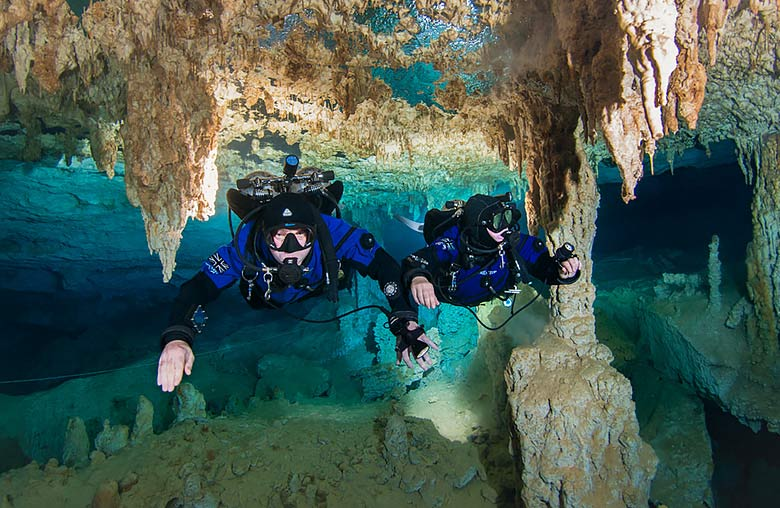 Facilities
All year round diving
Bespoke Club Trips.

Underworld is designed for club trips with dedicated on-site accommodation and a large social area. We can use our expertise from running

www.cavecamp.com

to put together a tailored programme including Scooter and Rebreather try dives, plus socials and presentations.

Cenote dives.

The spectacular cenotes are the reason most divers visit the Riviera Maya and are a unique diving experience. Any qualified Ocean Diver or above can participate in a guided cenote dive in the cavern zone of these amazing places.

Cave Diving

. Cave courses are available for technical divers who want to venture a little further into the overhead environment.

Ocean dives.

TheMesoamerican Reef is the world's second largest barrier reef and has some great dives. Some of the sites we visit include Tankah Bay, Akumal, and the many reefs of Playa Del Carmen. We can also arrange dives in Cozumel or Xcalak, and dives with Bull Sharks during the season (November to March).

Top Quality Training

. We offer most BSAC courses and many SDCs, as well as specific cave courses not offered under the BSAC syllabus.

Purpose built divers' accommodation

. Our apartments are designed with divers in mind, with lots of storage space, separate living/dining area, a full size fridge and a large TV.

On-site -

On site we have a swimming pool, fresh water showers, drying and storage facilities for all your equipment, a dedicated rebreather room and a large communal bar area with pizza oven and BBQ

.

Perfect for club trips!

Equipment Rental

– Our selection of rental equipment is first class and includes Apeks regulators, Halcyon and XDeep wing systems, Seacraft DPVs and SF2 CCRs. All equipment rental is included in the cost of courses and guided diving.

Gas fills

The fill station we use for our nitrox and trimix is the best in the area and we have conducted an independent spectrographic analysis through a lab in the US to ensure gas quality.
Not a member? Join or renew online today to access the benefits.
Alternatively, send your postcode to hello@bsac.com and we'll help you find the right scuba club for you. Or if you fancy a chat call us 0151 350 6226 (Mon-Fri, 9-5:30).