Divefest 2021 - Underworld Tulum

Welcome To Underworld Tulum…
We can arrange all aspects of your Mexican diving adventure including accommodation, transport, logistics and some truly incredible diving.
Underworld is Mexico's only BSAC Centre, and is a Premier and Technical Centre offering most BSAC courses. It is a purpose-built facility offering Recreational, Cave and Technical Training with onsite divers' accommodation, pool and bar area. It is owned and run by Lanny and Claire Vogel, both BSAC Instructors and cave/technical instructors with various agencies.

Recreational divers can explore the caverns of the Riviera Maya and experience the marine life of the world's second biggest coral reef. For technical and cave divers, we have everything you need, including scooters, rebreathers and an amazing variety of beautiful caves. Whether you want to learn to dive or complete advanced training in cave or trimix diving, we can offer the right course for you through BSAC.
Tulum has a friendly, laid back atmosphere and is much more compact and welcoming than the larger, more commercial resorts of Cancun and Playa del Carmen. Tulum has one of the most beautiful beaches in the world and is becoming increasingly fashionable as a plethora of celebrities have chosen to holiday here. There are three distinct parts of Tulum – the beach, the Mayan ruins and the town/pueblo, where Underworld is located.
Divefest Mexico will take place in Tulum from 7-17 July 2021
It is an event that will bring BSAC divers together to experience some extraordinary diving, enjoy the beautiful and historic Riviera Maya, meet like-minded divers and develop some different diving skills. Tulum is right on top of some of the best cavern and cave diving on earth, as well as having the Meso-American Reef system (second in size only to the Great Barrier Reef) just off the coast. Divefest will be hosted at Underworld Tulum, Mexico's only BSAC Centre.
Diving opportunities will include:
Fantastic reef dives on the Meso-American reef
Guided cavern dives – a safe introduction to the overhead environment, suitable for all Sports Divers and above.
BSAC training, recreational and technical BSAC courses on offer.
Try Dives. Divers will be able to try different styles of diving, including diver propulsion vehicles, closed circuit rebreathers, sidemount configuration and twinset.
Cavern and Cave Courses. For experienced divers who want to take their diving to the next level and venture a little further into the overhead, cavern and cave training will be available.
Overhead environment masterclass – a unique training programme, combining an introductory cave programme with a BSAC Advanced Wreck Diver Skill Development Course.
Social events - there will be a variety of social events, including a BBQ, Pizza night and a diving quiz.
Presentations - there will be evening presentations on a wide variety of diving related subjects.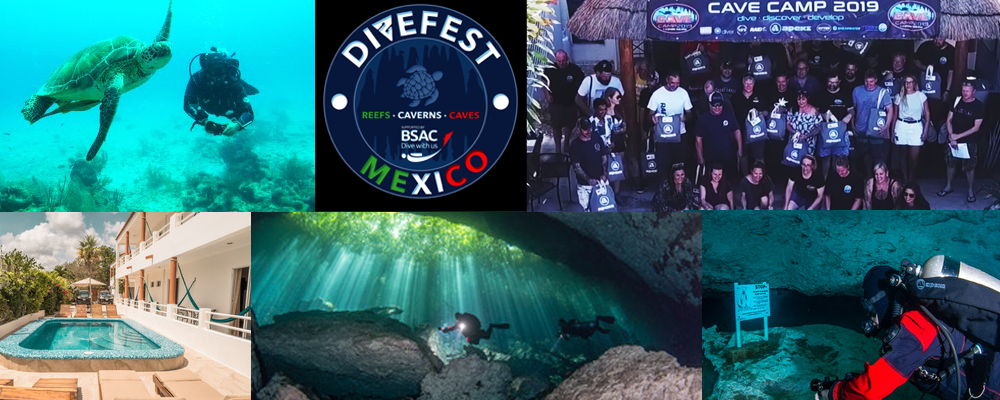 Exclusive deal for all BSAC members
Following a fairly shocking 2020 for all divers, Underworld Tulum (Mexico's only BSAC centre) is trying to make 2021 a better year for UK divers with a unique event. Divefest Mexico takes place from 7-17 July 2021, and is a great opportunity for BSAC divers to enjoy some of the worlds best diving in Caverns, Sinkholes and the second biggest reef on earth.

Divefest is open to all levels of diver and events include socials, presentations and workshops to learn more about scooters, rebreathers and sidemount diving.

Cave and technical courses are also available during the event.
Cost is £999 for divers, or £599 for non-diving partners, which includes:
Self Catering Accommodation in a purpose-built divers' apartment (2 sharing)
Return Airport Transfers from Cancun to Tulum
Two fully catered social events
Evening Presentations
Divefest T-Shirt
2 ocean diving days
4 guided cavern diving days
Workshops, including CCR, DPV and Sidemount.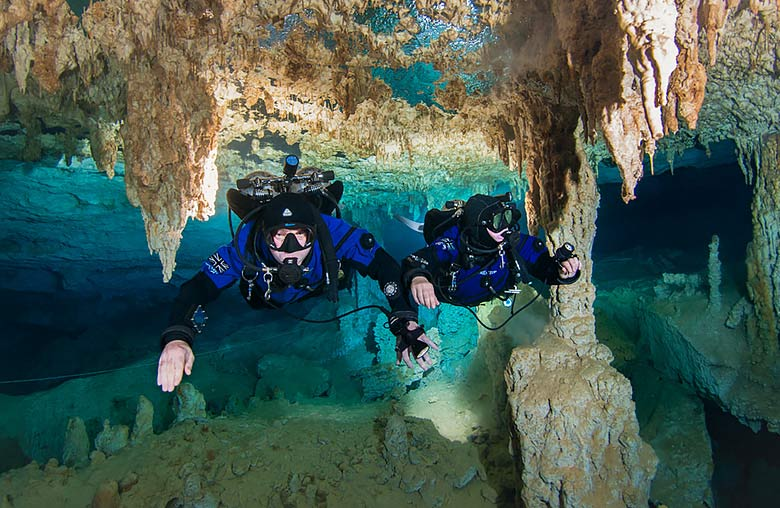 Facilities
All year round diving
Tankah Bay: A beautiful reef system with some great little swim throughs very close to Tulum.

Akumal: Turtle central! Some great hard coral and lots of turtles.

Playa del Carmen: We team up with a reputable dive centre to provide some cool diving on the reefs and walls off Playa. In addition, pregnant bull sharks usually congregate off the coast of Playa del Carmen between November and March. It is possible to dive with these magnificent creatures and we only partner with operators and boats that conduct this activity in a safe, responsible and conservation-minded manner.

Cozumel: The island of Cozumel has some of the best ocean diving in the Caribbean and can be accessed by a fast day boat from Playa.
Marine Reef - The Mesoamerican Reef is the largest barrier reef in the Western Hemisphere. The reef boasts a network of marine and coastal habitats. ... It incorporates a rich structure of beaches and dunes, coral reefs, lagoons and mangrove areas .
On-site - On site we have a swimming pool, fresh water showers and secure drying and storage facilities for all your equipment.
Equipment rental - Our rental fleet comprises everything from recreational diving gear to full cave diving equipment.
Gas fills - Underwater Tulum has a very large filling station we offer onsite nitrox and air fills.
Not a member? Join or renew online today to access the benefits.
Alternatively, send your postcode to hello@bsac.com and we'll help you find the right scuba club for you. Or if you fancy a chat call us 0151 350 6226 (Mon-Fri, 9-5:30).