It is no surprise that Malta is referred to as 'The Jewel in the Mediterranean'. With more than 300 sunny days a year, crystal clear blue waters and a rich history that dates back over 700 years Malta is the perfect destination for divers and non-divers alike.
The Maltese Islands and diving with Maltaqua
The Maltese Islands offer some of the best and most unique diving in the Mediterranean. With a wealth of wrecks, reefs, caves and crystal clear blue water, there is something for everyone, whether you are taking your first breath in the magical underwater world or you are a seasoned technical diver.
Although the Island of Malta is little more than a dot in the Southern Mediterranean it is home to well over 50 dive sites! Whatever your interest or level of diving, there are the perfect dive sites for you to explore and just 3 hour daily flights from all major UK airports!
For the wreck enthusiast, there's an abundance of sites to delight! From wrecks scuttled for recreational divers between 16-40m to historic wrecks between 55-110+m for the Technical Diver. Malta has one of the largest concentrations of Historic Wrecks in the Mediterranean So what are you waiting for?
If the natural marine world is more your thing, the stunning underwater topography of beautiful reefs, caves, crystal clear water and no currents is a dream for the underwater naturalist or photographer!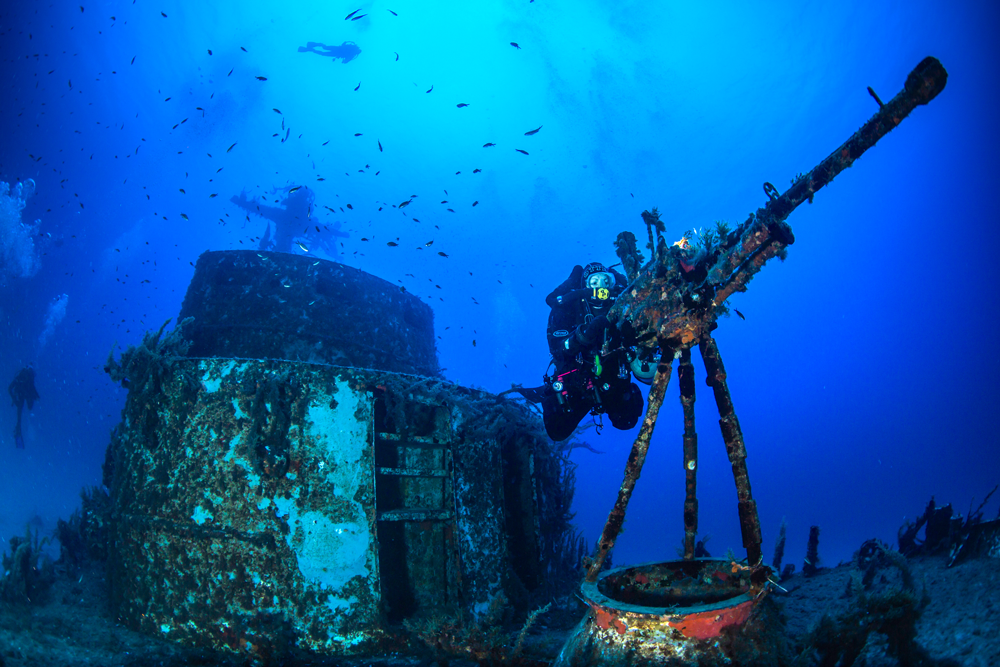 Facilities
All year round diving – Why not run your winter open water training dives over a long weekend or short break in Malta?
Your alternative club House in the Mediterranean – Dedicated full-time instructor support for all levels of BSAC training during your stay.
Dive centre established in 1969 - BSAC Centre of Excellence 0007, ISO 24803:2007 certified.
Filling station – Large capacity Bauer Pure Air compressors, with Draager booster pump and bank system – providing air, O2 and Helium.
Kit rental - Full Kit for 50 divers, plus a choice of 150 tanks: single, double, sidemount, slings & CCR tanks.
Three classrooms - Classrooms with capacity for 25, 12 and 6 students.
Large retail outlet - Major brands: Aqualung, Apeks, Tusa, Suunto, Fourth Element, Waterproof, Mc Nett.
Servicing and repair centre - Apeks and Aqualung ASSET technician.
Transport to dive sites - Fleet of nine dive trucks.
Airport shuttle service – Local transport from and to the airport in Malta.
Accommodation – Eleven apartments, able to accommodate up to 34 divers with a dedicated wet room for washing and storage of your dive gear, within 5 minutes walk from dive store and 10-minute walk from the seafront promenade. We also offer accommodation in private seafront villa for up to 6, perfect for those wanting a little more luxury during their stay. Ideal for groups or families including non-divers.
BSAC Member Exclusive deals
4 Night- BSAC Club Offer*
Package for Clubs looking for a winter location to complete their open water dives!
Apartment accommodation for 4 nights
6 dives over 3 days
Road transport to the dive sites and back
Rental: Tanks, weights, BCD and Regulators
Airport pick up and drop off service
EURO 350 PER PERSON
Conditions: Min. 6 persons
based on 2 persons sharing a room
single rooms available for a supplement of 80€ for 4 nights
*Period Nov – April (Excluding period 19 December – 20 January)
Full Offer Details Contact Maltaqua
Not a member? Join or renew online today to access the benefits.
Alternatively, send your postcode to membership@bsac.com and we'll help you find the right scuba club for you. Or if you fancy a chat call us 0151 350 6201 (Mon-Fri, 9-5:30).