''Cyprus the secret dive destination of the Mediterranean!''
Diving in Cyprus offers a vast diversity of dive sites from unique cavern dives, sensational scenic dives with an amazing array of marine life. Of course not forgetting the Zenobia voted among the top 10 best wrecks in the world!
Dive Cyprus with Dive Stop
Established in 2018, Dive Stop is an English owned BSAC training centre located on the South-eastern coastline of Cyprus. Will Stratford, owner of Dive Stop, has been diving for over 30 years, teaching for over 15 years and diving in Cyprus for over 20 years making Dive Stop the No 1 diving centre in Cyprus!
Whether you are a novice ocean diver looking for your first warm water diving, a seasoned professional diver, or an experienced technical diver, Cyprus is the perfect destination for you offering a huge variety of wall, reef, cavern, and wreck dives. Diving in Cyprus is different every time.
Dive Stop are fortunate enough to own their own purpose-built dive Rib allowing us to offer ultimate flexibility and the ability to offer you exclusive dive sites!
Marine life in Cyprus is exceptional from large schools of Mediterranean species to amber jacks, tuna, large grouper as well as some of the tamest turtles you will ever dive with. Diving in the crystal clear warm blue water can feel like being in an aquarium.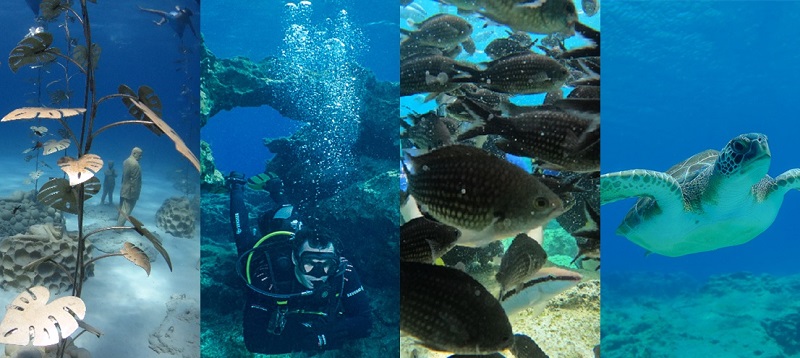 The Zenobia Wreck one of top 10 wrecks in the world!
Among other exceptional wrecks, we are fortunate to have the almighty Zenobia wreck just a short drive from our premier scuba diving facility. This epic wreck will blow your mind and will leave you with a huge grin on your face after every dive.
There are countless places to dive on this 174m wreck which sank on her maiden voyage in 1980 whilst laden with 104 articulated lorries. Technical issues with the ballast system caused her to eventually sink on to her port side just 1500 metres from Larnaca harbour.
Divers of all levels can enjoy this awesome wreck as the deck of the Zenobia is just 17m beneath the surface with the bottom of the ship lying on the seabed at 42m. Diving on this wreck is simply breath taking; there is so much to see and so many places to explore. One thing is for sure diving on the Zenobia will make you come back for more!

Facilities @ Dive Stop
Dive Stop operates throughout the year making Cyprus an ideal training destination to bring your trainee divers. We offer tailor made training packages at superb value!
Your Perfect overseas partner - Dive Stop offers the perfect solution for BSAC Clubs with our exclusive dive club partnership scheme.
In house instructors - Our experienced in-house instructors offer the perfect support for club instructors teaching overseas. Alternatively, you can send your students to be trained by our experienced instructor team.
Purpose built dive rib - Dive Stop owns their own 8m dive rib allowing us to offer the ultimate flexibility and access to exclusive dive sites.
Custom designed filling station - Our L&W gas system delivers the highest quality air & nitrox directly from the compressor or from our storage banks. Combining this with our custom-built panel allows us to offer top quality gas to recreational and technical divers.
Equipment room - Dive Stop prides themselves in offering the best rental equipment available to their customers. Owner Will Stratford comments "If I would not dive in it why should my customers". Our recently refurbished school kits include Apeks & Aqualung regulators, weight integrated BCD's including specific female BCD's, top-quality suits from Aqualung, Beuchat & Fourth Element.
Custom designed Dive Centre - Yes, Dive Stop was designed with the diver in mind, allowing us to offer exceptional facilities including classrooms and outdoor lecture space, a purpose-built kit washing area as well as on-site equipment servicing from factory trained technicians.
Getting Around - Dive Stop offers free dive site transfers as well as a free daily collection & drop off service from your hotel or accommodation. We even offer a free trip to the local Lidl for divers to get essential supplies.
Accommodation - Dive Stop works with many local accommodation providers to offer you a variety of accommodation. From basic self-catering apartments to 5* luxury hotels, beach front private villas and many more.

Exclusive BSAC Member Offers!
Dive Stop has some exceptional offers for BSAC Members. Whether you are looking for a quick trip with your buddy or a club trip Dive Stop has the perfect package to suit your needs and budget! We pride ourselves in planning dives to suit the client NOT the dive centre! We offer a FREE tailor-made dive package at no additional cost as well as Free places for trip organizers!
Ocean Diver overseas training
Is your club losing members and training through harsh winter conditions? If so, Dive Stop has the perfect solution. We offer overseas Ocean Diver referral dives combined with 4 four guided post certification fun dives for an unbelieve price of just €280 per a person! That's for 8 dives including full equipment hire.
This offer is a Dive Club exclusive & is extremely competitive with the cost of training in the UK!
The above price is based on 6 trainee divers being trained by BSAC instructors at Dive Stop. We also offer great value self-catering accommodation and airport transfers.
Long Weekend Budget Buster
Are you fed up with being blown out, or diving inland sites just to get the in the water?
Then Dive Stop has an amazing offer to make wasted long weekend trips a thing of the past! We offer exclusive long weekend packages including a minimum of 2 dives on the world-famous Zenobia wreck! Our packages include:
2 guided local shore dives
2 guided local boat dives on our own Rib
2 guided dives on the Zenobia
Prices start from just €250 per person based on a minimum of 6 divers, based on T&W hire, local dive site transfers are also included.
Both packages are available from the 01st December 2022 until the 01st May 2023 inclusive
We also offer great value self-catering accommodation and airport transfers.
For more details on these exclusive BSAC member offers contact Dive Stop today
Full Offer Details Contact Dive Stop
Not a member? Join or renew online today to access the benefits.
Alternatively, send your postcode to hello@bsac.com and we'll help you find the right scuba club for you. Or if you fancy a chat call us 0151 350 6226 (Mon-Fri, 9-5:30).