Cyprus offers spectacular marine life and has a diverse ecosystem as well as ancient artefacts. With sea temperatures are around 26°C (80°F) it is perfect for travel and training.
A great partnership for all BSAC clubs

Established in 2011, Dive Stop is a British-owned dive centre located on the south-eastern part of the beautiful Cypriot coastline. Diving around this part of Cyprus is some of the best in the Mediterranean. The crystal clear waters offer visiting divers a superb variety of reef, wall, cavern and wreck dives suitable for all level of divers. Our dive sites offer a diverse and rich variety of marine life including large silver bream, damselfish, large groupers, barracuda, wrasse, tuna, amberjacks, octopus, and Moray eels are all regularly seen on the local dive sites. As well as regular encounters with turtles and stingrays.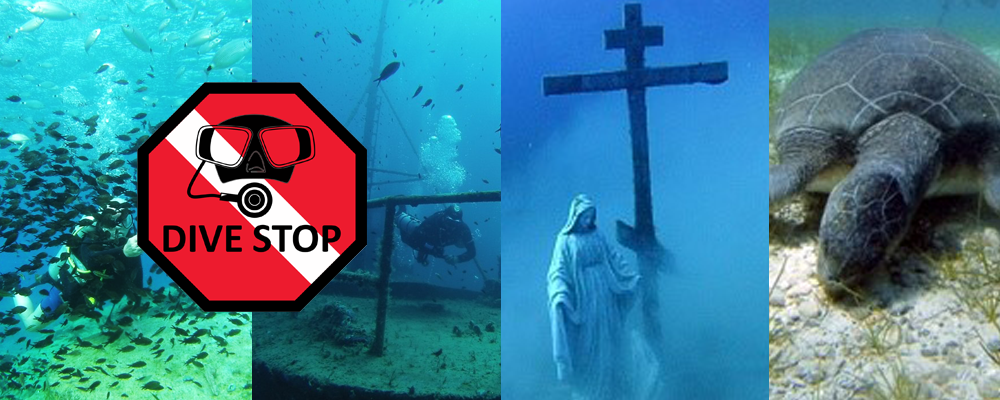 Zenobia is one for your bucket list
Couple this with all-year-round sunshine, warm water throughout the year and it is easy to see why Cyprus is such a popular dive destination. For the experienced qualified diver, there is the world-famous Zenobia wreck which is easily accessible from our dive centre. Diving this awesome wreck is a must for divers visiting Cyprus.

Facilities
All year round diving – Why not travel and train in crystal clear waters
Shore dives - Our shore dives offer divers a wide variety of dives suitable for all levels of divers. Depths range from 3 to 50 metres many of our local dive sites are truly unique, marine life is rich and varied on all our dive sites.
Boat dives - Dive Stop offers many boat dives to a variety of both local and offshore dives these include both wreck, wall, and reef dives. Many of these dive sites are only dived by Dive Stop making them exceptional and unique.
Wreck dives - Cyprus offers wreck enthusiasts a huge variety of wreck dives ranging from WW2 gunships to many artificial wrecks and of course the world-famous Zenobia wreck. Cyprus is the perfect destination to complete the wreck diver course. Dive Stop specialises in offering "Get wrecked packages as well as the wreck SDC course.
Marine reserve - All of our dives sites are classed as marine protected areas. Marine life throughout our dive sites in rich and varied allowing divers to enjoy plenty of interaction with the marine life.
On-site - Dive Stop offers all the on-site facilities a diver could need. We have a well-stocked retail outlet, air condition classroom, changing, toilet and shower facilities as well as a large private pool perfect for sheltered water training.
Equipment room - Dive Stop has a huge array of school and rental equipment. Our brands include Tusa, Beuchat, and Oceanic.
Kit hire - We can offer full equipment hire for both recreational, technical, and rebreather divers at excellent prices.
Insurance - Dive Stop is a fully insured centre. We have a comprehensive Dan Europe club policy. We recommend that all divers have their own accident insurance when diving in Cyprus. This can be arranged locally.
Gas fills - Dive Stop has a very large filling station we offer onsite nitrox, stage gas, and rebreather fills. Trimix is also available on request.
Ocean Diver referral
Dive Stop are offering exceptional deals on Ocean Diver referrals. This is where the club undertakes theory and pool dives, then the student can complete their open water dives in with us, either with original club instructors or with Dive Stop instructors.
Training dive with Dive Stop instructor = €25 per dive
Training dive with club instructor and a Dive Stop Dive Leader = €15 per dive
Pleasure shore dives after certification = €30 per dive
Pleasure boat dives after certification = €40 per dive
This means an Ocean Diver can be qualified in just 2 days, followed by 6 pleasure dives to gain experience and celebrate certification from less than €250.
All dives include fully insured BSAC instructor, full equipment hire and daily dive site transfers.
Dive Stop can also offer accommodation and airport transfers at an exclusive price.
BSAC Clubs exclusive deal
Winter warmer Ocean & Sports Diver training package
Calling branches and clubs bring your student divers to warm sunny Cyprus to complete their training dives. At Dive Stop we provide the instructors, support, and the perfect facilities required for your students to complete their training dives in the warm crystal clear waters of Cyprus.
Training package includes:
Return airport transfers
4 nights self-catered accommodation
6 shore dives, over 3 days
Free fun dive completed on the last day
Full equipment rental
Daily transfers to and from hotel to dive sites
Cost of this package:
€325 per person, based on two people per room and a minimum of four divers.
Package availability:
1st November until the 30th April
Scuba & Stay packages
BSAC clubs & members book your exclusive Scuba & Stay package with Dive Stop.
We offer tailor-made dive packages throughout the year. All our packages offer a variety of shore dives including reef, cavern, and wall dives and, of course, a minimum of two dives on the world-famous Zenobia, including penetration for sufficiently qualified divers. All our packages are suitable for any level of diver.
Sample dive package:
7 nights self-catered accommodation
5 days guided diving (6 shores dives, 4 Zenobia dives)
T&W hire (including nitrox, where applicable)
Daily transfers to dive sites
Cost of this package:
€450 per person, based on two people per room and a minimum of four divers.
Package availability:
1st November until the 30th April
Shore dives can be upgraded to local boat dives for an additional €15 per dive. Additional Zenobia trips can be arranged for an additional €60 per trip. Remember that Dive Stop will tailor a package according to the specific requirements of your divers. Technical and rebreather trips can also be catered for.
Full Offer Details Contact Dive Stop
Not a member? Join or renew online today to access the benefits.
Alternatively, send your postcode to hello@bsac.com and we'll help you find the right scuba club for you. Or if you fancy a chat call us 0151 350 6226 (Mon-Fri, 9-5:30).