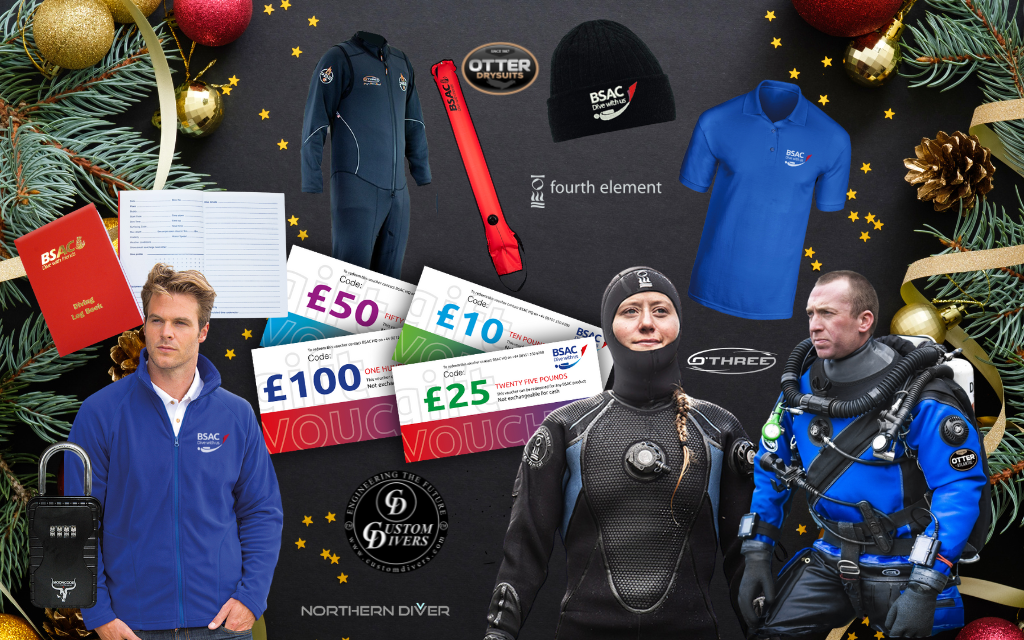 We've put together our Scuba diving gift guide for every diver, give the gift of diving, or subtly forward on to friends and family.
For the newbie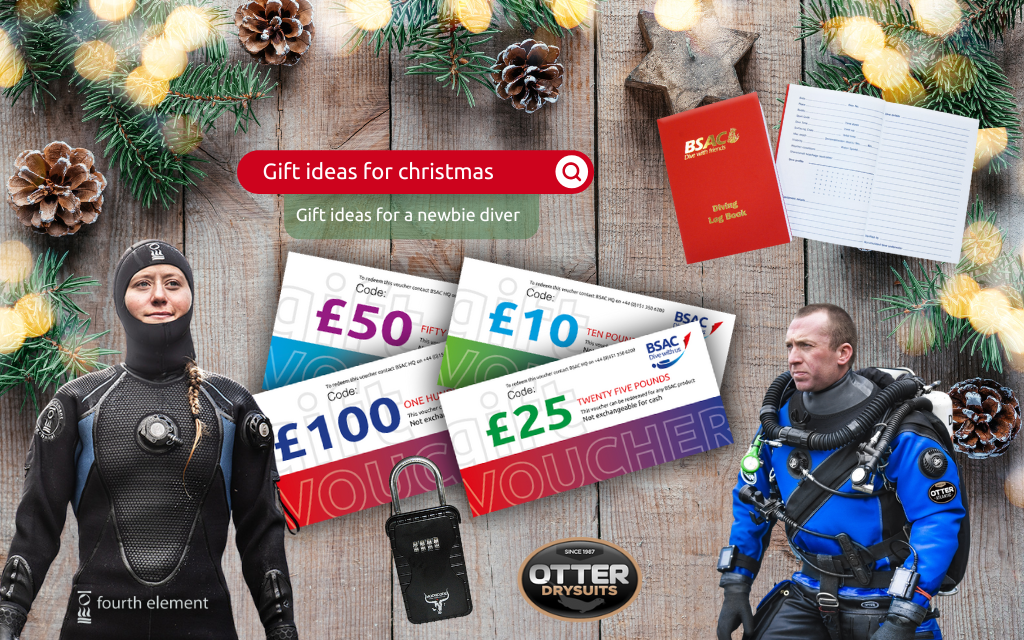 BSAC vouchers
For the person who's just starting their scuba journey, why not gift BSAC vouchers to spend on training packs, merchandise, digital materials, membership, and events? A perfect gift for anyone who loves the underwater world. Visit the BSAC shop.
Please note: To redeem this voucher, the owner will need to contact BSAC HQ on +44 (0)151 350 6200 and place their order over the phone.
Log books
Record and keep safe details of your dives, a great present for any diver to have and at a budget-friendly price. Visit the BSAC shop.
Mooncode Keysafe
The perfect gift for scuba divers, snorkellers or just about anyone. The Mooncode is a safer and more secure alternative to leaving keys and valuables under a rock, car, doormat or just 'hidden' somewhere! Leave your keys and other valuables securely locked away in this strong heavyweight box, house keys or car keys fit perfectly. Visit the shop.
A new drysuit - yes please!
We understand this is a bit of a costly one. But perhaps friends and family can contribute towards a special gift or treat yourself if you can afford to this Christmas.
Fourth Element Hydra drysuit
The Hydra drysuit is a great gift as a first drysuit or as an upgrade from an entry-level suit. This neoprene suit is ideally suited to UK diving, with design features to make it streamlined with as much similarity to a wetsuit or semi-dry as possible. BSAC members can purchase the suit at £799, saving £100, until the end of the year. Get the offer!
Atlantic or Britannic MK2 Telescopic Suits from Otter drysuits
BSAC kit partner Otter is continuing its deal of 10% off the RRP of its Atlantic and Britannic MK2 Telescopic suits. Check out the offer.
For the more experienced diver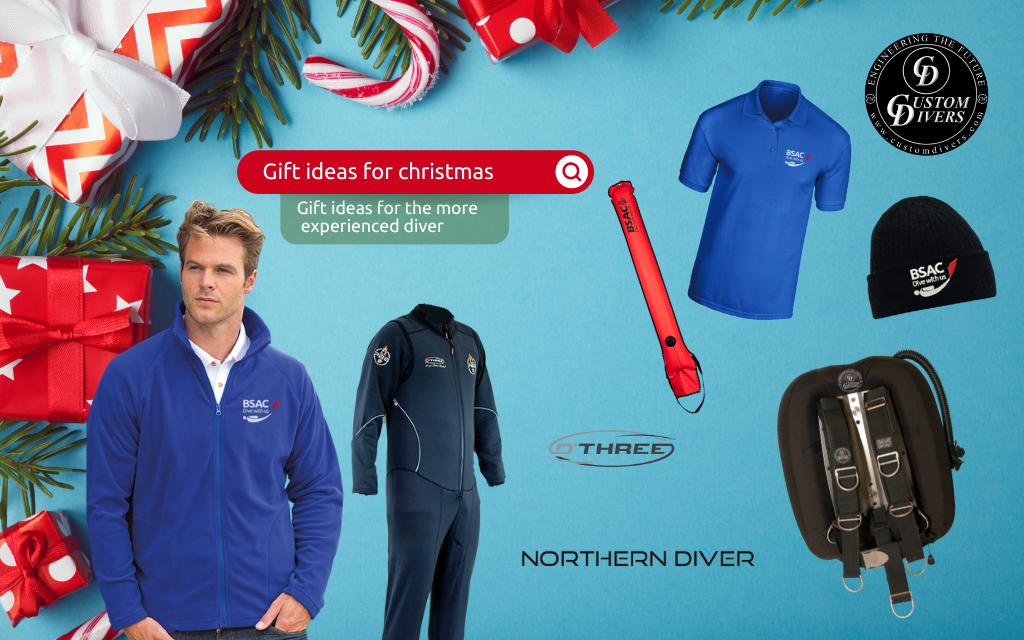 BSAC Merchandise
There's something for everybody, from BSAC caps to polo shirts. Stay toasty on cold dive days with the BSAC beanie and the iconic blue fleece. Visit the BSAC shop.
Kit, kit and more kit
Northern Diver
We all love shiny new kit, so why not gift something from Northern Diver's sport diving range. Northern Diver's product range includes virtually everything from accessories, drysuits and hoods, and their equipment is used and trusted by commercial divers, military divers and rescue teams around the world. All BSAC members receive 10% off everything in Northern Diver's sport diving range (excluding cylinders and sale items). Check out the offer.
Custom Divers
There's always something that a scuba diver needs. Why not take advantage of our Kit Partner discount with Custom Divers and enjoy exclusive discounts on most of their product range. Check out the deal.
SMBs and reels
Why not gift them something they need? A practical gift for any diver to take with them on their diving adventures. Visit the BSAC shop.
A base layer from O'Three
O'Three believe that internal thermal insulation for drysuits is one of the most misunderstood elements of drysuit diving. Check out their base layers and why not splurge on a new O'Three drysuit whilst you're at it and take advantage of BSAC's membership offer. Claim £100 off base layers when buying a new, full-price O'Three drysuit. Check out the offer.
For the eco conscious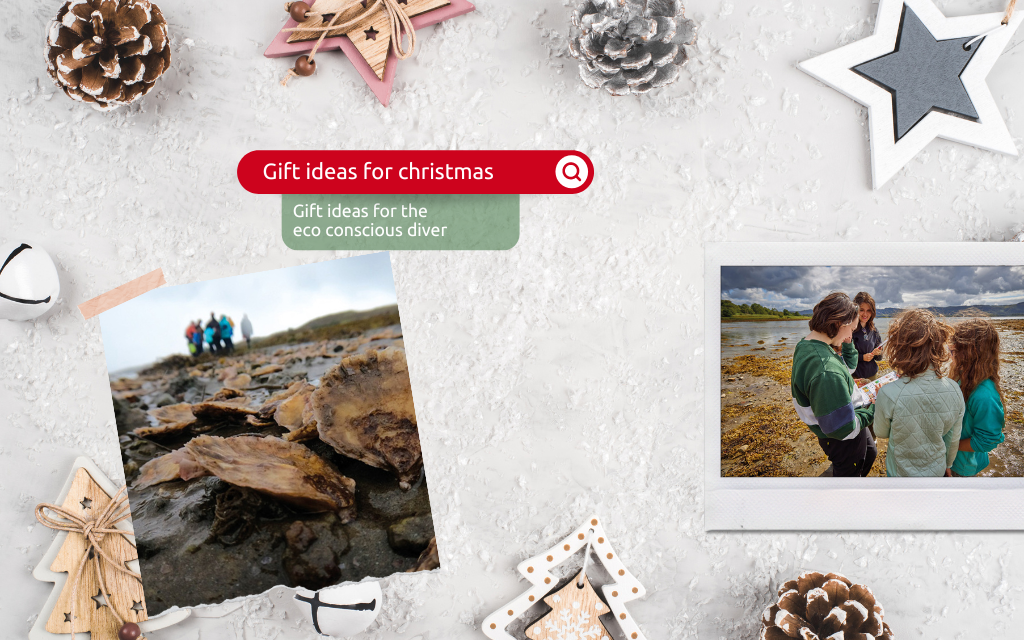 BSAC's Shore Surveyor eLearning course
Our new eLearning course Shore Surveyor, in partnership with Seawilding, equips you with the knowledge and skills you need to carry out shore surveys and help protect native species. The Shore Surveyor course is open to anyone from the age of eight and is a great way to engage children, young people, and families in protecting the UK marine environment. Discover the course.
And... for the diver that has everything, remember there's always vouchers!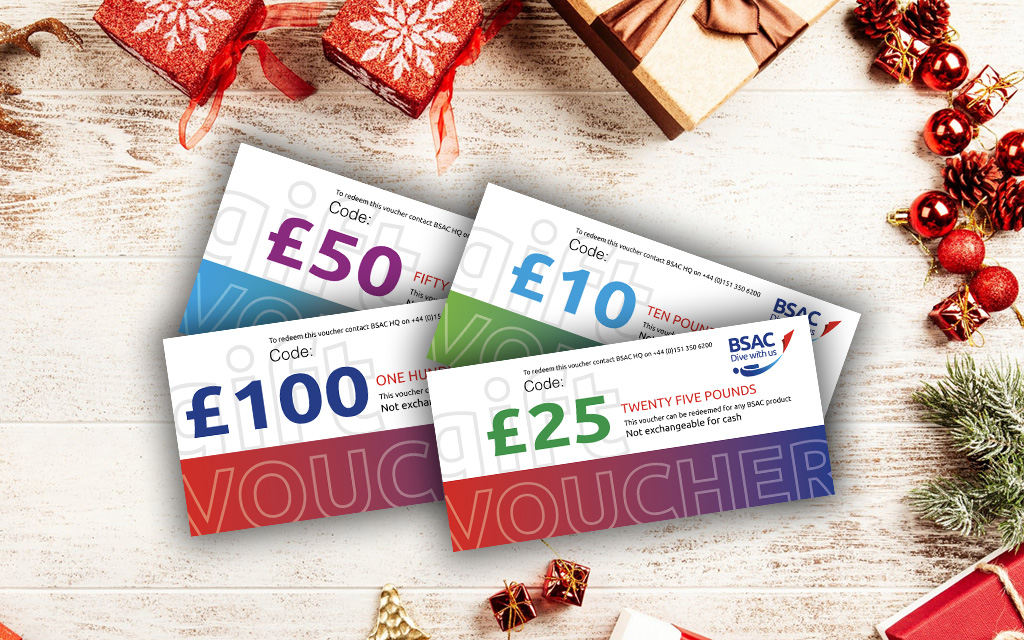 Already have a gift in mind?
Save today with BSAC Plus, you could be making a saving on your Christmas must haves!