A great supporter of BSAC and British diving, O'Three is now offering to cover a year's BSAC membership fee for existing and NEW members that buy their drysuits.

The quality of your drysuit can make ALL of the difference to your diving enjoyment. British company O'Three creates world-class drysuits and wetsuits, perfectly suited to UK diving. With its experienced and dedicated team, O'Three has grown into an established market leader; putting quality neoprene innovation and service at the very core of everything it does. Check out O'Three's drysuit range.
Claim your free BSAC membership
To claim your free BSAC membership when buying an O'Three drysuit, either:
Call O'Three on 01305 822820 to place your order and quote your membership number.
Visit the O'Three store (O'Three, Osprey Quay, Portland, Dorset, DT5 1BL) and present your membership card.
(Your membership will be verified with BSAC).

O'Three drysuits are already a hit with many members:
I've worn an O'Three custom drysuit for 15 years of wreck diving in UK and French waters and wouldn't want to have any other suit. The O'Three team genuinely want you to have the best suit they can make, so comfortable and reliable that you can enjoy every minute of your dive. 5 star suits and 5 star service = a perfect 10!
- Alison Mayor, BSAC member and expedition leader
I still remember my first visit to O'Three in Portland ten years ago (and they probably can't forget it either!) - but the welcome I get whenever I go back is like that of a family member instead of just a customer. Scolded when I mistreat my suits, given helpful advice when looking to make alterations, and at the end of the phone when I need help with a problem - it really is like having your mum looking after you!
- Dai Atkins, BSAC National Diving Officer
Photo by Jacqui Robson, diver is Chris Panayatou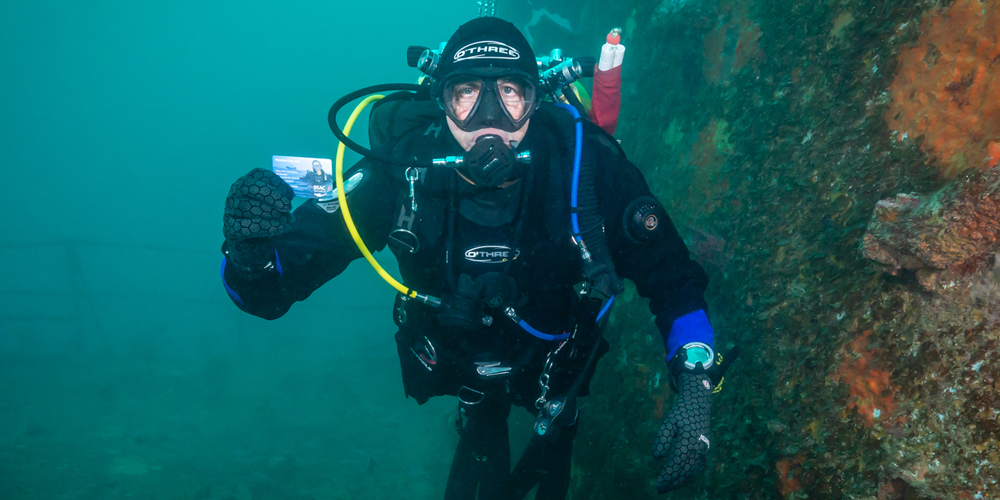 O'Three drysuit membership deal Terms and Conditions:
Offer applies to any diver that buys an O'Three drysuit.
The offer covers memberships up to the value of £59. If the membership cost is greater than £59 the member will be asked to pay the balance.
Refunds cannot be given for previous membership payments (is it the following year's membership you will receive free of charge).
Change cannot be given if the membership cost is less than £59.
Offer only applies to drysuits purchased directly with O'Three.
Existing or lapsed BSAC members must present a membership card to O'Three before or at the point of sale; the year's membership will be added to their account.
Existing members currently paying by Direct Debit will have their membership automatically extended for 12 months i.e the next collection will be postponed an additional 12 months.
Non-BSAC members will get a free BSAC Direct membership.


BSAC members save £££s every year using BSAC benefits.
Join BSAC today and start saving on everything from scuba gear, diving holidays and diver insurance, to everyday purchases on food, online shopping and retail with BSAC Plus. Click to join BSAC today.