The Expeditions Trophy is awarded annually and presented to the team with the most significant exploratory diving expedition of the year.
The expedition can be in the UK or overseas and is awarded to an expedition that promotes the true spirit of adventurous diving. The winning team is presented with the Trophy (a barograph) at the BSAC Diving Conference.
Simon Rogerson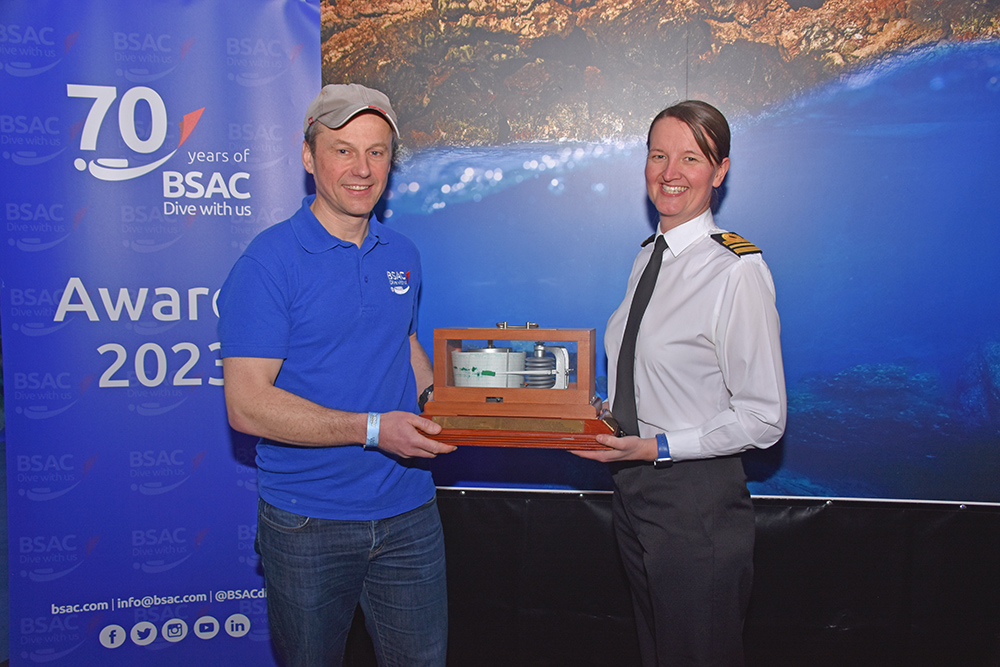 Kevin Heath - 2022 BSAC Expeditions Trophy winner
Andy Hunt presents the Expeditions Trophy to Lieutenant Commander Jen Smith, RN, on behalf of Kevin Heath and the team
Who can apply for the Trophy?
Expedition teams may nominate their expedition for this award. The National Diving Officer and National Diving Committee decide who should receive this award after reviewing the expedition and its report.
Please don't be modest or shy in submitting your expedition for the trophy. We understand the reward is in the satisfaction of having completed the aims of your expedition safely, successfully and perhaps, more importantly, knowing that the expedition team enjoyed the experience. However, BSAC want exceptional expeditions to be more formally recognised; hence the BSAC Expeditions Trophy.
How to apply for the Expeditions Trophy
For your expedition to be judged for the award, you must let BSAC's Expeditions Officer know about your expedition by email. This can be in any format you choose, such as a copy of a report/video/magazine article/blog/diary etc.
Participants in expeditions can apply on behalf of their Expedition Leader, but they should seek approval from the Expedition Leader.
Previous winners…
2022 - Kevin Heath - Discovery of HMS Jason
2021 - Lothian Divers - Knoydart Peninsula and Loch Nevis
2020 - Steve Mortimer, Plymouth Sound Divers - HMS Formidable
2019 - Worcester Divers - The Outer Limits
2018 - Southsea Sub-Aqua Club - Project Cardonnet
2017 - Darwen Sub-Aqua Club - Maerl Bed Survey, Loch Hourn
2016 - Alf Draper, Sub C Divers & Bury Sub Aqua Club - Northern Ireland Venture
2015 - Alison Mayor, Southsea SAC - Operation Neptune 70, Normandy
2014 - Ian Dearden, Darwen SAC - Haugesund, Norway
2013 - Tyneside 114 SAC - Skerryvore Expedition to Tiree
2012 - Alison Gaudion, ULSAC and Crawley - Guernsey, Herm & Sark
2010 - Rhian Lewis-James, Cardiff SAC - West Wales Wreck Exploration
2009 - Andy Bennett, MidLancs SAC - Isle of Gigha, Kintyre
2008 - Ian Dearden, Darwen SAC - Falklands Island
2007 - Max Ruffert, EUSAC - Extreme Drift Diving in the Sound of Luing
2006 - Naval Air Command SAC - Foula's Titanic
2005 - ULSAC - France Sous L'eau
2004 - Graeme Bruce - St Kilda By RHIB
2001 - Maj. Andy Reid - Minerva Sovereign
2000 - Martin Jones
1999 - Maj. Andy Reid - Saratoga Crossroads
1998 - RAF Sub-Aqua Association
1997 - Vivek Alimchandani
1996 - Richard Scarsbrook
1995 - Joe Astre & Vince Jenkins
1991 - Major Gerald Moor
1990 - Maj Hamish Macdonald
1989 - Stuart Ward
1988 - Mark Caney
1987 - George Brown
1986 - Bernard Picton
1985 - George Brown