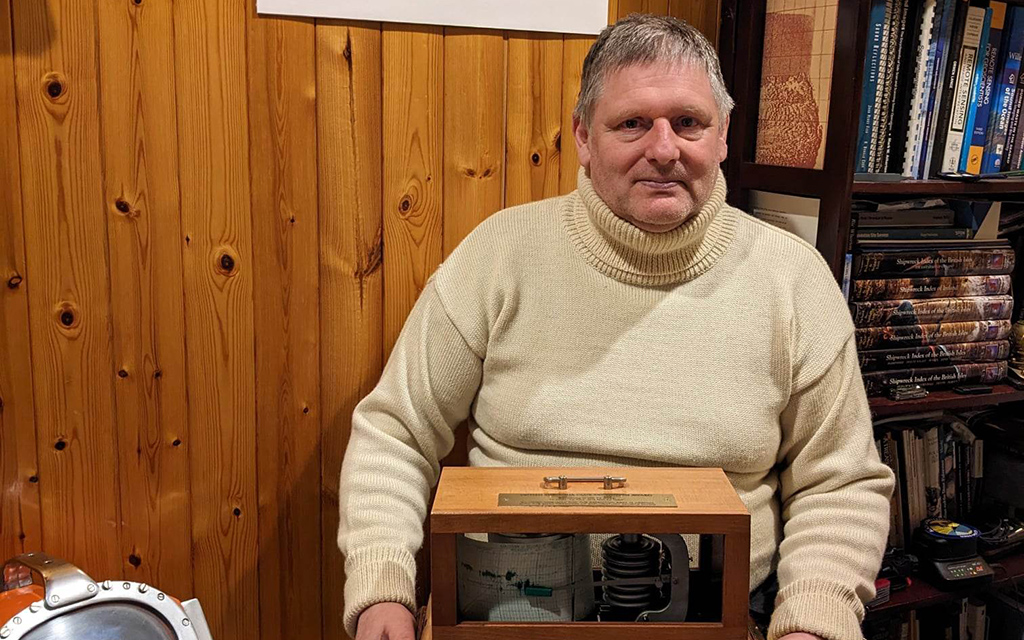 The prestigious BSAC Expeditions Trophy for 2022 was awarded to Kevin Heath and his team for the discovery and identification of HMS Jason. With the Trophy now safely in his possession, Kevin shares the background to this achievement and his gratitude for the award.
If I could choose to win one award in diving then it would have to be the BSAC Expeditions Trophy - so you can imagine my absolute amazement when Andrew Hunt, BSAC's Expedition Officer, rang me and told me we had won for our 2022 HMS Jason Project.
For me, the idea for the hunt for HMS Jason started onboard Loyal Mediator in Leith Dry Dock in 2000 while having a coffee with Bob Baird. Due to Jason's remote location the idea was put on the shelf, occasionally revisited and dusted off as new information came along such as HMS Circe's logbook and U-78's KTB (war diary) which was kindly supplied by Michael Lowrey.
In 2010, I was lucky enough to have been taken by the late Bobby Forbes to attend a course in side scan sonar in Annapolis MD USA, run by Vince Capone of Black Laser Learning. Vince taught me just how great the side scan system is, so on returning to the UK I invested in a C-Max CM2 side scan sonar and have never looked back. This, I thought, would be the best bit of equipment to find hard-to-locate wrecks.
The following year Netsurvey conducted a multi-beam survey of the area and I really thought they would find HMS Jason but did not due to the nature of the seabed. Netsurvey is a very capable company and them failing to find the wreck demonstrated it would be a hard target to find.
Road to discovery
In 2016 Bob Anderson, then of MV Halton, was in the office at SULA Diving in Stromness and we were discussing possible interesting targets to hunt for and the idea about HMS Jason was brought up. Bob jumped at the chance and as he sometimes had a three-day break between dive groups realised that time could be used to conduct a search. In 2017 Brett went to Oban with the side scan gear but weather was not kind and the data recorded was not the best, with the same results the year after. Although 2019 was weathered off and 2020 Covid stopped play, during this time Bob had upgraded to MV Clasina, a perfect expedition boat and in 2021 during a very short window for side scanning Brett found a wreck on the side scan about 800m from the charted position for HMS Jason.
Lost In Waters Deep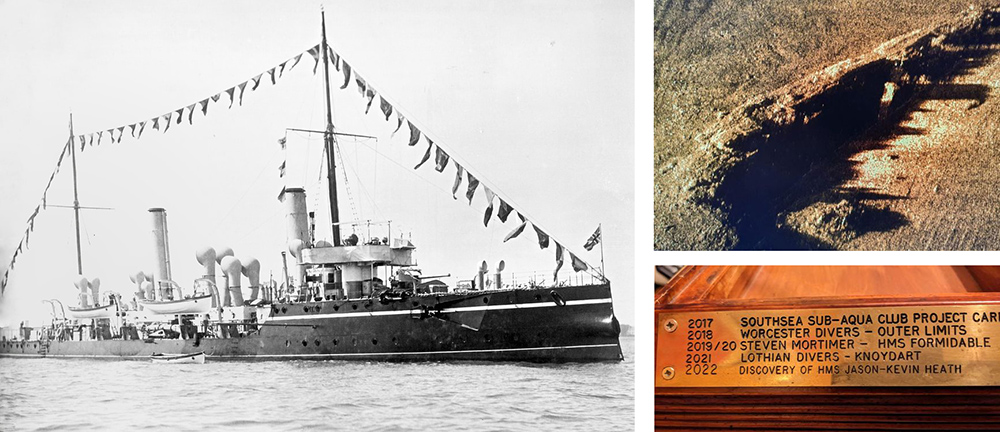 During the winter of 2021 I was introduced to Steve Mortimer of the Gasperados dive group, a bunch of exceptional technical divers who were keen to check out our contact, which lay in over 90m of water.
In April 2022 the Gasperados conducted two days of diving in challenging conditions and proved the wreck was that of HMS Jason and the last resting place of 24 sailors.
The story of HMS Jason, her crew, the hunt and the dive can be found on the Lost In Waters Deep website.
'Do not give up'
I feel so honoured to have received this award but I was really a small part of an amazing team, from Bob and the crew on Halton/Clasina, who without HMS Jason, I feel, would still be lost, to Brett and Malcom believing in my research, and an amazing bunch of divers who I hope to work with a lot in the future and to my partner and soulmate Wendy who inspires me and is the driving force behind the Lost In Waters Deep Project. Thank you all.
I think one take away from this project is do not give up. If the research is sound, if you can trust the logbooks or KTBs then keep looking, as the wreck will be there. We are so lucky in the UK to have so much history still to find, so many mysteries to solve, and so much coastline still to explore.
Unfortunately I could not attend the Go Diving Show to collect the award so would like to thank Lt.Cdr Jen Smith RN who collected on my behalf and Nick Lyon for bringing the award back to its new home till next year.
Simon Rogerson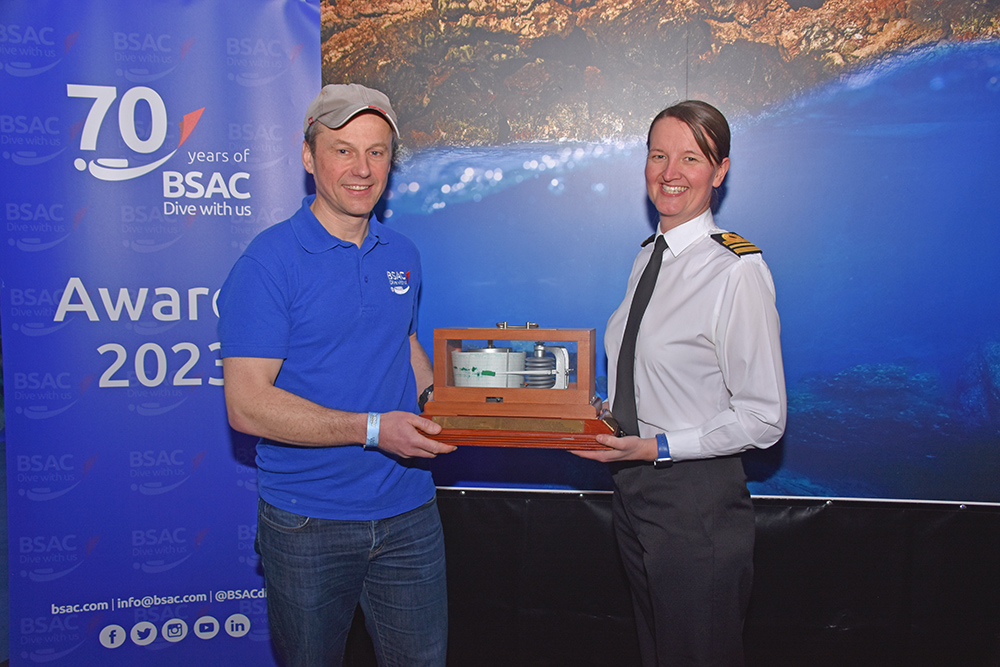 Andy Hunt presents the Expeditions Trophy to Lieutenant Commander Jen Smith, RN, on behalf of Kevin Heath and the team
Awards and prizes
The BSAC Expeditions Trophy is awarded annually and presented to the team with the most significant exploratory diving expedition of the year. Learn more