Discover the world-famous Malin Head wreck diving sites on the Wild Atlantic Way (County Donegal).
Marlin Head boasts the largest number of U-boats in the world and sunken ocean-going liners so there is no end to the adventures on offer. This expedition is organised by the BSAC Technical team and dive sites are between 42-72 metres.
Photo by Steve Jones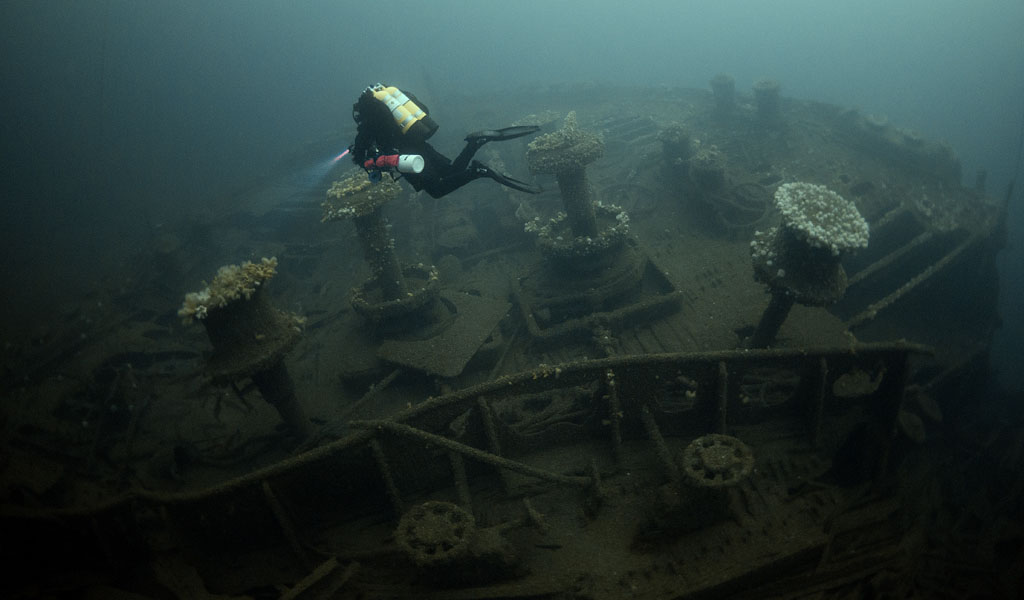 Malin Head wreck diving expedition – get involved!
Boasting the largest number of U-boats in the world and the largest amount of sunken ocean-going liners there is no end to the adventures on offer. The seabed off the Donegal coast is primarily rock and shale which allows for visibility of up to 40m and represents some of the clearest waters on the planet. Diving is off an 11m catamaran, the Laura-Dean, is the perfect vessel for your wreck diving trip as it offers fantastic space and comfort plus lift.
Malin Head wreck diving expedition will run on the following dates;
8 – 14 June
17 – 23 August
24 – 30 August


Costs
B&B €42 per night
Boat £480
Excludes ferry costs.


How to get involved
For more information and to get involved please contact expedition organiser Mike Rowley
Some of the world famous Malin Head wreck diving sites we will be diving
Wreck site: HMS Audacious
Depth: 64 metres
Built in 1913 the HMS Audacious is a King George V class Super-Dreadnought Battleship which grossed 23,00 tonnes and dimensions of 182x27x8metres. The vessel seen no action in WW1 and sunk in 1914 after striking a mine while on a gunnery exercise.
Wreck site: SS Carthaginian
Depth: 58 metres
Built in 1884 the SS Carthaginian was a British sail and steam ocean liner. With a gross weight of 4,444 tonnes and dimensions of 99 x 12 metres, she hit a German mine on the 14th of June in 1917 and sank off Innistrahull with no lives lost. She was heading for Montreal from Glasgow.
Wreck site: SS Empire Heritage
Depth: 66 metres
Built in 1930 the SS Empire Heritage grossed 15,702 tonnes and measured 508 x 72 x 50 metres. Heading for Liverpool from New York with a cargo of oil, Sherman tanks and half tracks, she was torpedoed with 113 souls lost. She now rests on her Starboard side 20 miles North West of Malin Head.
Wreck site: RMS Justicia
Depth: 72 metres
Launched in 1914 the RMS Justicia was a British troop ship that grossed 32,234 and measured 225 x 26 x 13. Heading to New York from Liverpool she was torpedoed several times and sank losing 16 of the 600 strong crew. This is a massive wreck with large boilers and 3 huge propellers on view. She now rests on her Port side 16 miles North West of Innistrahull.
Wreck site: SS Laurentic
Depth: 42 metres
Built in 1908 the SS Laurentic weighted 14,892 gross tonnes and measured 550 x 67 x 41 feet. After leaving Buncranna in Co. Donegal she struck a mine and sank in 45 minutes. Part of her cargo included 3,211 gold ingots each weighting 40lbs. Subsequently, over a period of 7 years, 700 dives were conducted to retrieve the gold with 22 ingots believed to be unaccounted for. Your fortune may await on this famous dive site!
Wreck site: SS Athenia
Depth: 60 metres
Built in 1923 the SS Athenia was a British ocean liner that weighted 13,580 gross tonnes and measured 160 x 20 x 11 metres. On route to Montreal from Liverpool she was torpedoed by a German U-boat and sank with a loss of 112 souls out of 1,418 passengers and crew. She represented the first naval casualty of WW 2 with war on Germany only declared hours prior and was widely condemned worldwide.
Wreck site: U-2511
Depth: 67 metres
Laid down in 1944 German submarine U-2511 was a type XX1 U-boat. At 77 metres long she was the only operational type XX1 U-boat. She was scuttled on the 7th January 1946 and rests relatively intact.
Wreck site: U-89
Depth: 62 metres
Laid down in 1915 U-89 was an operational German U-boat. On the 12 February 1918, she was rammed by HMS Roxburgh off Malin Head and sank losing all 43 souls.
How to get involved
For more information and to get involved please contact expedition organiser Mike Rowley