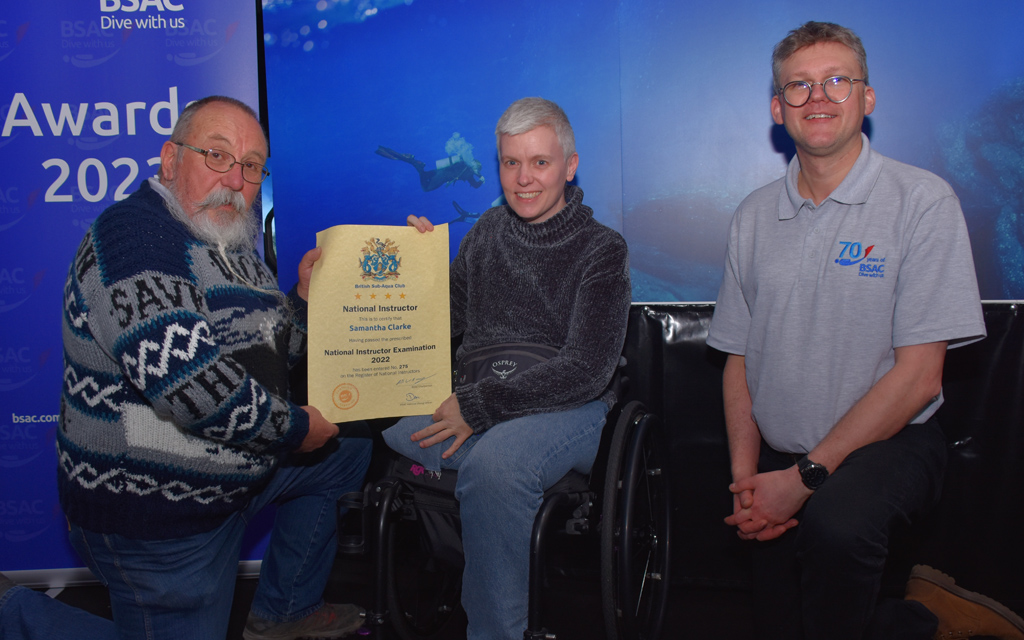 Every year BSAC recognises and celebrates the achievements of members and invaluable contribution volunteers make to the organisation.
We are therefore delighted to announce the full list of BSAC award winners for 2022, as announced at the Go Diving Show on Saturday 4 March 2023 – our congratulations go to you all.
Here's the complete list of well-deserving 2022 winners:
Award

Awarded to

Heinke Trophy

Awarded to the branch furthering the interests of all branch members and of BSAC

Ras Al-Hamra Sub-Aqua Club, Oman. Learn more about their Heinke Trophy achievement

BSAC Expeditions Trophy

Awarded annually and presented to the organiser of the most significant British exploratory diving expedition of the year

Kevin Heath and the Gasperados team for locating and identifying HMS Jason off the Isle of Coll. You can find out more about their expedition online

Andy Hunt presents the Expeditions Trophy to Lieutenant Commander Jen Smith, RN, on behalf of Kevin Heath and the team

Alan Broadhurst Awards

Awarded for the use of good diving lifesaving techniques. Presented to the rescuer, acknowledging and recognising their extreme bravery and use of good diving techniques


Gareth Morris; Ruby Wood; Kevin Phillips; Stuart Duff; Anthony Blair; Nikola Telford and Daniel Stepney

Jon Parlour of BSAC with [L-to-R] Daniel Stepney, Ruby Wood and Nikola Telford

Thank You Awards

Acknowledging Regional Coaches standing down from the role


Cameron Cromwell, Steve Batt, Rowan McCall, Nick Brooker, Lisa Shafe, David Bryant, Bart Goedmakers, Paul Miller, Sam Clarke, Gerard Hughes, John Barton, Steve Slater, Ken Scott

Dai Atkins, NDO of BSAC with Rowan McCall, Lisa Shafe, David Bryant, Sam Clarke and Steve Slater

Volunteer of the Year Award

Presented to a BSAC member who goes that extra mile in the promotion of the club's aims and objectives

Ginge Crook

[L-to-R] Simon Harris of Suunto with winner Ginge Crook and BSAC Chair, Edward Haynes

BSA Jubilee Trust Prince of Wales Scuba Award

Awarded annually to the member or group of members of BSAC for outstanding achievement in research in the field of scuba diving

Martin Maple and the Project Baseline Midlands Pools team

Martin Maple and the Project Baseline Midlands Pools team

Peter Small Award

For 'the most worthwhile and ambitious BSAC project, conducted in British waters'

Steve Mortimer and the 'Gasperados' for identifying submarine HMS D1

Nationally assessed examination awards

First Class Diver Awards

Awarded to successful candidates of the FCD

Chris Howells, Craig Daniel and Kathryn Fowler

[L-to-R]: Craig Daniel; Dai Atkins, BSAC National Diving Officer; Chris Howells

AP Diving Award

Awarded to the candidate proven to have the most meritorious performance in BSAC's First Class Diver examination

Craig Daniel

[L-to-R]: Martin Parker of AP Diving with winner Craig Daniel and Dai Atkins of BSAC

Kent Tooling OWI Award

Awarded to the most exemplary candidate on the Open Water Instructor Exams

Steven Barbour

Steven Barbour is presented his Kent Tooling OWI Award by Russell Field, BSAC National Instructor

Nautilus AI Award

Awarded to the most exemplary candidate on the Advanced Instructor Exam

Chris Petherbridge

[L-to-R]: Pete Bicheno, BSAC NDC ITG lead with winner Chris Petherbridge and Brett Thorpe of Nautilus

National Instructor Awards

Awarded to successful candidates of the National Instructor Exam

Alex Bicheno and Sam Clarke

Weezle Award

Awarded to the most exemplary candidate on the National Instructor Exam

Alex Bicheno

Paul Child of Weezle presents the NI award prize to Pete Bicheno on behalf of his son Alex

Wilkinson Sword

Awarded annually to the candidate who has the most admirable performance in a BSAC nationally assessed examination

Alex Bicheno



Alex Bicheno is presented with the Sword at home (new baby!)
Congratulations to all our 2022 BSAC award winners.
For more information on the annual BSAC awards, go to bsac.com/awards.
The BSAC network is working together to keep people connected to the sport. With online training, special interest webinars, competitions, support to clubs and the trade, and much more...we'd love you to join us.