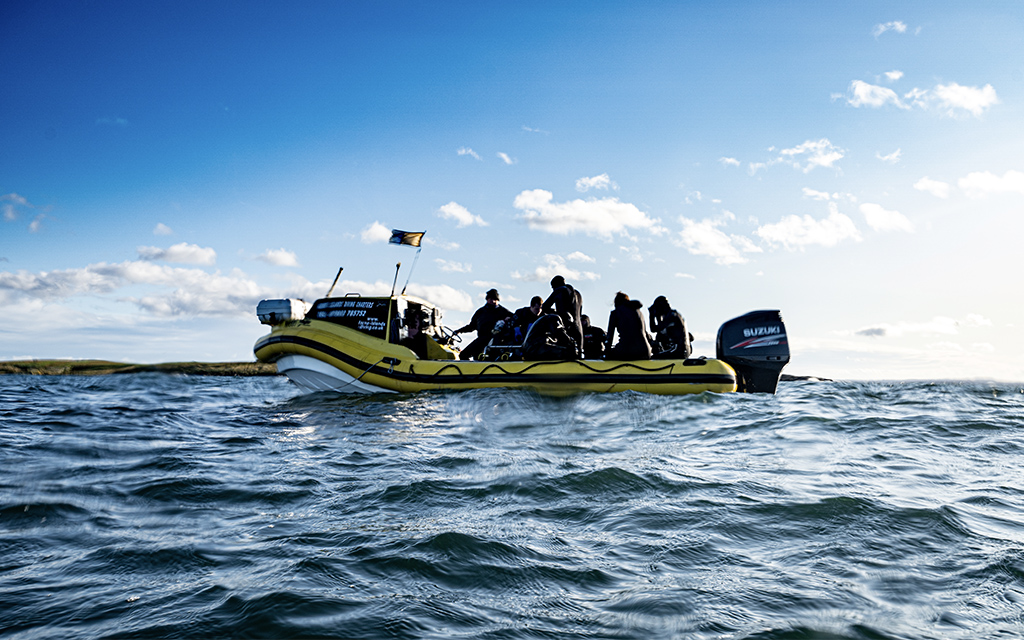 BSAC CEO Mary Tetley shares her New Year reflections and the outlook for the BSAC community in 2022.
Early January is always a good time to set out new year resolutions and plans for the year ahead. I think we are all keen to be able to have some spontaneity in our lives again and just be able to go diving and snorkelling when we feel like it.
There is no doubt that the next few weeks are going to be challenging for all of us in different ways. However, I do still believe that 2022 is going to be an exciting and active year for BSAC.
Last year we worked hard to lay down the foundations for our strategic direction. We would not have been able to do this important, focused work if it was not for our dedicated volunteers who have given their time, expertise and commitment. A big thank you for this.
Strategic Plan 2022-2024
The new strategy which has been set up following the membership consultation in 2020 is set to go. We had some great feedback from you all and we have worked hard to include as many areas as possible to build this strategy with a clear aim for BSAC to 'become the go-to diving community'.
The strategy has some ambitious targets with supporting projects to run through the next three years. The key issue of falling membership and falling income is a principal focal point, always at the heart of what we do. The clear message from all of you is that you want to go diving and enjoy the BSAC community. Our aim is to ensure that we support you to do this.
Some of the planned work for 2022
The Branch + Centre Partnership Scheme project which has had success in the last quarter of 2021 will continue to be developed. This scheme has already helped members who have wanted to learn to dive in a club that was either too full, didn't have enough instructor capacity or had no access to a pool, with nearby Training Centres helping with the training. There are some great centre/branch partnerships being developed. If your club is interested in this, please find out more and sign up.
You told us through the consultation that safeguarding the UK's precious waters and marine life is important to you. Focusing on diving with a purpose and diving with environmental responsibility is something we need to encourage. Connecting with citizen science work and involving universities is something that you will see us doing much more of.
We thoroughly enjoyed engaging with the universities through their Freshers last year. It was great to see face-to-face Freshers and it made a big difference to recruitment in 2021. Thanks to all the university clubs that worked with us on this. This year we are looking to continue the support to our unis as they train and move towards going diving.
As you know, returning to a printed version of SCUBA magazine has always been on our list as we know how much you all enjoy reading a printed magazine. You will therefore be delighted to know that we are returning to printed SCUBA. You will receive 10 printed issues of SCUBA during the year starting with the March issue of SCUBA, out in February. If you have any stories of what your club has been up to or how you have faced the challenges of the pandemic, we would love to hear from you. Please email us at marketing@bsac.com.
I hope you are enjoying the new MyBSAC app which launched just before Christmas. We will be looking at phase two of the app in 2022 which will include a portal for instructors to sign off their students' progress.
The programme of webinars will continue and you will see that we are launching the new updated Know & Grow series next week starting on 11 January.
We hope that many clubs will also sign up with Kolodo for the website for clubs initiative. Nearly 70 clubs joined the last webinar and it's proving really successful for those that have now launched websites. Len Sumner from Wycombe SAC kindly shared his thoughts in this video.
Upcoming elections
In May this year, we will see the position of Chair becoming available as Maria Harwood stands down and four Council positions becoming available as well. If you are interested in standing, please do contact me at maryt@bsac.com or Maria Harwood at chair@bsac.com.
During February we will be running a couple of webinars where we will invite members for a catch up with council members and the opportunity to discuss strategy. One further area that Council wishes to address concerns improving the effectiveness of existing governance arrangements. Good progress has been made in this area and you will see that when recruiting council members for 2022 and onwards we have specified skills that would be useful for us to have to support the strategy.
Work has also taken place on modernising BSAC's Articles of Association and this will be taken to the next AGM along with a supporting special resolution which will be announced after 31 January. Watch this space and we will be in touch about these webinars.
Keep in touch
I am looking forward to staying in touch with you all. Please do email me if you wish to give any feedback on maryt@bsac.com.
In the meantime, I wish all of us a speedy return to diving and snorkelling and please stay safe during the forthcoming months.
Best wishes,
Mary Tetley
BSAC CEO