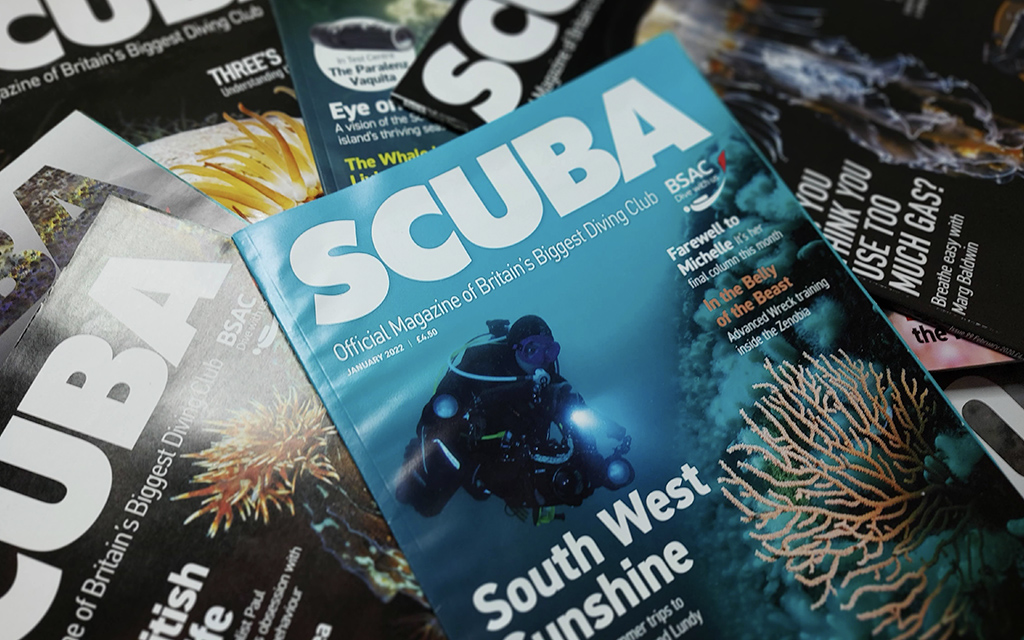 BSAC is delighted to announce that SCUBA magazine will be returning to a fully printed format for 2022, giving members access to the very best in BSAC news, member stories and diving journalism for the year ahead.
From the March issue of SCUBA (due out in February), 2022 will see 10 full colour printed issues of the magazine sent out to members.
The decision to return to a printed magazine comes after a year of alternate print and digital versions which have ensured that SCUBA could weather the immediate impact of the Covid-19 pandemic.
2022 will now see 10 issues of the magazine instead of the usual 12. This is due to the production of SCUBA continuing to be impacted by the ongoing challenges of the pandemic, and which has seen advertising revenue and diving activities, both in the UK and overseas, severely curtailed.
However, the decision to publish 10 issues in 2022 also reflects BSAC's commitment to publishing a sustainable magazine that retains the high-quality content that its members have come to expect.
BSAC CEO, Mary Tetley, welcomed the return to a printed SCUBA magazine.
We know that our members have always enjoyed reading a printed version of their member magazine, and so the intention was always to return to a fully printed SCUBA as soon as it was possible.

With the 10 issues for 2022, we will be able to continue with the excellent editorial and print quality SCUBA has become renowned for. I am personally so pleased to see us return to more printed editions of SCUBA.
Members will now receive their first printed SCUBA of 2022 in February. The remaining nine SCUBA magazines of the year will also include a merged July and August issue.
The option to choose the digital-only version of the magazine – iSCUBA – remains. You can do so on your MyBSAC page or the MyBSAC app.
Do you have a story for SCUBA?
If you have any stories of what your club has been up to or how you have faced the challenges of the pandemic, we would love to hear from you. Please email marketing@bsac.com or check out the SCUBA webpage for more info.


The BSAC network is working together to keep people connected to the sport. With online training, special interest webinars, competitions, support to clubs and the trade, and much more...we'd love you to join us.