Start a BSAC scuba diving or snorkelling club today and receive a wealth of support so your new club can thrive.
Almost every week new BSAC clubs are formed by groups of divers getting together or by existing clubs switching to BSAC.
Start a scuba diving or snorkelling club
Divers of any agency can do this (no need to crossover or retrain with BSAC)
Immediately gain from BSAC benefits such as comprehensive liability insurance and diver savings on kit, equipment and travel
It's free to start a club
Unlimited access to marketing and other club support
Benefit first-hand from the latest safety recommendations
Clubs can simply go diving or, if they wish, they can teach the internationally-recognised BSAC training courses
Enjoy peace of mind knowing BSAC is there to advise and support you in every aspect of running a club


Complete the application form now!Download the BSAC club bye-lawsDownload the BSAC club bye-laws - Explanatory notes
If you're an existing scuba diving or snorkelling club and would like to understand more about the benefits of becoming a BSAC club, please get in touch. Call us today on 0151 350 6201, we'll be happy to chat it through and see how we can help. Alternatively please email us.
What's it like to set up a new club?
Dave Howson of recently formed North Wales Technical Divers (NWTD) said:
NWTD initially pursued an unaffiliated club route as we weren't BSAC trained. However, as it turned out BSAC was the perfect option — the support from head office has been great, we've grown to 66 members and we've saved a small fortune on insurance.
Ready to get going? Starting a BSAC club is easy...
Complete the new

BSAC club application form

and adopt a set of Bye-Laws for your club (you can download our

BSAC club bye-laws

template), then email them to the membership department.
Have at least eight full members. (please

contact us

if you need to start a club with fewer members)
Have members willing to serve as officers (Chair, Membership Secretary, Treasurer and Diving Officer) on the club committee.


Download the new club application form
Please call 0151 350 6201 or email us if you have questions or need to chat anything through.
NWTD regular dive spot in North Wales

Did you know, already qualified divers…
✔ Do not need to crossover to BSAC, we recognise all other agency qualifications
✔ You can just be a club that goes diving, you don't need to offer training
✔ As members, you'll be covered with BSAC's fantastic liability insurance (PADI, SAA, TDI, IANTD, Raid etc)
✔ You can set up a BSAC club for free
What happens next?
Once we have processed your application we will send you a club formation pack full of support and resources to get you started. Check out some of the support available for your new club.
What new clubs have been saying...
Carlisle SAC, est. 1964
Carlisle SAC was originally affiliated to ScotSAC but felt they needed to widen their support for members' diving and training, as well as grow as a club. Attracted by the range of courses on offer, the club made the decision to move over to BSAC in mid-2017. Club Chairman Jim Cookson said the change-over has gone well:
The support we've had from the BSAC team has been excellent. All our instructors have attended cross over training courses and have got to grips with the slightly different way of training.

BSAC is recognised worldwide and the option of doing training in a club environment as well as attending a specific course held anywhere in the UK helps members achieve their diving goals. We now have around 40 members with a steady stream of enquiries from potential new members. I think it has definitely been the right move for us as a club.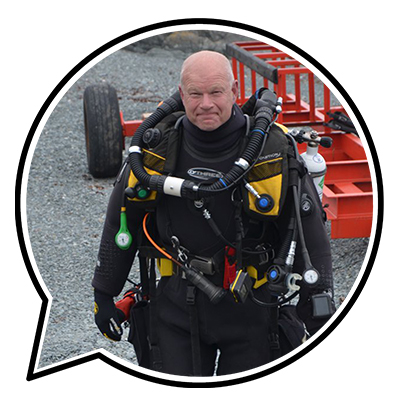 Swanwick Divers est. 2019
Swanwick Divers originated as a Facebook support group, designed simply to give advice and assistance to any newly trained divers wanting to take the plunge into UK waters. Chairman, Mike Rushworth, had the below to say:
We were a diving Facebook Group with 550 members. Only BSAC were able to offer a structure that would allow us to continue without unacceptable personal liability risk.

They could not have been more helpful, through providing a ready-made solution, giving their time to advise us and being patient as we implemented the changes necessary.