Marine clean as you dive – get together with your club or your dive buddies and organise an Underwater Litterpick – or commit to be an 'Underwater Litterpicker' on every dive.
Our BSAC Underwater Litterpick guide and resources will help you get started.
Litter is a problem in our seas and on our beaches, largely as a result of our increasing use of non-biodegradable packaging and damaging waste disposal. It's vital as divers and snorkellers we act now to stem the litter flow.
Why litterpick underwater?
Over 50% of litter recorded by Beachwatch is made of plastic.
The disposal of litter at sea, in rivers or on beaches can have a devastating impact – marine life faces a deadly obstacle course of discarded litter, causing the death of thousands of birds, seals and turtles.
One Leatherback turtle found in Galloway had 1 white plastic bag, 1 black plastic bin liner, 3 transparent plastic bags, 1 green plastic bag and 1 transparent plastic bag for chicken meat packaged by a US company in its stomach.
Beach litter levels continue to be over acceptable levels at nearly 2,000 items for every kilometre on a beach.
Lost or discarded fishing gear is one of the most hazardous forms of litter for wildlife through entanglement and ingestion, and also poses a threat to fishermen and other seafarers through fouling of active fishing gear and ship propellers.
Sewage-related debris is the third most common source of marine litter.
Plastic litter can take hundreds if not thousands of years to break down and may never fully degrade. It merely breaks down into smaller and smaller pieces and ultimately into microscopic plastic pieces or dust. This microscopic plastic may still pose a significant threat to wildlife.
(information courtesy of Marine Conservation Society)
Photo by Jane Morgan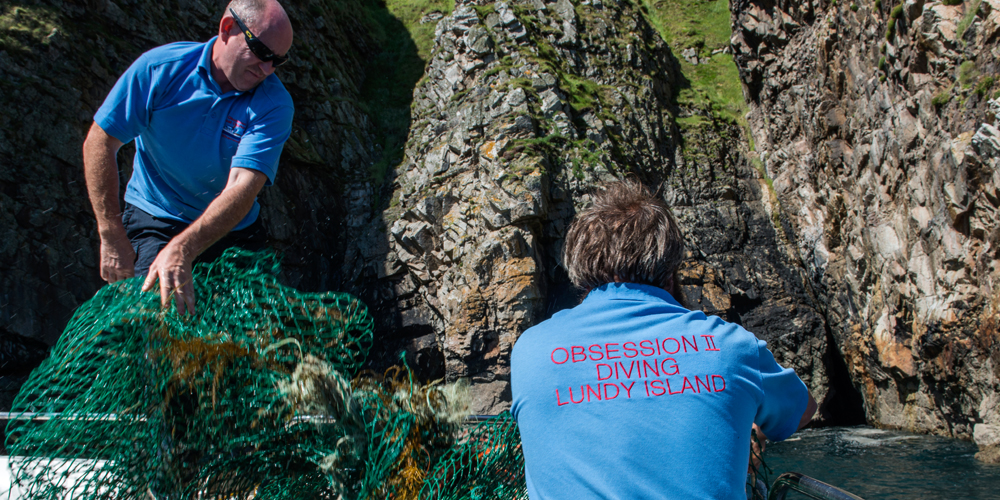 Tips for BSAC clubs and divers
Why not incorporate underwater litterpicks into your planned club diving calendar and designate specific planned dives as underwater litterpick dives.
Get involved as a BSAC diver or snorkeller by adopting the underwater litterpick ethos for your diving throughout the season.
Do it, share it
Collect, capture and upload your Marine Clean 2018 pictures and success stories.

From a photo of the litter you collect, to a pic of your Underwater Litterpick or Beach Clean team in action, share your BSAC Marine Clean efforts on Instagram or Twitter using the hashtag #bsacmarineclean to show your support and help clean up your marine environment.