All divers must follow BSAC's Safe Diving guide to ensure that your underwater litterpick dive is safe and enjoyable for all.
Please read the following safety advice carefully.
BSAC's key safety rules for underwater litterpicks
If conditions are not suitable on the day, abandon the dive – you can always return to conduct your underwater litterpick

another day. If you call off your underwater

litterpick

, why not conduct a beach clean instead? More information on

Marine Conservation Society's Beachwatch.
Ensure all your divers are fully qualified and competent for the dive you are planning. Untrained or inexperienced divers may not have the skills required to carry out an Underwater Litterpick.
Check all equipment to ensure it is complete, maintained and reliable for safe diving.
Use a Surface Marker Buoy (SMB) to mark the area where divers are surveying.
BSAC recommends the use of lifting bags, such as DSMBs, for the safe recovery of litter to the surface – see Marine licensing guidance.
- Divers trained in the use of Delayed Surface Marker Buoys (DSMBs) can use them for this purpose, provided they follow BSAC's Safe Diving guidelines and ensure you comply with MMO regulations.
- Don't overfill your mesh/collection bags to the extent that either their weight or bulk become a hazard or affect your diving ability.
- NEVER attach the mesh bag or lifting device to any diver and never use your BCD as a lifting device.
Always dive with a buddy - maintain buddy contact and maintain depth, time and gas monitoring throughout the dive.
- Agree on depth and time limits prior to the dive and review communications, especially signals specific to the underwater litterpick activity before the dive.
- Conduct a thorough buddy kit check prior to entering the water.
- Please note that when tasks are introduced to diving, buddy monitoring can reduce so it is really important to keep safe practices as the highest priority.
Ensure that if a lifting bag is to be used that sufficient gas is available to inflate the bag AND make a safe ascent maintaining an adequate reserve – see Marine licensing guidance.
Wear gloves and full wet/drysuit while surveying underwater. When topside, also wear gloves to sort through the litter to prevent cuts and abrasions.
Beware of entanglement, of yourself and fellow divers, in monofilament line and nets, especially in low visibility conditions.
Carry appropriate tools, such as a knife or net cutters.
Secure any measuring lines by weighting them appropriately to avoid entanglement or loss.
Take extra care with glass, syringes or other sharp objects – these should be placed in a sealed container. If in doubt, leave in place and record the items on an underwater slate.
Keep clear of large drums as they could contain hazardous or toxic substances. Report their location to the Coastguard.
Do not attempt to salvage heavy or dangerous objects – if it is too heavy or large to lift safely, leave it where it is, take a photograph if possible and then record it on your underwater slate.
Photo by Natasha Ewins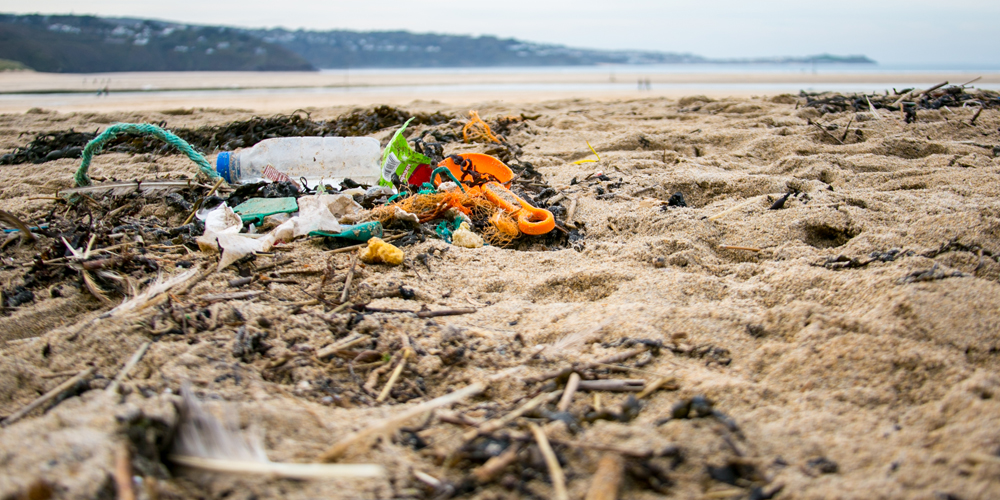 Take care of the environment
Pick up litter you see (such as cans and plastic) on every dive or on the shore.
Respect marine life and their habitat
When conducting an underwater litterpick please use the following guidelines to protect the environment you are diving in:
Do not disturb wildlife and if possible check containers for possible residents such as crabs and octopus before removing.
Items of litter may create a habitat or refuge for some marine animals or organisms.
Leave these items in place and record on an underwater slate.
Work slowly and carefully to prevent damaging aquatic life which may be encrusting or buried and so not easily visible. Don't forget to regularly check your gas supply and your buddy.
Maintain proper buoyancy and keep your equipment streamlined to avoid touching organisms or damaging the substrate. Avoid stirring up sediment.
If you find an entangled animal, if possible use clippers rather than a knife to cut the line or other plastic litter away from it. Never pull it off as pulling or tearing may do a great deal of damage.