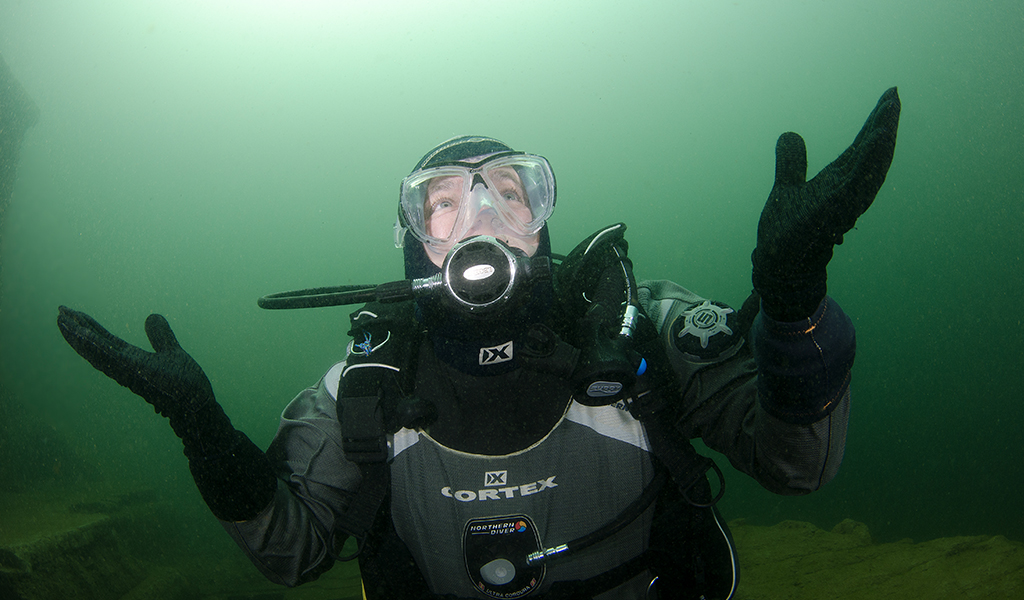 Following this week's Government announcements, BSAC's Safety and Development Manager Jim Watson shares his views and advice on what this easing of restrictions means for divers in England.
The UK government announced further easing of lockdown restrictions on Tuesday 23 June 2020. Most changes will only take effect from 4th July and should not be carried out before then.
Swimming pools
Although previously indicated to be allowed to open from 4th July the government announced that indoor and outdoor pools will not yet be allowed to open. BSAC is supporting the efforts of Swim England to encourage the government to implement the opening of these essential facilities as soon as possible.
Boats
On Thursday 11 June, the Department for Environment, Food & Rural Affairs (DEFRA) published guidance on inland and coastal boating on behalf of the UK government. This advice has not changed.
The advice stated:
You should only use a leisure, recreation, sport or pleasure boat with people from the same household unit or those in your support bubble.
This would appear to apply to both privately-owned and club boats. Additionally, the advice precluded the operation of charter vessels:
Operators should not allow skippered day boat hire or skippered day charter boat hire.
BSAC has been working and lobbying with other national governing bodies and all other relevant parties to resolve the apparent conflict in government advice. On Friday 19 June 2020, BSAC received correspondence from the Department of Culture, Media and Sport (DCMS) confirming that the restrictions published on 11 June 2020 stand.
Government's priority is to reduce the risk of transmission and infection of Covid-19, which is why we take very cautious steps in easing lockdown. The Government strongly advises that boating on inland and coastal waters is limited to one household per vessel in order to mitigate transmission risks. This is due to the higher risk of transmission in close-quarter situations (such as on vessels) with extended use of the same facilities and contact with surfaces. You must not meet other people indoors (it is unlawful) – including inside boats – unless you are in a support bubble, or for other limited circumstances listed in law. We continue to be guided by the science, taking a cautious approach to easing measures. There is an increased risk of transmission of the virus when you cannot socially distance. If social distancing becomes an issue in a garden or other private outdoor space, members of the group can choose to leave the area. This is not possible while using a boat on the water. All measures are being kept under regular review.
Since June 19, BSAC has been in constant contact with DCMS, DEFRA, the Secretary of State and the Sports Minister along with local MPs. We are expecting an update in the next few days and will inform all of you as soon as we receive it.
In the meantime, please rest assured we will continue to try to achieve a resolution as soon as possible. Divers and clubs should take careful note of the details in the guidance in order to avoid contravening government rules.
Social distancing easing
From 4th July the advice remains, wherever possible, to maintain a social distance of 2m when meeting others from outside your own household. Where it is not possible to achieve 2m then a limit of 1m plus can be used. The 'plus' means providing additional safety precautions to protect against transmission of the virus, rather than 1m or greater. Examples of such additional precautions may include:
Avoiding face-to-face seating by changing seating layouts
Reducing the number of people in enclosed spaces
Improving ventilation
Using protective screens and face coverings
Closing non-essential social spaces
Providing hand sanitiser


The purpose of any 'plus' measure is to reduce the risk of transmission to broadly equivalent to the risk at 2m or greater if those mitigations are fully implemented.
Meeting others
Outside, the guidance remains that people from several households can meet only in a group of up to a maximum of six.
From 4 July, two households of any size should be able to meet in any setting inside or out. Reference in the government guidance to larger group sizes only applies to where two households can also meet, regardless of size.
Indoors, only two households are able to meet after 4th July.
Clubhouses
Recreation and sport will be allowed, but indoor facilities, including changing rooms, courts and swimming pools must remain closed.
Compressor and equipment storerooms should only be accessed by a single member of the club and follow the BSAC compressor and facilities guidance.
Where a clubhouse has bar facilities the government guidance published for the hospitality industry will be followed, including:
All hospitality indoors will be limited to table-service, and our guidance will encourage minimal staff and customer contact.
We will ask businesses to help NHS Test and Trace respond to any local outbreaks by collecting contact details from customers, as happens in other countries, and we will work with the sector to make this manageable.


Clubs must ensure they are able to comply with the government guidance before deciding to open bar and other food and drink facilities for their members.
Car travel
As a reminder when travelling to a dive site you should only share transport with members of your own household.
Scotland, Wales and Northern Ireland
BSAC is continuing to work with partners and monitor the relaxation of restrictions in Scotland and Wales and will update the 'STATUS' document in the Safe Return to Diving guidance section with any changes.
Isle of Man
Please see last week's updates in the 'STATUS' document in the Safe Return to Diving guidance section.