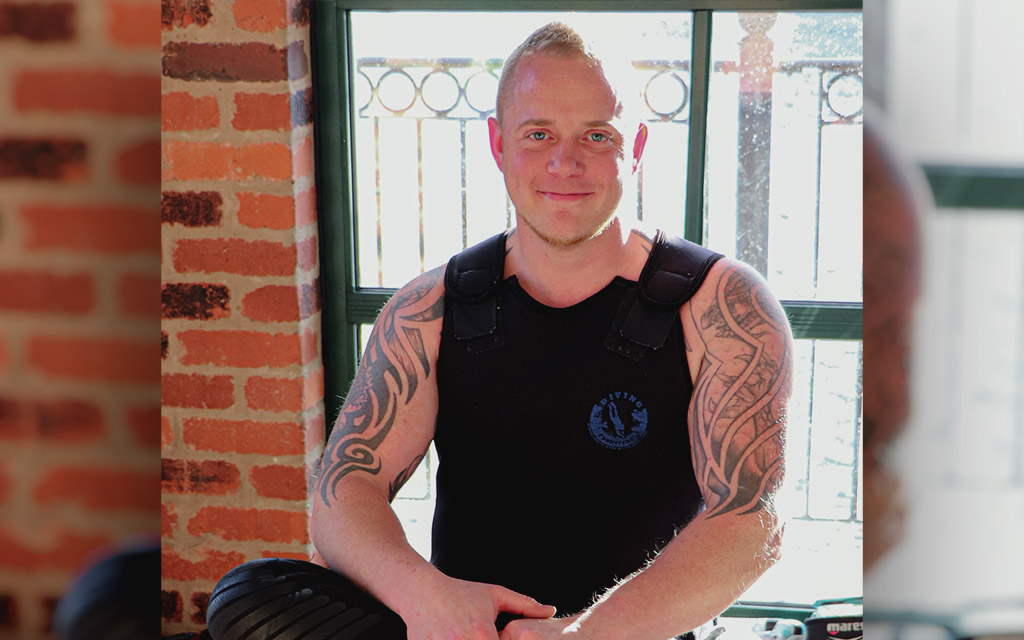 Andy Jarvis tells the story of his fellow Bingham SAC member Dan Metcalfe-Hall, who was paralysed after a motorcycle accident but is determined to serve as an Instructor
Being confined to a wheelchair brings its own set of challenges to say the least. To help people in this situation and with other disabilities, BSAC have developed the Diving for All diver training programme. Teaching diving as a disabled diver escalates those challenges to another level; one which Dan Metcalfe-Hall decided, with some encouragement, to take on.
The Instructor Foundation Course (IFC) is probably one of the best two-day courses run by BSAC. It challenges candidates to look at themselves and their diving abilities, then to become able to transfer these skills and knowledge to new or developing divers. Imagine trying to do this while not having leg or lower body control due to paralysis.
Dan Metcalfe-Hall was the victim of a motoring accident back in 2019 and has since used a wheelchair for mobility. Anyone that knows Dan will know that such a confinement would not prevent him from taking on a challenge.
Meanwhile, Stoney Cove decided that as a BSAC Centre, they should offer every course available through the BSAC Diver Training Programme and set up an IFC for November 2021. Seeing the event advertised and strongly encouraged by members at his club in Bingham, Nottingham, Dan decided to sign up.
Given the facilities at Stoney, they were able and prepared to accommodate Dan's mobility requirements, where other venues had fallen short.
Day one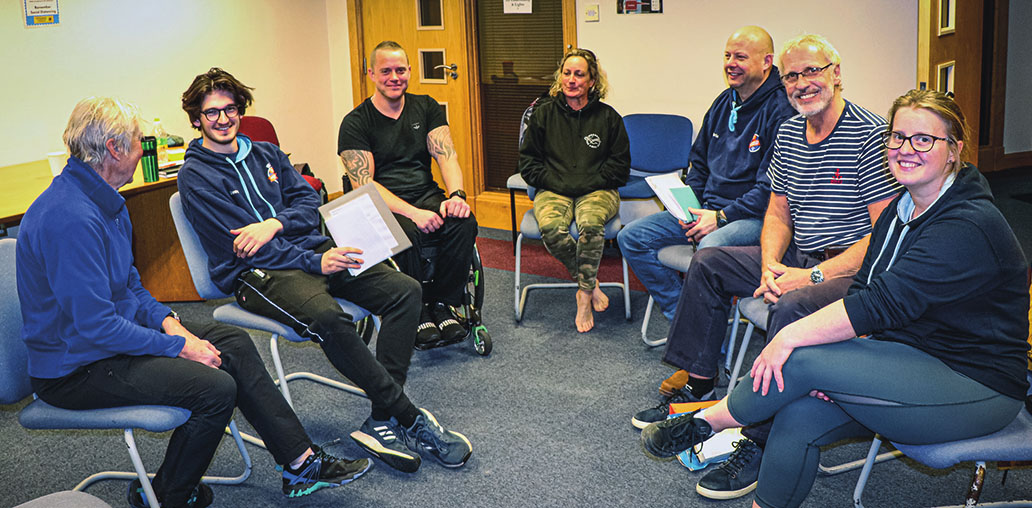 Group activity - an important part of the course
The first half day of the course is mainly classroom-based; there were presentations and group activities in which Dan was easily able to participate and indeed contribute to significantly. After that, it was time to move to the pool.
Given the appropriate facilities and assistance from one of Bingham's Advanced Diving Instructors, Helena Robertshaw, Dan was able to kit up and get into the pool. The initial pool session was to watch the IFC instructor perform a demonstration pool lesson with Dan and the other group members acting as students, followed by a skills circuit with additional instructor skills teaching.
During this session, Dan was able to participate with his well-established in-water skills and was also able to show how some of these skills had been adapted so he was able to perform them to a high standard. It also presented an excellent opportunity for the course tutor to also learn some adaptations and new techniques.
Following this and a planning session in the classroom, Dan had his homework for the evening to prepare lessons that he would give the following day.
Day two – pool work
On Day two, Dan's group was to start with their pool lessons. This was Dan's chance to really demonstrate that in spite of his condition, he could teach diving to anyone and meet the essential criteria needed for a good quality lesson. This he did in spades.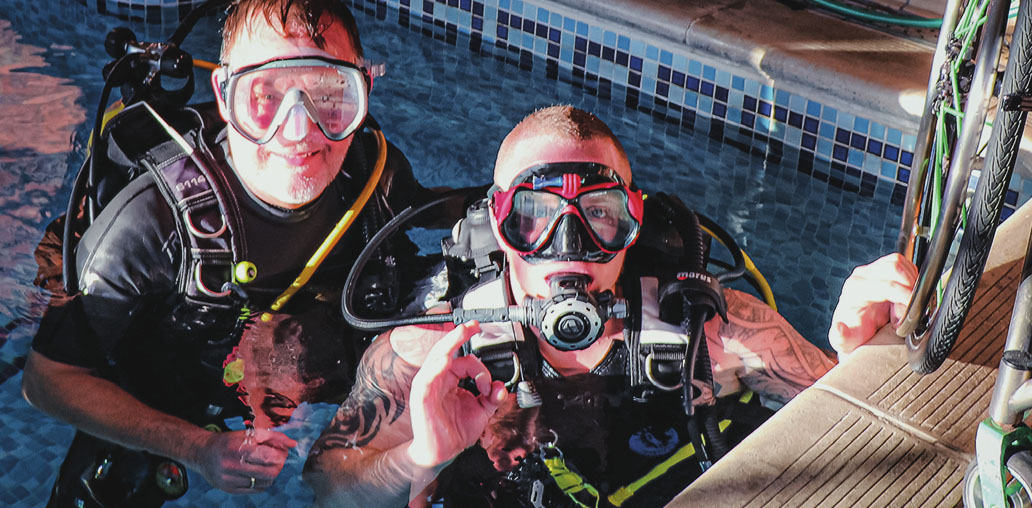 Growing confidence during the pool session
At the start of the lesson, Dan demonstrated and verbalised the process from his wheelchair for his 'students' to prepare for the lesson in the water
Once in the water Dan, needed a means to stabilise himself while holding still in the shallows. This had been discussed with the instructor team the day before, so a very simple idea was put into action: An empty sofnolime tub, with around 10kg of shot weight in it was filled with water and placed on the bottom of the pool.
This gave Dan both a grab handle and a weight against which he was able to pull himself upright to be able to position himself for students to see his demonstrations.
By adapting himself and using the combined suggestions from not only his aide but also the IFC Instructor and his fellow candidates, he was able to deliver a 20-minute pool lesson that met the essential criteria of STEP: Safe, Technically correct, Effective & Progressive. Where aspects of the lesson needed able-bodied demonstrations (such as a giant stride entry) he had prepared his aide to deliver these visually, while he explained what was being done.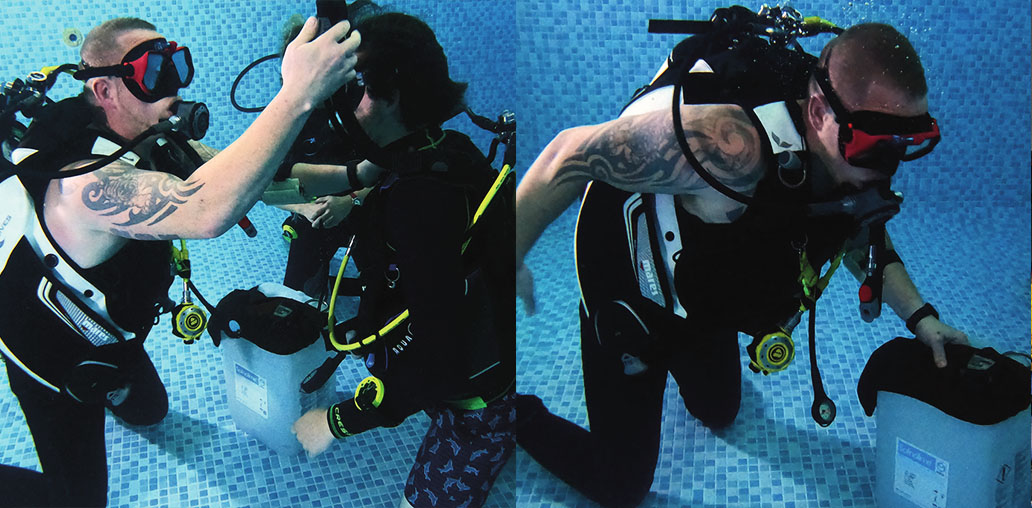 Left: Dan in the pool, teaching STEP; Right: Dan uses weighted blocks to position himself
Next, lessons moved to the classroom, where Dan was able to deliver a ten-minute lesson about the buddy briefing and the SEEDS acronym. Not relying on the ever-present PowerPoint, Dan put together a 10-minute presentation using flash cards to convey the information and meet the essential criteria for a theory lesson of PAVE (Progressive, Accurate, Visual and Effective).
There followed another couple of interactive lessons in the classroom, and a final presentation of his Assistant Diving Instructor certificate. Dan ably demonstrated that he has the ability and determination to be an active and capable instructor. With this new qualification he will be back at the club, helping out with and leading on teaching opportunities for all abilities of diver.
Candidate's experience by Dan Metcalfe-Hall
For me, the IFC was absolutely amazing! I started diving a little over three years ago and my aim was to just do something I always wanted, and to challenge myself. It rapidly changed to breaking boundaries where it's common for a disabled person in my position to get told 'sorry, we don't cater for disabled people'. I wanted to change this.
I was at first worried and apprehensive about the IFC, then when I found out how much there was to do in two days, I became nervous. But the minute I arrived, my worries and panic were gone! The instructors, Andy Jarvis and Marg Baldwin, put everyone's nerves at ease and explained how much fun and learning we were about to have.
We had both theory and practical lessons demonstrated to us, along with many teaching and instructing skills. I felt like a sponge just trying to soak up all the invaluable knowledge and skills we were being taught by these two amazing instructors. I honestly didn't think I would be able to take it all in - then we were told we would be teaching both practical and theoretical lessons the next day!
With the new skills, I wasn't worried too much about the next day's teaching; I was actually excited and knew I would be okay. Throughout all the training on this course, both theory and especially practical, nothing was made unrealistically easy or adapted too far from the norm. This made me feel accepted and part of the team.
I suppose the biggest thing I can say about my IFC experience at Stoney Cove is thank you, and that if I can do it – so can you! No matter your disability or ability, an IFC is an awesome experience.
I can't wait to now finish my Dive Leader qualification and move forward to complete the TIE & PIE then Open Water Instructor qualification. My goal is to get to Instructor Trainer, and prove nothing is impossible, with support from the best diving buddies and BSAC.
I'm interested in learning to dive, how do I get started?
You can either do a Try Dive taster session (Covid restrictions permitting) with a local BSAC club or a BSAC Diver Training Centre first or get started straight away from the comfort of your own home with BSAC eLearning!
A really great thing about scuba diving is how accessible it is for disabled people. More on accessibility and diving.
If you'd like to talk through your options, call us on 0151 350 6201 (Mon-Fri, 09:00-17:00) for a chat!
This Learning Curve article was originally published in SCUBA magazine, Issue 125, May 2022. For more membership benefits, visit bsac.com/benefits.
Images in this online version may have been substituted from the original images in SCUBA magazine due to usage rights.