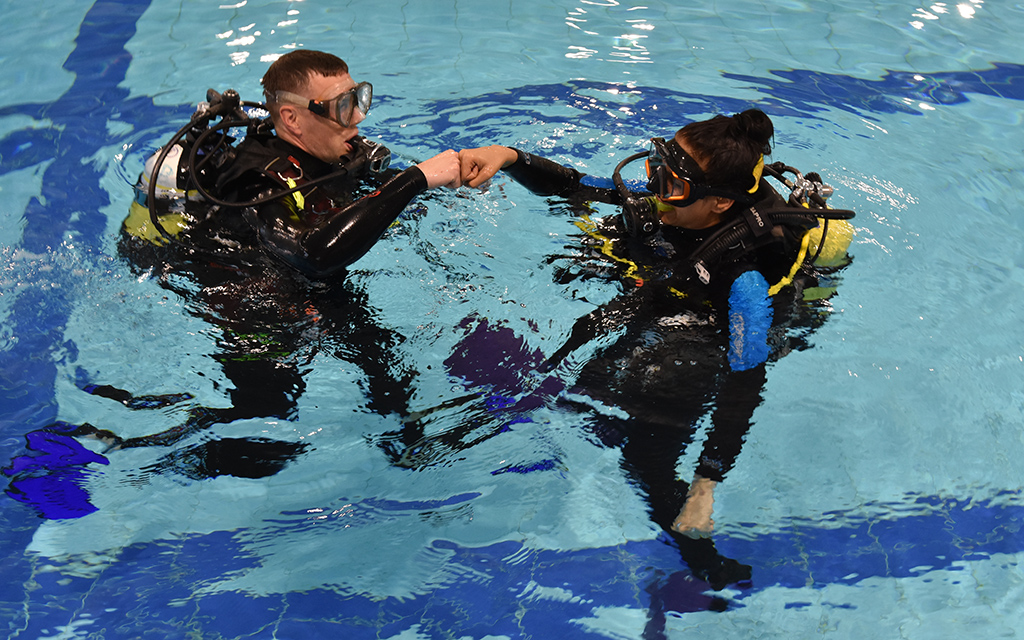 World Mental Health Day is on 10 October 2023. It's a timely reminder of the role our community can play in supporting those with mental health challenges.
The World Health Organisation recognises World Mental Health Day on 10 October every year. This year's theme set by the World Federation for Mental Health is 'Mental health is a universal human right".
Improving mental health through scuba diving and snorkelling
Participating in sports such as scuba diving and snorkelling brings benefits to our mental health through reducing stress, anxiety and depression, increasing our mood and making us generally healthier.
Scuba diving offers all of us a place to share experiences together, to become part of a group and to support each other. Scuba diving can be a very intimate and trusting experience – as a buddy pair we have shared experiences, we look into each other's eyes in moments of delight and wonder at the underwater world.
More than that, we develop trust in each other. This is instilled in our training, we look after each other and we become great friends. BSAC provides a unique environment where clubs are almost like family, where we look out for each other, and it is here that we should feel able to talk openly together and offer understanding and support.
Helping others in the scuba community
As many as one in four people likely to experience mental health issues in any given year.
For an organisation like BSAC with more than 25,000 members, that means there is the potential for a significant number of our members to experience mental health problems. Nearly half of adults think that they have had a diagnosable mental health condition at some point in their life.
We need to promote positive mental health within our clubs, make it known that it's okay to talk about mental health and remove stigma by being open and having conversations.
It can be daunting talking about mental health; we might think that we don't really know what to say, how to act or what if we say the wrong thing. Having more knowledge and understanding about mental health can help with the confidence around what to say and do.
More on mental health and BSAC, including what clubs and members can do to help.
Online mental health course
UK Coaching, in partnership with Mind and Sport England, has just updated its 'Mental Health Awareness for Sport and Physical Activity+' online course. This course was developed for everyone involved in clubs, community sport, and physical activity – which for BSAC means everybody from instructors and volunteers to Branch Officers and club members.
The course covers:
Young people: featuring statistics and video content highlighting young people's experiences, along with guidance for those involved in promoting physical activity
Healthy relationships with physical activity: incorporating personal accounts of the importance of a healthy relationship with physical activity, guidance on identifying signs of unhealthy relationships, and ways to provide support when needed.
Helping others to support themselves: including Mind's new Self-care library, which compiles various activities aimed at helping individuals support their own and others' wellbeing.
The course can be taken online and costs £10.
BSAC and mental health
You'll find resources and supporting information on the BSAC website about scuba diving and managing mental health.