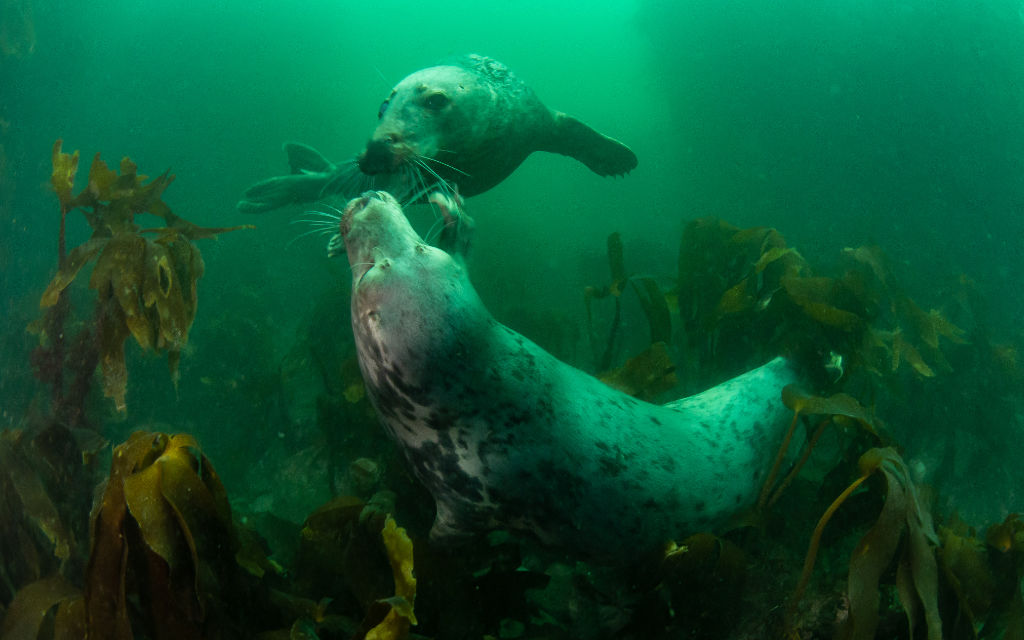 Yo-Han Cha divulges his greatest love of UK diving - the grey seals of the Farne Islands.
I love seals. They are what got me hooked on UK diving. One of my biggest fears of 2020 was that I wouldn't be able to go to the Farne Islands. I appreciate this sounds horrendously selfish when you look at the big picture, but in my little self-involved world, that was the Big Fear.
I've been to the Farne Islands (or 'Farnes') every year since 2009 and when Covid-19 cancelled both of my trips there, the Big Fear looked as if it would come true. But then one of my old dive clubs in Manchester mentioned that someone had dropped out of their Farnes trip. Yes, yes please! Thank you Sean for dropping out!
If your diving experience is of clear, blue water in the warm tropics, you might be wondering why I so desperately want to return to the Farnes, even after 10 consecutive years of diving these islands. However, first we must consider the case against diving the Farnes:
It's not always sunny (it can occasionally rain in Northumbria).

If you're diving from a RIB, your toilet facilities are a bucket or over the side.

There are no locals working for tips willing to carry your heavy dive gear.

It's colder, both in the water and in the boat.

You normally have to get up much too early for any normal B&B to serve you breakfast before ropes-off (any B&Bs willing to accommodate breakfast for divers are automatically 5-star in my book).


But there are seals. And who doesn't love seals? They're cute, can be very playful and in the Farnes, you have the best chance of having amazing interactions with them. You can have interactions with them elsewhere around the UK, but I've found that there's usually one dive in the Farnes over a weekend where you'll get some memorable interactions with them. I can't say 'guarantee', as they're wild animals and they come and go as they please, which is why I find it amazing when they freely choose to hang out with me.
They normally play with my fins, but I've had them nibble on my gloves and my hood. The only occasion where I felt uncomfortable was when one kept nibbling at my drysuit leg and I didn't fancy having to deal with a punctured drysuit.
My favourite ever seal dive? There was one occasion when a particular seal had been playing with us for pretty much a straight hour, at which point I had to surface due to my inconvenient lack of gills. After inflating my BCD at the surface, I lay on my back and started finning to the nearby RIB. The seal jumped out of the water and sat on my stomach as if to ask me why I wasn't still playing.
It would have been a great opportunity for a photo, but I was too overcome by the situation to do anything. What do you do when a wild animal acts like a domestic dog? I didn't know what to do, so I just lay back, stopped finning and all I could think was, "WHAT?!" My mind just couldn't process the image of a seal sitting on my stomach! The only reason anyone believed this was when my buddy Caroline vouched for me.
Two photographers and neither of us got a picture! But I'll never need a picture to remember such an experience.


Ready to start your scuba adventure? Sign up for eLearning!
You can get started straight away with the theory knowledge element of BSAC's entry-level courses, Discovery Diver and Ocean Diver, and work at your own pace using the BSAC eLearning system.
This column article was originally published in SCUBA magazine, Issue # 111 February 2021. For more membership benefits, visit bsac.com/benefits.
Images in this online version may have been substituted from the original images in SCUBA magazine due to usage rights.