The Expeditions listed on this page are mostly regional. BSAC club organised expeditions are listed here where they have successfully applied for a BSAC grant.
Expeditions 2018
May 2018, Dorset Shipwreck project
Read plan

The leader of this expedition is Cameron Cromwell. The aim of this expedition is to locate and identify at least one of several wrecks in the Portland Bill area. We will be following up on information obtained from the Shipwreck Project, which has identified a number of interesting but unconfirmed targets. Sadly the Shipwreck Project was closed down last year due to lack of support, so there is no longer a database in which to contribute. However, we will be comparing our information with information previously provided by the English Heritage and Wessex Archaeology.
This expedition was awarded £500 from the BEGS fund.
Expeditions 2017
July 2017, Project Highball, Survey in Loch Striven
Watch project documentary video
Read report
Led by Mark Paisey, 12 members mainly from East Cheshire SAC located and raised two Highball practise rounds dropped in Loch Striven. These will be restored and displayed in museums. The team used their 2 RIBS and Jackstay search for small-scale item location as well as a side scan sonar and an ROV for large-scale site overview. The help of the Royal Navy (northern dive group, dive vessel Cato), of a commercial survey vessel (Aspect) and a crane (SD Moorfowl) were all key to the success of this enterprise. A diver trail was established so others can enjoy this underwater museum. Progress of this endeavour was reported in the national news. This expedition was awarded £1000 from the BEGS fund.
March 2017, Survey of pink sea fans around Plymouth

Led by Paul Ritson, 9 members surveyed the state of pink sea fans at 10 (known and new) sites around Plymouth. Following Seasearch procedures and using previous Seasearch reports they dived over 4 days to determine the state of the sea fans. The pink sea fans were found to be generally in good health. This expedition was awarded £500 from the BEGS fund.
January-May 2017, Survey of the UC42 in Cork Harbour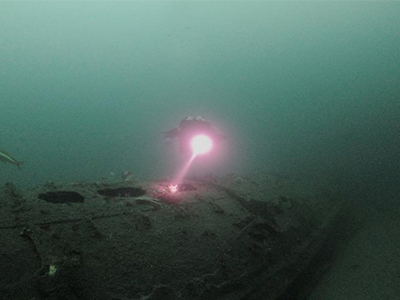 Read plan
Led by Philip Johnston, several branches around Ireland will survey the UC42 in Cork harbour. The branches include Cork (Sovereign), Nth Down, Belfast, Lisburn, Atlantic and DUSAC. They will use their own RIBs and spread the diving over 5 weekends,100 years after her sinking. This expedition was awarded £500 from the BEGS fund.
May/June 2017, Expedition Newfoundland
Darwen Sub-Aqua Club marked its 60th anniversary with a fully self-sufficient dive expedition to Newfoundland. Led by Keith Dearden, team members from 5 branches spent 4 weeks in total, split over two groups, based near St. John's, Royal Newfoundland Yacht Club, and dived wrecks around Bell Island. They shipped, by container via Liverpool and Halifax, their own boats, compressors, gas and other usual dive equipment. This expedition was awarded £1000 from the
BEGS fund
.
June 2017, Banc du Cardonnet, Operation Neptune Wrecks Survey
Led by Martin Davies and organised by Alison Major, members of Southsea Sub-Aqua Club and other branches will return to Normandy, Banc du Cardonnet, to discover more about the WW2 wrecks of Operation Neptune. They plan to record and photograph mainly two US Tank Landing Craft and produce photogrammetry and 3D models. The team will be based in Grandcamp-Maisy and use their own boat, side-scan sonar, and portable air compressor. This expedition was awarded £1000 from the BEGS fund.
Expeditions 2016
August 2016, Dive 6 Countries in 6 Days (from one boat)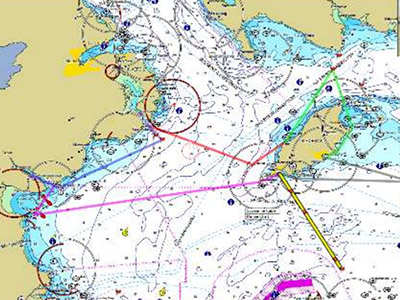 Led by Michelle Haywood members from the two branches Discover Diving and Isle of Man SAC aim to dive in the territorial waters of six countries (Isle of Man, Scotland, Northern Ireland, Rep. of Ireland, Wales, England) all within six days. Sites will include known and unknown wrecks up to 50m depth. The group of 10 divers will use a chartered hardboat as a dive platform, will travel 300nm, will dive rebreathers on trimix and will stay overnight at various ports. This expedition was awarded £1000 from the BEGS fund.

October 2016, Maerl Bed Survey in Loch Hourn
Read report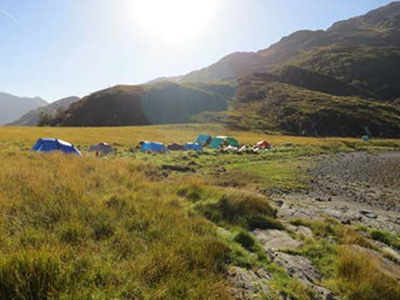 Led by Ian Dearden and Mike Holroyd, Darwen SAC returned to Loch Hourn. 10 team members surveyed the Maerl beds discovered there. They used their own RIBs, compressors, and camped on site. This was a follow-up to the previous expedition in 2014 (see reports and SCUBA mag. article). This expedition was awarded £500 from the BEGS fund.
Expeditions 2015
April 2015, Aud Survey, Ireland
The Irish Regional Coach plans to help prepare divers for the First Class Diver practical exam by surveying the wreck Aud. The most intact sections will be the main focus of the activity resulting in a wreck guide. The results may be of interest to Irish Historians as well as SCUBA divers. The group of 10 divers will use their own RIBs. This expedition was awarded £250 from the BEGS fund.
April 2015, Mull of Kintyre Wreck Expedition
Members from Lancaster, Aberdeen, Manchester and Glasgow branches plan to dive, survey and record wrecks around the Kintyre peninsula. The findings are to be published in Canmore, local media and dive magazines. The 8 members of the expedition will be led by Simon Exley; the Fyne Pioneer will be their dive platform. Accommodation will be in a bunkhouse in Campbeltown and air will be drawn from a local dive base. This expedition was awarded £250 from the BEGS fund.
July 2015, Rathlin Island Expedition
Members from SubC, Bury and Chaumont clubs dived around Rathlin Island. They surveyed wrecks, explored new sites and recorded seasearch forms. The 15 members of the expedition were based in Ballycastle in self-catering accommodation, had their own transportable compressors and used their own RIB for transport. This expedition was awarded £1000 from the BEGS fund.
Aug 2015, 'Live Bait' Expedition
The regional coach for Europe organised a trip to dive the WW1 'Live Bait Squadron' wrecks HMS Cressy, Hogue and Aboukir, positioned 22 miles off The Hague. A team of 12 divers from various British branches and experience backgrounds including rebreathers dived off a chartered liveaboard to record the state of the wrecks by photographs and video, laid a wreath on the Cressy, and included some diver training progress. Reporting included an interview of Carol Wood by Anglia TV and BBC Radio Suffolk, as well as an article in SCUBA magazine in January 2016. This expedition was awarded £250 from the BEGS fund.
For expedition plans and reports from 2014 and before please contact BSAC and we will send them to you.