Here are a few hints and tips for making sure you get the most from your club's Facebook Page.
Have a good-looking and logical Facebook Page
Make sure your club can be found quickly by having a name and profile picture that is easy to recognise. If you have one, use your club's logo. Try and get a great photo for your cover image – one of club members out and about having fun is ideal. Or, a great diving shot.
Remember to set your club up a Facebook 'Page' (not a ''Group' or 'Personal profile'). You will reach more people that way. Set up a Facebook page.

Keep it current and keep talking
People prefer to listen and watch rather than read lots of text. Put short videos up about your club or of your club members out and about diving. Post on all of your activities – pics or videos from dive trips, training days, social events. Also, celebrate any successes – when people qualify, overcome challenges, grant successes; any positive news from the club.
Keep your Facebook page vibrant. A silent page doesn't give a great impression of your club. You can engage people by commenting on what they are posting and asking for their views.
Get Facebook recommendations

Facebook will walk you through this, see their page - How do I recommend a business on Facebook?

Make sure you email all of your members and ask them to review you.
Lots of five-star ratings will make you look great!
Be responsive to enquiries
Clubs have a high success rate when they answer messages from potential members quickly on Facebook.
Use Facebook 'Events'
Facebook events facility is great for your club's trips and other events such as a Try Dive event. This will enable members to add comments, upload their pictures and members can have online banter before and after the event. It will also help potential members see how active your club is. See below a great example of an active club Facebook event calendar from London No 1 Dive Club (who incidentally are very successful recruiters of new members).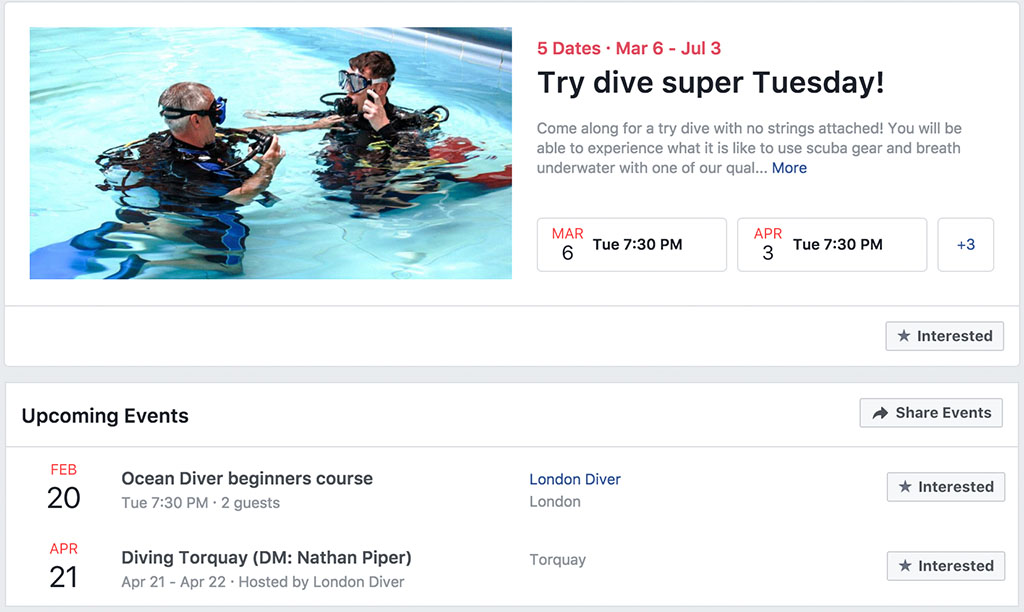 Members can also invite all of their own Facebook friends to come to the event too (which would be particularly useful for a Try Dive event).
Be engaging - tag people, places and pages in your posts
Tagging people, places and other pages in your posts will result in more people seeing your postings and get more people engaged. Ask members to tag your club page in their personal postings where possible. See an example of how we tagged Severnside SAC in a Facebook post, their name is in blue and that shows the 'tag' is live.
What's in it for your Facebook followers?
Give your Facebook followers a reason to engage by posting information that they see as valuable. Most club members and Facebook users like to:
Get up-to-date information, such as dive trip and social event dates, and pics/videos afterwards
Be kept informed about any changes happening in the club, such as new initiatives or training times
Show support to their club
Interact and connect with other like-minded members
Get entertained!


Add your clubs Facebook activity to your website
If you have a club website you can place the Facebook 'Like' symbol onto your web pages. When someone clicks it, they will 'like' your club's Facebook page.
On your clubs website you can embed your clubs Facebook Page Timeline, Events and even your Facebook Messages. Use a Facebook 'Page Plugin' to easily embed and promote your public Facebook Page on your clubs website. Find out more and how to do this here.
Need advice on growing your club? Please email BSAC marketing support or call us on 0151 350 6224.