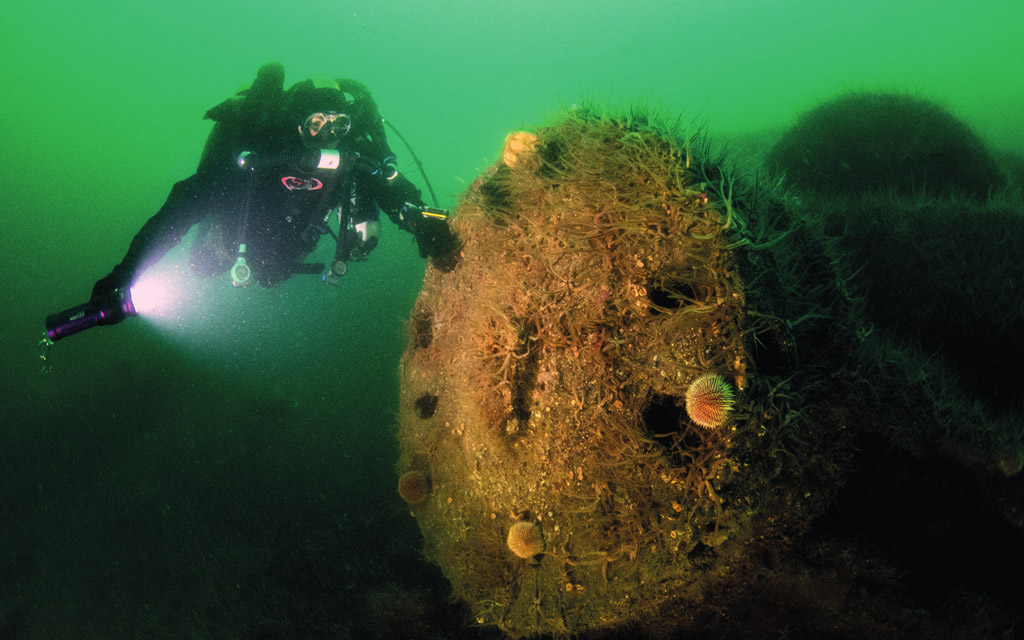 Jane Maddocks has more suggestions for projects, including temperature checks of your favourite dives.
At a cold and rainy inland quarry, a citizen science specialist made me think. He said: "A project starts when two people come up from a dive and say 'I've just had an idea. Why don't we…?' Thank you, Richard Walker.
Ok, so, why don't we…? Have you had a really good idea for a short-term project and want to give it a go, but aren't sure how to go about it? If that's you, then think about what may be stopping you. Perhaps you could start by checking out the guide to small diving projects on the BSAC website, but if you're still not sure there are lots of people you can ask for advice. Examples of those who can give good advice are your Regional Coach, BSAC's Expedition Advisor or me at jane. maddocks@bsac.com Even if between us we don't have the answers, we will know someone who has.
One idea that would be good to follow up is recording the sea temperature on a regular basis at your favourite dive site. If you record the temperature three or four times over a year at the exact same spot, you will start to get reliable figures. At the same time, if you note what marine life is within several metres of the place where you record that temperature, you can create a baseline of information that you can build on over the next few years. Regularly taking the temperature at the same point and depth could help to record temperature change, and any possible effects on the marine life within a given range of the sampling spot.
This is important work, and qualifies as a real contribution to our understanding of the potential effects of climate change. It can apply just as powerfully to a gentle snorkel across seagrass beds in just a few metres, or on that wreck at 50m that ticks all your diving boxes.
It is even applicable to rock pooling, so perhaps it's time to break out the wellies, grab a thermometer and have some family time. The important thing is that it is exactly the same place, using exactly the same measuring device, and exactly the same method of recording the marine life at exactly the same distance from where you take the temperature.
If this interests you then let me know, and we can start to build up an effective reporting form. Then we can start creating a database that is scientifically sound, and great fun to populate. I am about to start mine off with my regular wreck dives planned in April, July, and October 2022. I will be taking the temperature at the bow in 35m and carrying a tape and board to record the marine life at one metre distance North, South, East, and West. As the wreck is metal then my buddy will be pointing me in the right compass direction from two metres above me.
Taking it further might also involve researching a new wreck or finding more about the story of a wreck that is already a favourite. There are so many resources out there that sometimes it's hard to know where to start. Some wrecks such as the Thistlegorm are now fully documented, with superb 3D modelling. The ships of the German High Seas Fleet in Scapa Flow are accessible, and the whole scuttling event is told in briefings that are comprehensive and exciting.
A knowledgeable skipper giving a good site brief is always useful, if you're diving from a charter boat, but if that knowledge is not available then there are lots of other sources.
All have their plus points, but there are pitfalls. The story of the wrecked ships off the D-Day beaches in Normandy is an evolving account of identifying types as well as identities of the remains. Southsea SAC is doing a project that will help to identify the wrecks accurately, so that descendants can know exactly where the last resting place of their family member is.
Next month I will be looking at some of those sources, including some good online sites, books, and places to visit for more in-depth research.
The BSAC network is working together to keep people connected to the sport. With online training, special interest webinars, competitions, support to clubs and the trade, and much more...we'd love you to join us.
This article was originally published in SCUBA magazine, Issue 123, March 2022. For more membership benefits, visit bsac.com/benefits.
Images in this online version may have been substituted from the original images in SCUBA magazine due to usage rights.