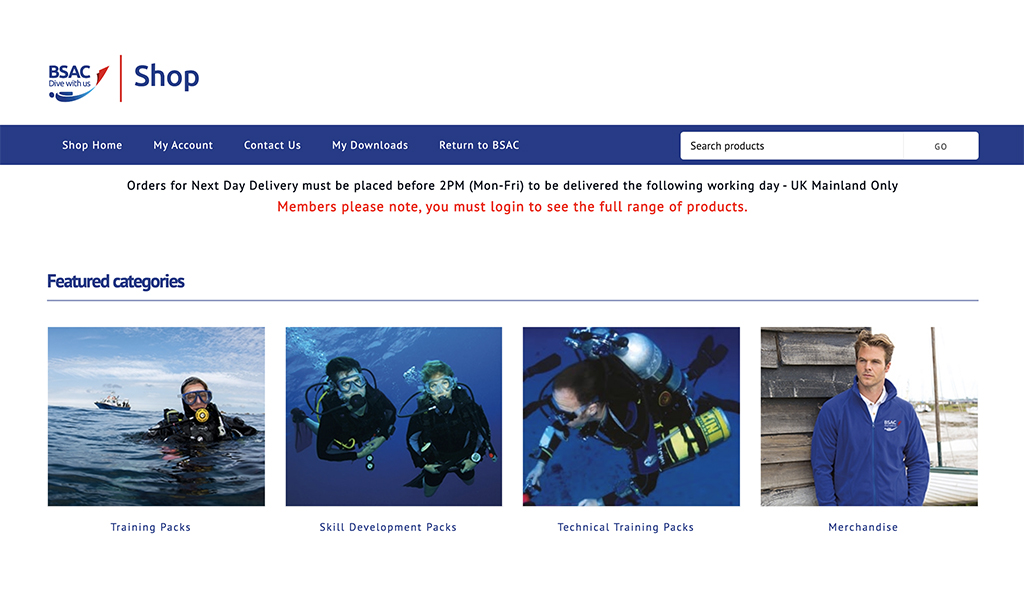 Due to the current environment with students being unable to attend their club to collect training materials, and a consequent shift by BSAC and clubs to online learning, training packs for all BSAC courses are now available to purchase by students direct from the BSAC Shop.
Training packs are usually only available for Branch Officers and instructors, however, BSAC has lifted these restrictions during national lockdown so members who are taking part in online learning can access these essential materials.
Training packs contain student notes, qualification page, qualification card application instructions and any necessary manuals for the course pack purchased.
Information for students
The training pack for each BSAC course is an essential requirement not only to gain the relevant qualification but also to ensure you retain your own personal reference materials to support the course you are undertaking.
You can now order your chosen training pack direct from the BSAC Shop. Packs are purchasable for:
Diver Training courses
Skill Development courses
Technical diving courses


Please check with your Diving/Training Officer or Instructor before ordering your pack to ensure you order the right one. Your instructor will still be the one responsible for signing off the qualification on completion of your training.
It is vital that you keep your training packs safe as they contain your unique reference number (URN) which is used during the certification process to validate your qualification.
Information for clubs, centres and instructors
Because of the current limitations on students being able to attend clubs for training or to collect relevant training materials and to underpin the growing options to attend online theory sessions we have removed restrictions on students being able to order their own training packs.
As Branch Officers and/or instructors you remain responsible for delivering any practical training for the students and signing off the qualification on completion of their training. Students are also being advised to check with their Diving/Training Officer or instructor before ordering a pack to ensure they order the right one for their needs.
Students can now order their chosen training pack direct from BSAC Shop. BSAC HQ will have a record of this and inform their branch so that they are aware.
Are you a member and like what you're reading?
Go to your MyBSAC page and click 'Email options' to check you're signed up to receive emails.