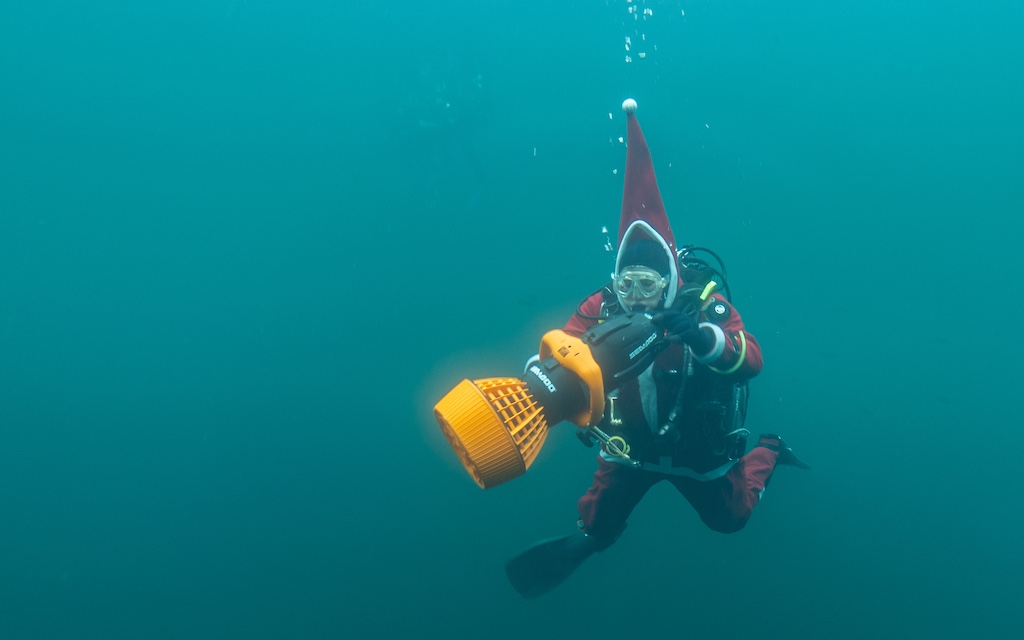 The tinsel is out, the trees are up and festive tunes are floating on the radio waves - there's no denying that the festive season is here, and so here are our top 10 Christmas gift ideas for BSAC scuba divers!
If now is the time when you begin to wonder what you could possibly get for that special diver in your life, then read on - hopefully, these ideas will give you some inspiration.
1. Shark Trust's 2021 calendar
This calendar not only features cute illustrations of everyone's favourite marine predators but also supports the conservation charity's efforts to protect sharks from the many threats they face around the world.
2. Alec Crawford's book, Treasure Islands
For anyone who has dived a wreck in the UK, salvage diver Alec Crawford's book, Treasure Islands, tells the tale of his early career hunting for wrecks off Scottish islands in the early 70s and salvaging the then-largest ship in the world. It's a truly fascinating read, although the solo diving and lack of pressure gauges on cylinders might be a bit of a shock to modern divers!
3. BSAC-branded face mask
Grab a stocking-filler from our own shop in the form of a BSAC-branded face mask. It's manufactured by our friends at Fourth Element and is not only super comfy but also made in part out of recycled abandoned fishing nets.
4. Rapanui's surf towel
Perfect for those seaside scrambles out of dive gear and into dry clothes, Rapanui's surf towel is warm, soft and stylish with its marine-themed pattern. What's more, the company upholds a great level of social and environmental responsibility in the sourcing and supply chain of its products.
5. A new BCD from AP Diving
A new BCD can massively improve your whole diving experience, and the 50-year-old manufacturer AP Diving makes some favourites among the British diving scene. BSAC members can save a minimum of 26% off the BCDs in AP Diving's range, with instructors saving even more.
6. A diving-inspired Ocean Sweater
A Christmas sweater that features a scuba-Santa and a sleigh pulled by dolphins sounds too good to be true, right? Well luckily for you, the team at Dive for Cover have designed this very thing, along with a whole host of other diving-themed clothing.
7. 'Reef safe' sunscreen and mask defogger
Many of us now know about the need for 'reef safe' sunscreen, but other products we frequently use when diving also cause damage to the very place we put so much effort into visiting. Stream 2 Sea's environmentally friendly sunscreen, mask-defogger, hand-sanitiser and more could be the ideal present for the environmentally-conscious diver in your life.
8. An Ocean Bottle
And on a similar note, do away with plastic bottles that end up in the sea and replace it with a solid and well-designed reusable one. If you pick one from Ocean Bottle, not only can it keep a brew warm for when your lucky gift-receiver returns from underwater, but the company will also collect 1000 plastic bottles on your behalf and stop them from entering the ocean.
9. A torch from Anchor Dive Lights
Torches are a near-essential part of UK diving, and Donegal-based Anchor Dive Lights creates some cracking ones. They're tested in the North Atlantic and pressure-rated down to 100m and are well-suited for many situations, from cave diving to videography. BSAC members can get an exclusive discount, and you can also send them your old torches and lights for them to recycle.
10. Something special from our kit partners
There are a whole host of other deals you can get through our kit partners, including Northern Diver, O'Three, Custom Divers and Otter Drysuits.
BSAC members save £££s every year using BSAC benefits.
Make the most of your membership benefits by saving on everything from scuba gear, diving holidays and diver insurance, to everyday purchases on food, online shopping and retail with BSAC Plus. Find out more about your membership benefits.