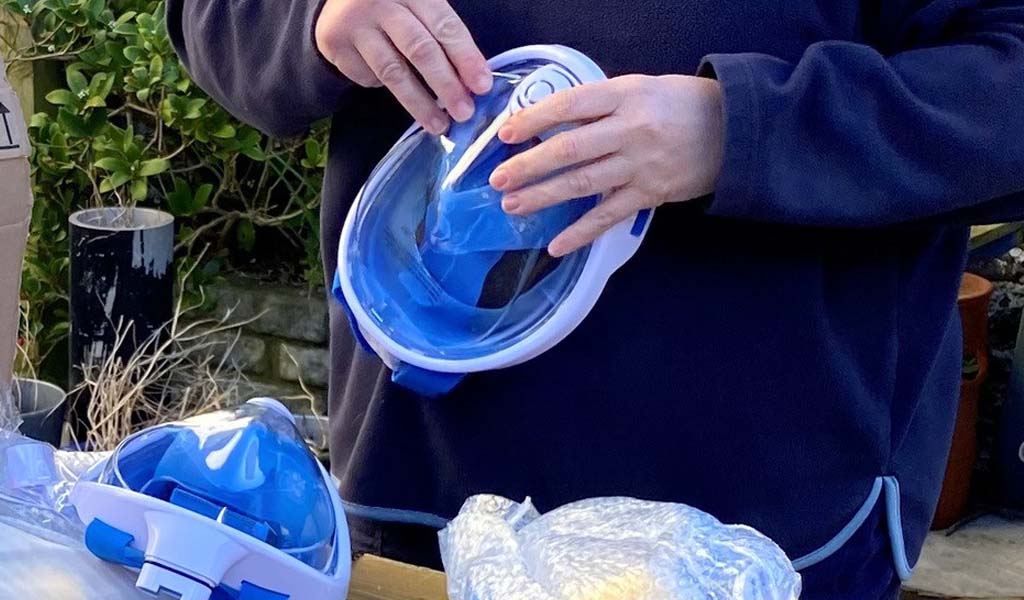 Michelle Haywood has been involved in adapting full-face snorkel masks for use in treating Covid-19 patients.
It was the Italians that started it. Driven by desperation to help more Covid-19 patients struggling to breathe, doctors at Gardone Valtrompia hospital asked engineers at Isinnova to help print an adaptor to fit onto Decathlon snorkel masks. The news started to circulate on social media and we received a call from our local hospital.
To be honest, I'd seen the video, but my personal aversion to full-face snorkel masks meant we don't stock them in our dive centre and don't allow them to be used in our branch either. So, a quick phone call located a mask that I could steal from one of my instructor team (who had obviously ignored my feelings about the masks) and off I went to meet the doctors.
The concept is quite simple. Remove the snorkel. Create an adaptor that allows oxygen tubing to be connected via the central port of the snorkel and feed oxygen at slightly higher than ambient pressure to flow into the mask. The oxygen enters the eye pocket of the mask. From there via two mushroom valves, there is one-way flow into the oro-nasal pocket. The positive pressure drives the oxygen into the patient. When the patient exhales, the inflow mushroom valves pull shut and the exhaled gas leaves via the two exhale tubes that route around the side of the mask and back to where the snorkel was.
Each of these snorkel masks has another mushroom valve at the bottom to allow water to drain in normal use. We removed the cover and turned that valve around. This means the valve closes as the patient exhales and exhaled gas loaded with viral particles is forced into the filter. We discussed blanking this valve off, but decided that should the oxygen supply fail for any reason, the inverted valve would open when the patient inhaled and allow them to breathe ambient air. Not as good as oxygen, but better than nothing to breathe at all. Given that these patients are being closely watched, we considered that this would only be a temporary situation while the oxygen feed was reconnected. At least patients wouldn't be ripping their masks off.
The doctors had tried ordering masks but it was proving impossible. As a dive centre, we put out a social media appeal and within four hours had more than 100 offers. It took a few hours to drive around picking them up. Masks were left on doorsteps so that we stayed away from people and everything sprayed down with Chemgene spray to make sure it was safe for us to handle. It turns out Chemgene is not just for rebreathers! In less than 24 hours we knew we had enough masks to make this project work. Now we needed the adaptor.
The Italian team had published their version of the adaptor… but it didn't fit our hospital systems, and it didn't fit the mask very securely either. Some of the Isle of Man's engineering firms with 3D printing capabilities were approached and within three days the design had been refined four times. The masks we had collected were handed over to the engineers so they could make the measurements and check their modifications. And they started on designing a second adaptor for use with the Das Meer type of mask. These were the most common brand we had collected and because this same mask was made under different brand names, being able to use these masks was a big step up in ensuring enough masks were available.
The Isle of Man 3D printer files were uploaded to be shared around the world, allowing medics to use as many snorkel masks as possible to support patients' breathing. This system provides a key step for patients that should reduce the need for ventilation. We've finally found a good use for these masks.
BSAC members save £££s every year using BSAC benefits.
Join BSAC today and start saving on everything from scuba gear, diving holidays and diver insurance, to everyday purchases on food, online shopping and retail with BSAC Plus. Click to join BSAC today.
This column was originally published in SCUBA magazine, Issue 103 June 2020.
Images in this online version may have been substituted from the original images in SCUBA magazine due to usage rights.