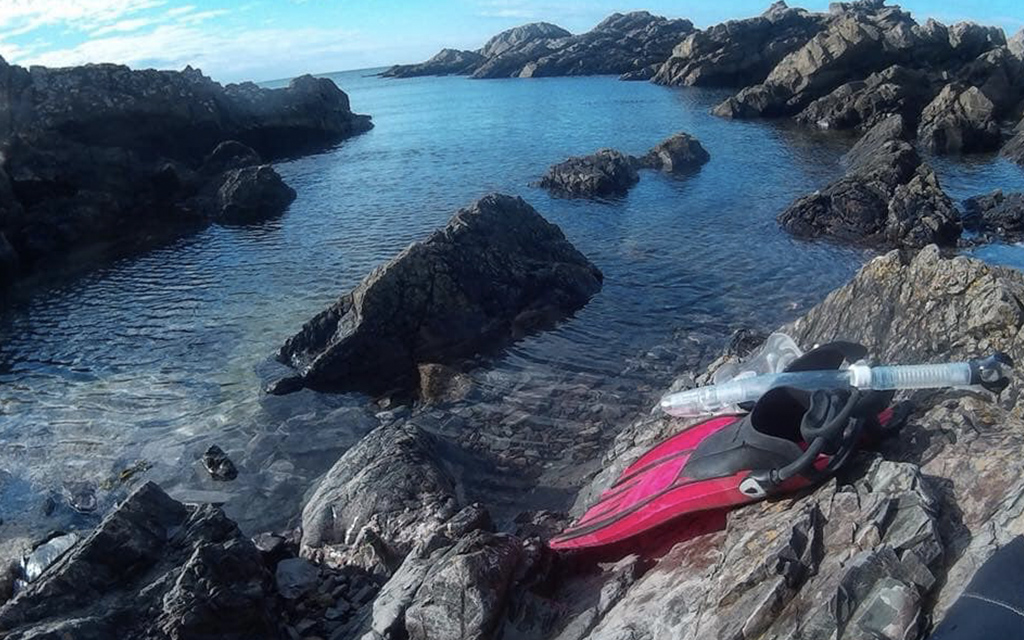 Marg Baldwin talks keeping active in lockdown and learning more about your local environment, and how these skills can translate into snorkelling.
Like many of you, I am consciously trying to keep reasonably fit so when the day does come and we get back into the water, I can still get into my suit and I do not have work too hard to regain in-water fitness. Limits to travel and facilities mean many of us are resorting to more simple forms of exercise to help keep active. Even within these limitations taking your daily exercise does involve some planning and preparation and on return, there is often the need to look things up and identify what has been seen.
I am becoming a keen weather watcher. I am learning more and more about the roads and byways in the area I live, and my knowledge of the local flora and fauna is increasing. Much of this exercise planning, thinking, and gaining new knowledge can be applied to what we all hope will be a very active snorkelling season.
Planning and preparation
The current lockdown dictates that you start and finish your exercise from home. Having the time to focus on your local area gives you the opportunity to notice things you have never seen before. Ask yourself why. Is it because we have more time, or is it because in preparation for going out we are thinking about how to approach things differently to make it more interesting?
Perhaps we should apply these tactics to revitalise our visits to well-known snorkelling sites; we might be amazed at what we find and see, and send us scurrying to our marine identification books. Better still, why not use this time to research some usual critters that you might see so that when we do return to the water, we plan to consciously look for them and hopefully record our finds on camera.
Practise your photography skills
As mentioned in Jim Watson's Lockdown walks to benefit your diving skills, perhaps now is a good time to practice your photography skills on land. Testing out your eye for detail and composition skills with a smartphone camera can really benefit your images once back below the waves. Not only that but taking a housed camera out with you on your walks can also help you familiarise yourself with the settings and controls for smoother clicking the next time you're snorkelling.
Weather watching
Our weather, as we all know, is constantly changing, often on an hourly basis. Climate change is also something to consider together with the long-term impact it can have on our weather, our seas and what we find in them. If you haven't already, do look at the Met Office website as there is a mass of information which can keep you absorbed for hours and could help you with snorkel planning for the future.
Should your daily exercise take you close to the sea - RNLI has issued a safety message, 'Cliffs and stormy seas can be dangerous, so make sure you stay well back, take a phone with you, and get home'.
Lastly, if considering the environment you decide to collect litter on your walk, make sure you do so safely, wear suitable gloves or a grabber and store in a stout bag for recycling and/or safe disposal.
Stay safe
Marg Baldwin
Snorkel Instructor Trainer
BSAC has released guidance to help members and the wider diving community prepare for a safe return to the water. Check it out.