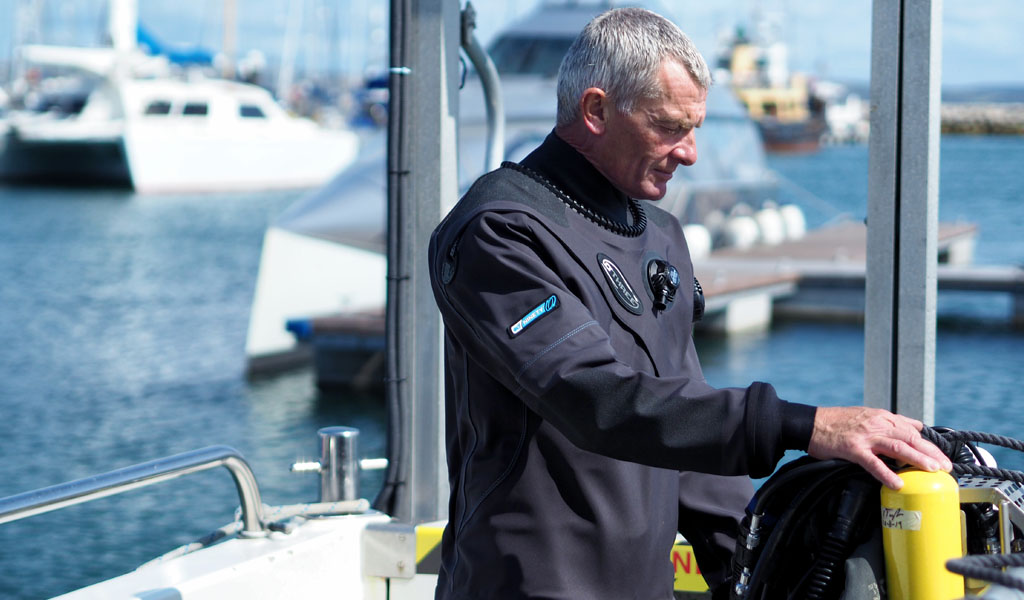 We all know divers (and snorkellers) love telling stories. Tell yours and you could win an O'Three 90-Ninety Tri-Lam drysuit worth £1,795! Organised by SCUBA magazine editor Simon Rogerson, this new writing competition is for short stories inspired by your time underwater, whether fact or fiction; reportage or rant.

Friends, there's no finer time for a writing competition. We've plumbed the depths of Netflix, we've fallen down bottomless YouTube holes and shared endless memes of kitted-up divers in supermarkets. Now it's time to unleash our creativity.
As divers, our stories are part and parcel of our culture. We visit the places most people cannot go; we bring back our stories and we tell the world. Now the time has come to inform – and entertain – each other. Humour, horror, humanity or hubris – it's all fair game if you've got a story you can tell quickly and succinctly.
We're looking for short stories inspired by your time underwater, no longer than 400 words. They can be fact or fiction; reportage or rant. You can present a serious scientific proposition; tell the world about a great diving experience; or explain just why diving is so special to you. Those 400 words will be swallowed up pretty quickly, so you must keep your writing tight and to-the-point. Think 'vignette' rather than 'epic'.
The rules
We are looking for a 350-400 word story, fact or fiction, that involves diving and/or the underwater world. We ask that you respect the privacy of your fellow divers, and present material that is suitable for a family magazine. Stories should be written in good faith, with no intention to humiliate or hold fellow divers in contempt.
Entries should be submitted via email to SCUBA Editor Simon Rogerson - simon@scubamagazine.co.uk, either on an attached Word document or written onto the main message. Please make it explicitly clear whether your story is fact-based or fictional.
We hope to make the competition last as long as our diving lives are compromised, but for now please treat Monday 8 June as your deadline. SCUBA reserves the right to edit all the entries for style and typographical errors.
We'll publish as many of your entries as we can, and if there's a lot leftover we can look at publishing them online. Now please, let's share our stories.


Win an O'Three 90-Ninety Tri-Lam drysuit worth £1,795!
We're not messing around here – our winner will receive the much-praised new Tri-Laminate drysuit from this competition's official sponsor, Portland's masters of drysuit diving, O'Three. This is a prestigious, premium quality suit from a respected company with a proven track record in keeping divers warm and dry in the most demanding environments.
This suit derives its name from the idea that today's adventurous divers want drysuits they can wear on global expeditions, from 90.0000°N to 90.0000°S. A fully spec'd, size large 90-Ninety hits the scales at just over 4kg, or 3.7kg if you get the soft socks option.
During its development, O'Three reinforced key areas internally and externally, so that the suit will meet the demands of an experienced cave diver and still be suitable for any recreational diver. Made of high stretch Rip-Stop Trilaminate, it has a number of quick-replace systems to choose from, including Si-Tech's 'QUICK' neck ring and KUBI's wrist / dry glove fitting.
The suit comes complete with a quality suit bag; a changing mat; vented semi-dry hood; Jollop wrist seal lube and Zip Tech solid zip lubricant. You know it makes sense!
Terms and conditions
The sponsor, O'Three, has undertaken to provide the winner with a 90 Ninety Tri-Laminate Drysuit – off the peg, made to fit, complete and ready to dive.
Please note: this is not a made-to-measure drysuit, and it will not include any additions or accessories added to the suit. The prize is valid until 31 December 2020. No exchange or cash equivalent, and the suit will be provided to the winner of SCUBA magazine's writing competition only. The winner will be chosen by a panel of judges – SCUBA's Editor Simon Rogerson and columnists Michelle Haywood, Yo-Han Cha and Kirsty Andrews. Entries should be sent by email to simon@scubamagazine.co.uk by Monday 8 June. No more than one entry per person. The judge's decision is final, and no correspondence will be entered into.


The BSAC network is working together to keep people connected to the sport. With online training, special interest webinars, competitions, support to clubs and the trade, and much more...we'd love you to join us.