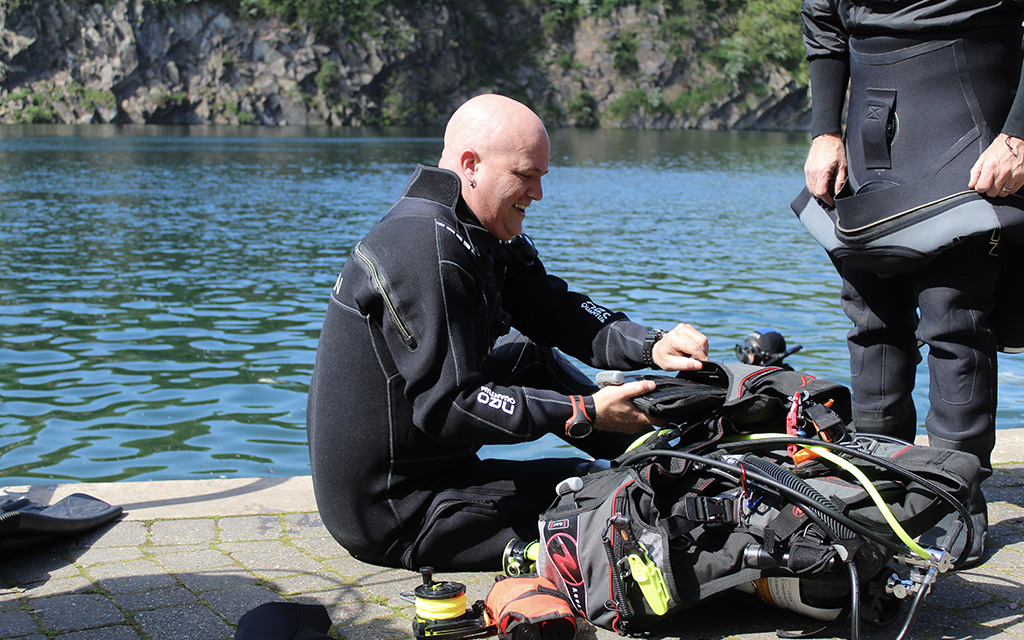 A passionate free climber, Tim Wardley suffered life-changing spinal injuries following a climbing accident in 2007. Read Tim's inspiring and heart-warming story of how scuba and club life helped him to love life again.
The impact of Tim's accident has been devastating on the previously active father-of-one, and, in Tim's own words, he found himself 'in a very dark place'.
However, Tim, who lives in Northamptonshire and is a member of Bingham Sub-Aqua Club, believes that learning to scuba dive saved his life.
This is Tim's story in his own words:
I had been a climber for 18 years – I loved the adrenalin – and was free climbing when I had my accident. Fracturing my spine eventually led to me being diagnosed with arthritis spondylitis (AS) and osteopenia, which has left me with fragile bones. I have now been in a wheelchair for six years as my legs don't work.
The accident's fallout hit me hard, and I spent five years living like a recluse; I was in a very dark place. Eventually, my wife Michelle told me that I had to get out of the house and do something with my life. And she was right.
My first challenge was to sign up for the Great North Run, and in 2018, I completed it in my wheelchair in two hours and 42 minutes, even though I dislocated my shoulder after two miles.
I also love swimming and had always been fascinated by scuba as a child – I guess it's a James Bond-inspired thing! So, I started searching for ways to learn to dive as a disabled person, and in 2018 I had my first try dive with Bingham SAC.
I suffer from anxiety, and so the thought of going to the Try Dive was very daunting. But the positive attitude and friendliness of the people I met at the club really helped.
My legs don't work, even in the pool, so with Helena, my Try Dive instructor, we discussed the issues with my spine as well as my pain points and how I could fin with my hands.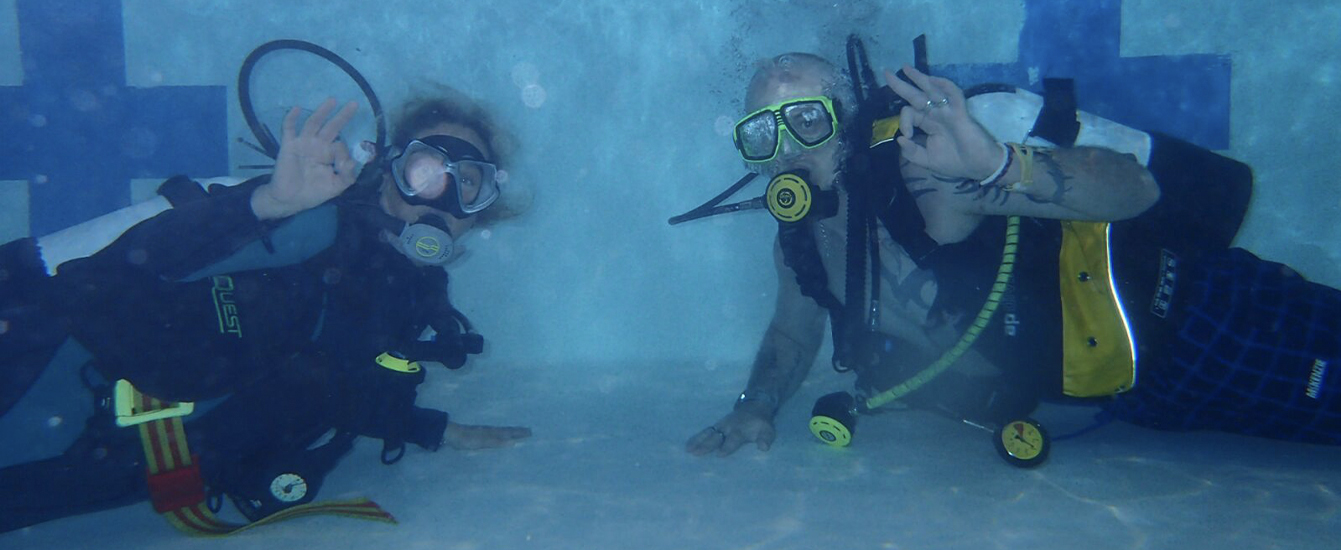 "When I get my head underwater, I am in a world where I belong."
I was nervous and excited at the same time, but I discovered that once I was in the water, my head 'shuts up' and I felt alive. I had little pain compared to what I feel out of the water, and I felt so free and weightless. And I didn't feel disabled; I felt like the other divers.
I immediately signed up for the Ocean Diver course, and the club had no hesitation.
I was also able to help in my own training, working with my instructors to explore adaptations, and build my skills through trial and error. There were times when it got a little beyond my comfort zone, but I felt so safe with my club.
I remember my first open water dive at Stoney Cove; I was really excited but then had a bit of a meltdown in the cark park after seeing how busy it was. But I had my instructors and everyone else on the Ocean Diver course and they helped me to get it together. I went on to dive in St Abbs and Eyemouth and qualified as an Ocean Diver in 2018.
I used to swim a lot in the sea and hadn't been in the ocean since the accident. But being back in the sea as a diver was like coming home, and it set me free. After every dive, my wife says the smile on my face says everything. And that feelgood from one dive can last me for weeks, I soak it all in and it sustains me.
I qualified as a Sports Diver in September 2019 and am now progressing with Dive Leader; I would like to become an instructor one day. And this is all down to Bingham SAC.
Learning to dive really has saved my life – it gave me something to focus on through those dark times. The pride on my son's face when I completed the half marathon and then discovering scuba made me realise that I had something to live for, and I have people who are there willing to support me.
And when I get my head underwater, I am in a world where I belong.
I'm interested in learning to dive, how do I get started?
First, you need to find a training centre (to learn in 5 days) or a local club (to learn over a period of weeks/months). If you train with a centre you can always join a club later.
Alternatively, you could start eLearning today and hook up with a club or training centre later to complete your training, the choice is yours!
Find a training centreFind a local club
Need help? Call us on 0151 350 6201 (Mon-Fri, 09:00-17:00) for a chat!