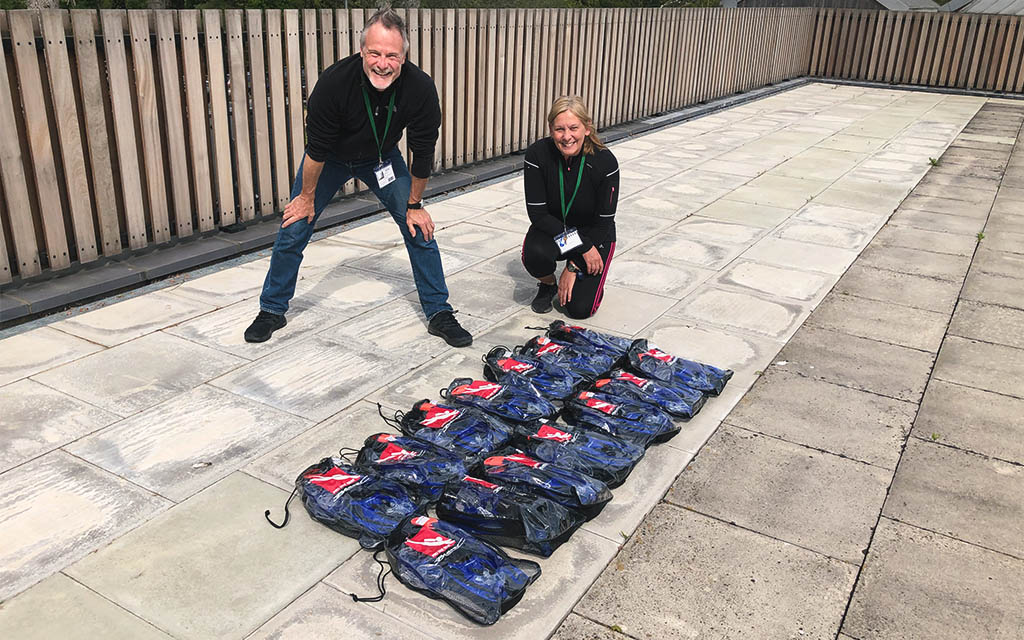 The first two schools from BSAC's new School Partnership Scheme have formally set up as snorkel branches.
Abbotsholme School in Staffordshire and Farnham-based Frensham Heights have established their own BSAC snorkel clubs to provide 'in-house' snorkelling for pupils.
Both schools are participating in the BSAC School Partnership Scheme, which aims to make snorkel and scuba training accessible to even more young people. Working alongside the Marine Conservation Society, the outreach initiative will also provide additional support and online resources to engage schools and pupils in the marine environment.
As part of the scheme, a group of teachers and pupils from Abbotsholme recently completed the Snorkel Instructor Training Course (SITCA), meaning the school can now offer Snorkel Diver training to its own pupils. Meanwhile, Frensham Heights is preparing to also take part in its own SITCA training.
BSAC School Partnership Scheme coordinator, Mark Paisey, said the project gives schools the choice as to how they want to engage their pupils in snorkelling activities.
"The beauty of the initiative is that schools can adapt the support on offer to give a tailored experience for their pupils," Mark explained. "Both Frensham and Abbotsholme will now run snorkel training within their own BSAC snorkel branch.
"Meanwhile, other participating schools are choosing to access BSAC Snorkel Instructors to run weekly training sessions. It's all about what works for a school and its pupils."
Frensham Heights' Jon Gilpin said their new BSAC snorkel branch was set to become a real asset to the school.
"By offering snorkelling we can supplement our already diverse extra-curriculum programme.
"Within our junior school, we have identified that our students lack water confidence, and felt that aside from swimming lessons little alternative provision is available to break down this boundary. We feel snorkelling may be a fun way to develop this personal attribute in a fun way, whilst learning key life skills."
To-date, 20 independent schools around the UK have signed up for the partnership scheme, with 54 pupils from Stroud School - the very first to join the initiative - recently qualifying as Snorkel Divers.
More schools are now set to come on-board the initiative, with plans to also work with the Sea Cadets and Duke of Edinburgh scheme.
"With its aim of bringing snorkel and scuba training to younger members, the scheme is also about encouraging a wider understanding of the marine environment.
"Many of the participating schools are also interested in our Seawilding eLearning and want to get involved in environmental projects. It's really encouraging to see how the schools and their pupils are embracing the opportunity," Mark added.
For more information on the School Partnership Scheme and how you or your school can get involved, email Mark Paisey at coach.leader@bsac.com
I'm interested in learning to dive, how do I get started?
Sign up to learn to dive with a BSAC Training Centre (to learn in around five days) or find a local club (to learn over a period of weeks/months). If you train with a centre, you can always join a club later.
I'm ready to pay, sign me up!Submit a learn to dive enquiry
Need help? Call us on 0151 350 6201 (Mon-Fri, 09:00-17:00) or email for a chat!