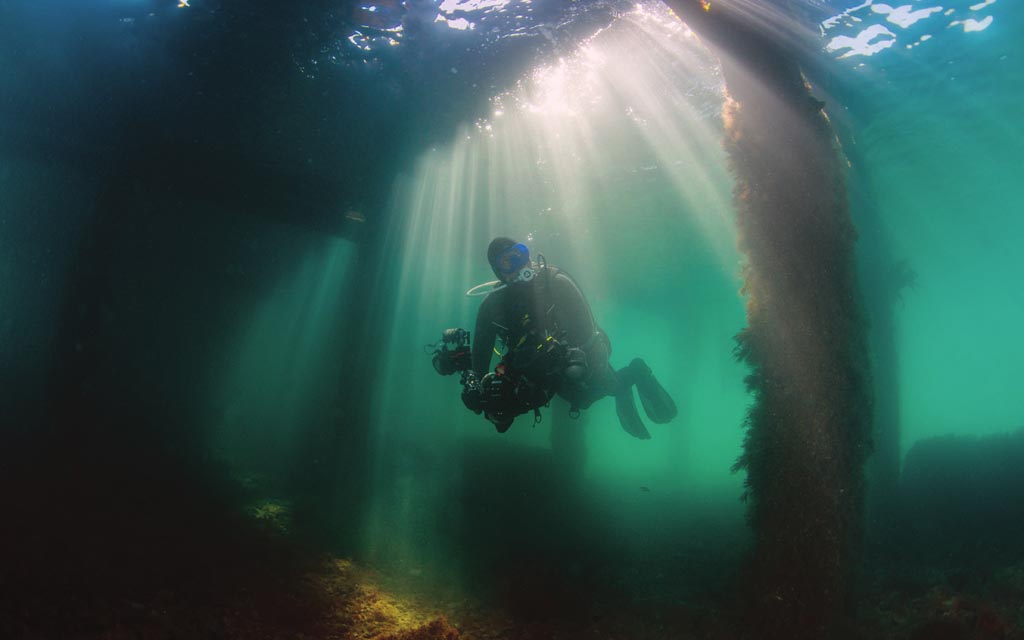 Jane Maddocks offers tips on how to prep a diving project, in addition to a great source for funding...
The last 10 years of SCUBA have gone in a flash, an amazing birthday, congratulations! For me, it is time to think and plan for diving projects for 2022. I have a wreck that still needs three questions answered and I am going to do my Seasearch Surveyor qualification. I also hope to get my first live net recoveries with Ghost Fishing UK and am reading up about drowned landscapes as other friends' academic projects come up in the diary.
Diving never ceases to give me adventures and friendships. Thinking about 2022, are you or your diving friends thinking about undertaking a project? A project does not have to be a major event. It can be as straightforward as making a short guide to your favourite shore diving site.
Your guide could show what creatures you may find as you swim out from shore, for example where that tompot blenny hides, and where you may see octopus in September. You could add navigation and pilotage hints, so that your divers get a real sense of achievement as they get back to shore exactly where they left it.
I would love to see a branch guide – for instance – to what is where underwater on Swanage Pier. It would be so useful if it were posted on our BSAC website. Some of our best shore diving sites could be recorded by your branch and made available to members. Shore dives around Scottish sea lochs would provide great material for diver guides, merging topography with the marine life.
If you want to take it even further, you may want to think about getting a British Sub-Aqua Jubilee Trust (BSAJT) grant. To qualify for a grant, the project should be 'outside normal branch activities.' It should be of 'interest to the British diving community' and the end product must be a report sent to BSAJT.
As an example, you may want to record a rocky outcrop that you do not normally dive. Taking it further may involve observing the marine life on various parts of the reef and report on changes through the seasons. You may be recording against depth, and water temperature, and use the information to create a report that involves interpreting what your group have observed.
You could also check out the new short guide to projects that is currently available.
Planning for 2022
Gavin Anthony, the Chair of BSAJT Trustees, says that one of the key features of a grant-worthy project is that successful candidates don't just set out to record, interpretation is key. To see a range of projects that have been given awards go to bsac.com/jubileetrust and read carefully.
Then go to Jubilee Trust Funded Projects – there are stacks of ideas there, but really important is the invitation to seek advice from the Trustees if you have a project in mind. They are an amazing resource of advice, and very approachable.
Gavin adds that although you don't have to be a BSAC member to apply for a grant, you should do a full risk assessment and dive to BSAC safe diving best practice.
Another effective way of moving forward for projects, whether or not you go for a BSAJT grant, is to get together with two or three others and think about what you would like to do, with everyone chipping in ideas on how to take it further.
How about a measured record of your branch's favourite wreck, then doing a photogrammetry survey of a small part, the anchor winch? You may have a member who is brilliant at underwater video, while another loves doing research. Record what you have discovered and send your report to me jane.maddocks@bsac.com as an entry for the BSAC Wreck Award for 2022.
It could be the best year ever for diving with a purpose.
The BSAC network is working together to keep people connected to the sport. With online training, special interest webinars, competitions, support to clubs and the trade, and much more...we'd love you to join us.
This column was originally published in SCUBA magazine, Issue 120, November 2021. For more membership benefits, visit bsac.com/benefits.
Images in this online version may have been substituted from the original images in SCUBA magazine due to usage rights.