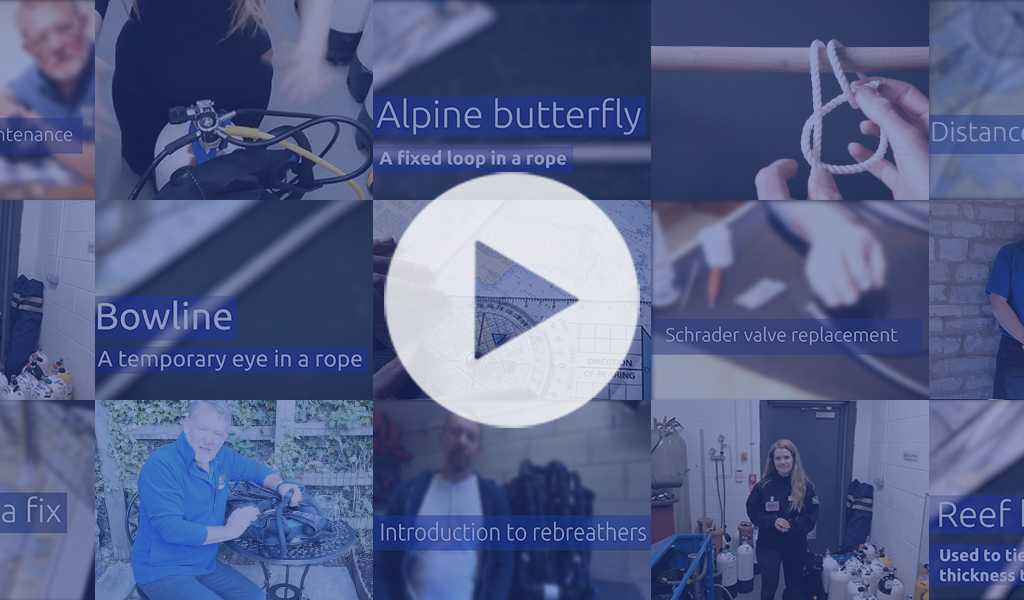 A new video series has been created by volunteers with bite-sized videos demonstrating skills that can be practised at home.
The videos have been created by instructors as an aid to fellow BSAC members and are designed as a supplement to the core BSAC training programme.
The videos are short, easy to digest and are designed specifically to help members practice and develop skills at home. The video series, which will grow over time, covers a range of topics including:
Entry-level videos for beginners including assembling and disassembling kit
Equipment care demonstrations
Dive planning
Decompression / technical diving
Navigation and position fixing
Knots


Organised by Coaching Coordinator Mark Paisey, the idea behind the videos is to help keep our community engaged in the sport while at home. Keen to get more members involved Mark said:
If any instructors or members would like to add something to the collection we'd love to hear from you. Equally, if members would like to request any specific videos please let us know and we'll do our best to get your suggestion added to the page.
Instructor and think you could add something? Great! Please get in touch with Mark with your ideas.
Member and would like to request a specific video? Please email Mark and we'll do our best to get your suggestion added.
Please note, these new videos are not a replacement of BSAC training, they are designed to complement training.


Check out the new video series
The BSAC network is working together to keep people connected to the sport. With online training, special interest webinars, competitions, support to clubs and the trade, and much more...we'd love you to join us.