Qualified BSAC instructors can now use the MyBSAC app to look up students, leave comments, and sign off lessons at the touch of a button - no paperwork required.
Developed in consultation with instructors and members, the latest app release has some exciting additions including new training sign-off functionality for instructors.
What's new
The digital Qualification Record Book (eQRB) enables instructors to sign lessons off without using paperwork, and is accessed through the MyBSAC app.
Although the digital QRB is designed to be simple to use, BSAC have created a video, FAQs and a guide on the website to help instructors install and use the app correctly.
Visible to those with an instructor qualification, an additional 'Training' tab in the navigation links to the BSAC training programme of diver grades, broken down into individual lessons. Records are secure and only accessible to other BSAC instructors, wherever they're based across the world.
Training completed by a student online through BSAC eLearning can also now be checked.
When an item is signed off then the eQRB records the date of completion along with the instructor's details (name, membership number, instructor grade and instructor number). The instructor can also leave comments about the lesson that will be visible to other instructors.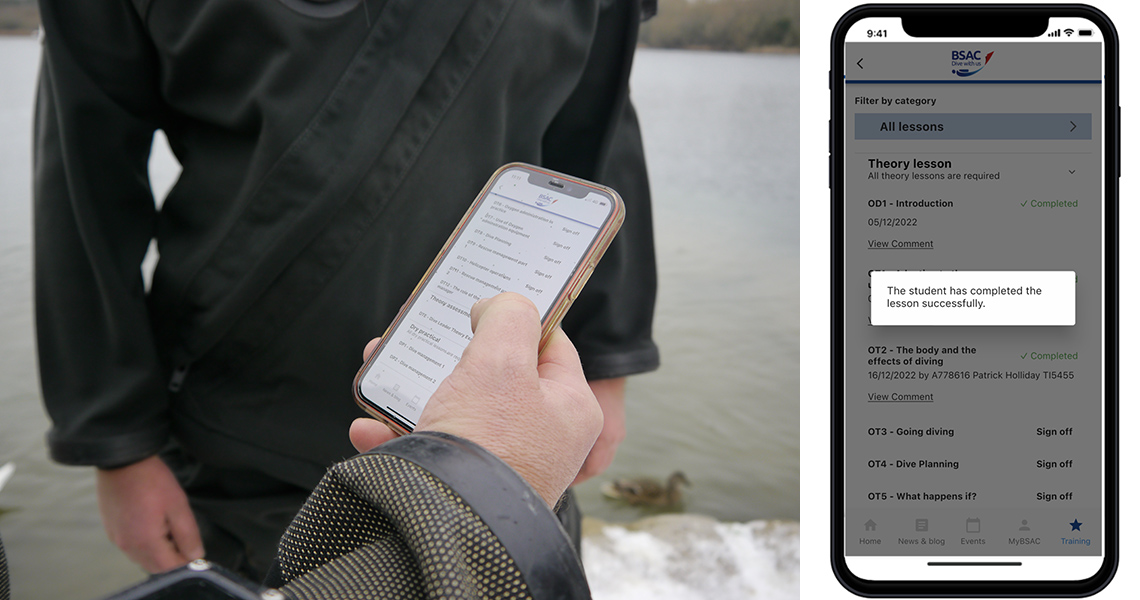 This new way of recording lessons is not compulsory. The app does not prevent instructors from also completing paper training records for students. However, BSAC hopes that all clubs and centres doing diver grade training will see the benefits and adopt it. Instructors will not be reliant on members not losing (or always bringing with them) their Qualification Record Books (QRBs). In clubs, Branch Officers with access will be able to view member training progression in the Club Management System.
Qualified dive professionals can also upload an HSE medical certificate to BSAC directly through the app.
BSAC Head of Diving and Training, Dom Robinson, said:
The updated app demonstrates BSAC's commitment to digital processes, as well as improving the training experience for students and dive professionals who qualify with us.
Get the MyBSAC app
The latest MyBSAC app release is available now on the Apple Store and Google Play. If you have any problems with the update, these normally be resolved by deleting/reinstalling (iOS) or clearing the App cache (Android). If you continue to have problems, let us know using the app feedback form.
Dom Robinson added:
There's more to come! The latest MyBSAC app release is just one step on the journey of constant improvements, following member feedback.
BSAC on your phone
Keep all your essential BSAC membership information at your fingertips, anytime and anywhere, saving you time to do what you love – go diving or snorkelling! Learn more about the MyBSAC app